Editor's Pick: L'Oreal Paris Pure-Clay Clarify & Smooth Mask
October 03, 2017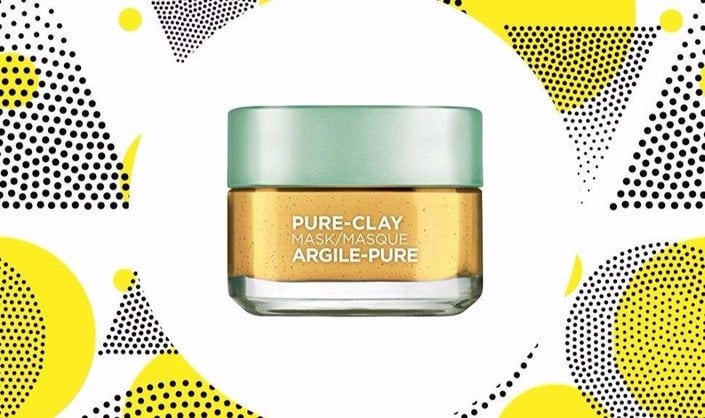 Here at Skincare.com, we've reviewed the full range of L'Oreal Paris Pure-Clay masks which—up until recently—included four products. Do you see where we're going with this? Yes, there's a new kid pure-clay mask on the block—which boasts a gorgeous yellow hue and is chock full of skin care benefits—that we got our hands on compliments of the brand. Read on for our review of the new L'Oreal Paris Pure-Clay Clarify & Smooth Mask.
Real talk: Face masks can be a beneficial addition to any skin care routine, regardless of your skin type. From benefits such as boosting radiance to helping decongest pores, there are plenty of formulas out there that can deliver skin-enhancing benefits in just a matter of minutes. The next time spa night rolls around, look no further than L'Oreal Paris' range of clay-mud masks. The brand just launched a new, yellow-hued formula dubbed Pure-Clay Clarify & Smooth Mask—to pair with the preexisting four (multi-masking, anyone?)—and we couldn't wait to give it a try. Thanks to a complimentary sample, we did just that! Scroll for our review of the L'Oreal Paris Pure-Clay Clarify & Smooth Mask.
L'Oreal Paris Pure-Clay Clarify & Smooth Mask
As far as the formula itself goes, Clarify & Smooth Mask features the line's powerful blend of 3 pure clays—kaolin, montmorillonite, and Moroccan lava clay to be exact—that can be found in the others as well. What sets this mask apart, however, is the addition of a special ingredient that the others are not formulated with: Yuzu Lemon Extract.
The Benefits of L'Oreal Paris Pure-Clay Clarify & Smooth Mask
What can L'Oreal Paris' new Pure-Clay Clarify & Smooth Mask do for me? Great question! The formula can help draw out built-up impurities, dirt, and pollution, shed rough dead skin cells, clarify tone, and improve the skin's texture. The results? Immediately, skin is left with a clean glow, with dirt, oil, and dust effectively lifted from the skin. Plus, you can say hello to a complexion that feels smoother and appears fresher. Not surprisingly, the benefits only increase with continued use. Use after use, skin surface looks renewed, refined, and more even with a reduced appearance of imperfections. Not too shabby, huh?
How to Use L'Oreal Paris Pure-Clay Clarify & Smooth Mask
Incorporating Clarify & Smooth Mask into your routine is simple. To use, apply an even layer to clean dry skin, avoiding eye and lip area, and leave it on for 10-15 minutes. Next, remove the mask with water, massaging in circular motions to exfoliate and help remove dead skin cells. Once your face is clean, dry off and continue on with the rest of your skin care routine. For best results, use Clarify & Smooth mask three times per week.
L'Oreal Paris Pure-Clay Clarify & Smooth Mask Review
As someone with continually clogged pores, blackheads, and excess oil, I've been a proud patron of L'Oreal Paris' Pure-Clay line from the start. The brand won my heart with their Detox & Brighten Mask, so when they sent over a complimentary sample of the new Clarify & Smooth Mask for the Skincare.com team to review, I immediately volunteered.
The same day Clarify & Smooth Mask arrived, I took it straight home to give it a whirl. After cleansing my face, I applied the mask and waited just over ten minutes before rinsing off. The mask itself smells amazing, which made for a very luxurious experience, but that was only the start! After using Clarify & Smooth Mask, my complexion appeared smoother, fresher, and more radiant. I could tell that this mask had lifted away all traces of dirt, dust, and oil that may have been lingering on my skin's surface post-cleanse. I was so pleased with the immediate results!
Moral of the story: If you're looking for a mask that can help draw out impurities while shedding rough, dead skin cells for a smoother-looking, more evenly toned complexion, I recommend giving Clarify & Smooth Mask a try. I'm more than satisfied with the results I saw, and will be incorporating this clay mask into my routine.
L'Oreal Paris Pure-Clay Clarify & Smooth Mask, $12.99 MSRP
Read more

Back to top