The One Coffee Scrub You Need to Energize Tired-Looking Skin
January 11, 2019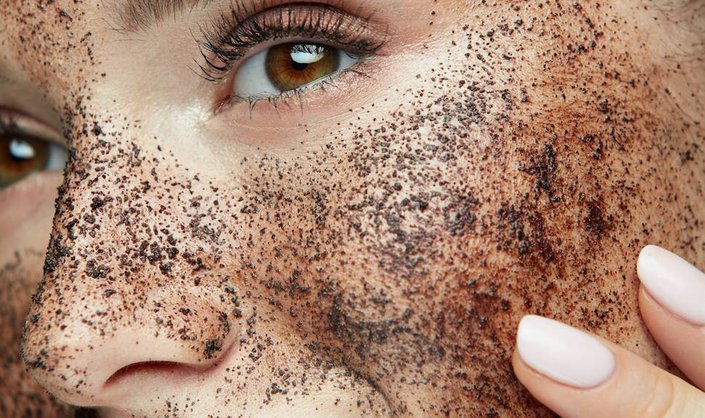 WHY YOU SHOULD USE A COFFEE SCRUB
A cup of coffee is often what we turn to in the mornings when we're feeling extra tired, or midday when our energy levels could use a boost. The energizing power of a cup of joe, or even a latte or cappuccino is in large part due to caffeine. What many people don't know is that caffeine can have a similar energizing effect on your skin. According to a study published at the National Center for Biotechnology Information, caffeine in cosmetics can help increase  microcirculation. The study also found that caffeine has potent antioxidant properties, and can help protect skin against environmental aggressors and slow down the process of photo aging. 
There are tons of products on the market that are formulated with caffeine, so why in particular should you reach for a coffee face scrub? We enjoy coffee face scrubs because they include gentle coffee bean granules that, in addition to energizing your skin, can help with exfoliation. 
L'ORÉAL PARIS PURE-SUGAR RESURFACE & ENERGIZE KONA COFFEE SCRUB 
Want to add a coffee scrub to your skincare routine? Enter the L'Oréal Paris Pure Sugar Resurface & Energize Kona Coffee Scrub. This facial scrub—suitable for all skin types—stands out thanks to its resurfacing and energizing skin benefits. In addition to a blend of three pure sugars, this scrub contains real Kona coffee grounds sourced directly from the Kona Coast of Hawaii. No microbeads or harsh exfoliants, just mild granules to give your skin the ultimate gentle exfoliation. "The key thing about coffee is that it's very, very energizing," says Dr. Rocio Rivera, Head of Scientific Communications, L'Oréal Paris. "As you're exfoliating, the particles of coffee in this scrub will start releasing their caffeine and energizing your skin in a really good way." Dr. Rivera also mentions that the pure sugars in this formula will not over-dry the skin, an important factor to keep in mind while exfoliating. What's more, you can see effective results immediately. Dirt, oil, and impurities are removed, and skin feels smooth, energized, and invigorated. What's more, tired skin is resurfaced to look awakened with reduced signs of fatigue.
HOW TO USE L'ORÉAL PARIS PURE-SUGAR RESURFACE & ENERGIZE KONA COFFEE SCRUB
Believe it or not, but there's a right and wrong way to exfoliate. Using a facial scrub should not be part of your daily skin care regimen. Most derms agree that you should exfoliate your skin two to three times per week, or as tolerated. You can read more about our top exfoliation tips here.
To use this particular coffee scrub, simply smooth on a small amount of the scrub onto clean, dry skin, making sure to avoid the delicate eye area. Then, wet your fingers and massage the scrub into your skin. Rinse off with warm water. Dr. Rivera recommends using this scrub after cleansing, or even in the shower. "Once you get out [of the shower], start with the other steps of your skin care routine, whether it's a serum, an essence, or something in between," she says.
Pro tip: You can also use this scrub to exfoliate your lips! Just apply a tiny amount onto your lips and gently scrub in small circular motions. Rinse the scrub off, and you'll have soft, smooth lips with an overall better look.
L'Oréal Paris Pure-Sugar Resurface & Energize Kona Coffee Scrub is the latest newcomer to a preexisting Pure-Sugar portfolio for the brand. To learn more about the entire Pure-Sugar range, including product reviews, click here! 
L'Oréal Paris Pure-Sugar Resurface & Energize Kona Coffee Scrub, $12.99 MSRP
Read more

Back to top