We Reviewed 5 Oil-Free Foundations So You Can Find the Best One For You!
March 02, 2017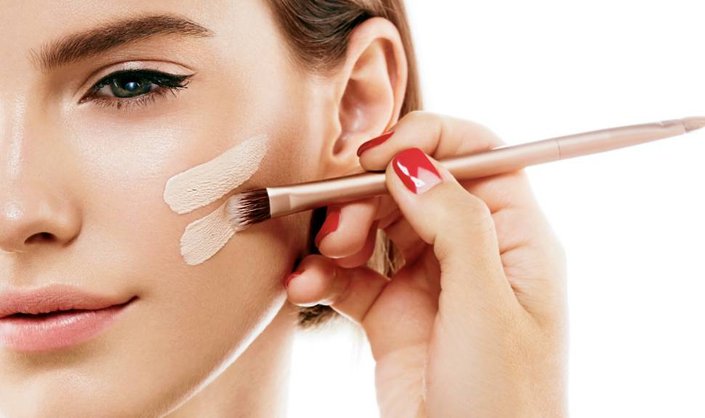 Between looking for matte-finishes and trying to make sure that the product in question won't clog your pores, when you have oily skin finding the right products to suit your needs can feel like a daunting task. This can be especially true when it comes to foundation for oily skin. With the trend in cosmetics leaning toward dewy finishes and formulas infused with skin care oils it can leave oily-skinned gals feeling like there's not much out there for them. Thankfully, we did the digging for you and reviewed five of our favorite oil-free foundations from the L'Oréal portfolio of brands below!
Why it's a Favorite: This oil-free foundation—which was sent to us to review compliments of the brand—offers a demi-matte finish and an air-light texture. We were obsessed with how it went on creamy instead of chalky like many other oil-free foundations can. What's more, with its long-lasting wear, we didn't feel the need to reapply during the day—something that doesn't typically occur when you have oily skin. The demi-matte finish was truly unique and something we really loved because often true matte-finish foundations can leave our complexions looking flat and dull, but this finish was just right! The lightweight oil-free foundation comes in 12 shades and can be applied using your (clean!) fingers or a makeup brush. 
Why it's a Favorite: With 24 shades, it was easy to find our color match when we were trying out this oil-free foundation from Urban Decay. All Nighter is a water-proof long-wear liquid foundation that truly doesn't quit! We loved how it gave us full coverage and a matte-finish without looking flat or chalky. We decided to wear All Nighter during a girls' night out to truly give the foundation a run for its money. First, we noticed how there was no need to build since the foundation truly does offer full coverage the first time around. (Quick Tip: Only use one pump, a little goes a long way with this stuff!) Second, we noticed how it really did live up to its name and stayed in place all night long! A definite win in our book and worth the splurge!
Why it's a Favorite: This oil-free, water-based foundation is easily the most budget-friendly on our list, coming in at a single-digit price tag. But don't let a low-budget cost fool you, the foundation is top notch! There are 30 shades so it's easy to find a color match for you and the mineral-enriched formula goes on with full coverage and has a matte—but not flat, as the name implies—finish. It doesn't settle into fine lines or any flaws you may have on the skin's surface and truly helps you look like your skin is flawless!
Why it's a Favorite: Another wallet-friendly option is this skin transforming foundation from Maybelline. This oil-free formula also includes broad-spectrum SPF 15, for some much needed and required protection from the sun's harmful UV rays.  What's more, the formula boasts Actyl C—a durable form of vitamin C—so you're also getting some antioxidant love with each wear as well! We love how this oil-free foundation marries the best of both worlds—skin care and makeup—to offer up a truly great oil-free option!
Why it's a Favorite: This long-wear oil-free cushion foundation is ideal to throwing your purse for midday touchups on the go! Available in 18 shades, the foundation not only offers a natural-looking matte finish, it's also formulated with SPF 50 making it the most protective on our list! We loved that you don't have to sacrifice a hydrated feel for an oil-free formula and really liked how you could build your coverage depending on your mood. It glides on easily and even offers a refreshing cooling effect on application which was a nice touch as well! If you want an even more mattified effect, consider first applying a layer of Lancôme's La Base Pro Pore Eraser Primer.
Looking for even more product recommendations for oily skin? Read this!
Read more

Back to top