Editor's Pick: Vichy Clarifying Charcoal Mask Review
November 15, 2018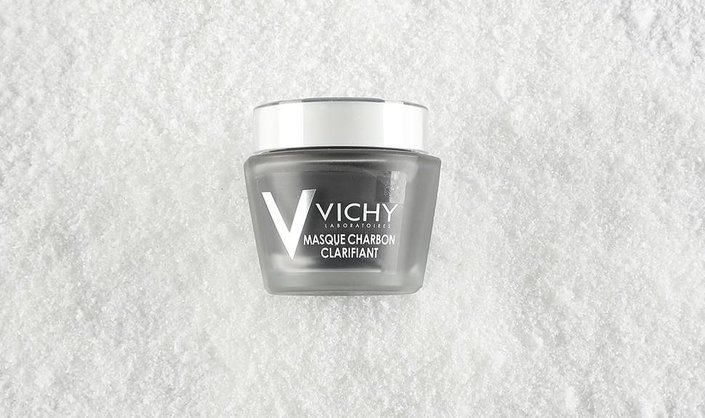 When it comes to skin care, there are few things more luxurious than taking the extra time to pamper yourself with a face mask. And with the charcoal skin care trend being all the rage, what better way to indulge in Self-Care Sunday than with a charcoal face mask? Not only is charcoal seriously on-trend, it just so happens to address many skin concerns that surface this time of year. To help you give your skin the TLC it deserves, we've taken the time to review Vichy's new Clarifying Charcoal Mask after receiving a complimentary sample.
WHAT IS A CHARCOAL MASK?
While there's a good chance you've seen charcoal face masks circulating your social media feeds, you may be wondering what exactly a charcoal mask is. A charcoal mask—as you may have guessed—is a face mask formulated with charcoal. Why is that a good thing? Well, charcoal boasts many skin benefits. According to board-certified dermatologist, and Skincare.com consultant, Dr. Dendy Engelman, activated charcoal contains carbon molecules, which act like a magnet to attract and absorb dirt and oil. "When dirt and oil in your pores come in contact with the carbon, they stick to it and then get washed away when you rinse," she says. "Masks sit on the skin for longer periods of time, so they are able to sink deeper into the pores."
WHAT IS THE VICHY CLARIFYING CHARCOAL MASK MADE OF?
This creamy mask is formulated with kaolin clay, natural origin plant-based charcoal, and Vichy Mineralizing Thermal Water. What is Vichy Mineralizing Thermal Water? Sourced from the French volcanoes, this unique water contains 15 rare essential minerals. It has been shown to help boost skin quality and health by protecting the skin from environmental aggressors.
WHAT CAN THE VICHY CLARIFYING CHARCOAL MASK DO?
This charcoal mask cleanses skin affected by pollution, removes impurities, and reduces the look of pores, leaving skin feeling clean and hydrated.   
WHO CAN USE THE VICHY CLARIFYING CHARCOAL MASK?
Vichy's Clarifying Charcoal Mask is suitable for all skin types—even sensitive skin. The formula is paraben-free and allergy tested. If you're looking to cleanse your skin for a clean complexion, this is the face mask for you.
HOW TO USE THE VICHY CLARIFYING CHARCOAL MASK
You can apply Vichy's Clarifying Charcoal Mask the same way you would apply any other rinse-off face mask. Apply a thin layer over your skin and let it sit for five minutes. Once time is up, rinse the formula off your face with lukewarm water. 
VICHY CLARIFYING CHARCOAL MASK REVIEW
It's time to get into the reason you're really here: our Vichy Clarifying Charcoal Mask review. After giving the formula a spin, here's what I thought about it.
THE PACKAGING
I'm a sucker for skin care products that have clean, minimalistic packaging—and this face mask fits the bill. The clear jar boasts a matte finish accompanied by silver and white detailing for an overall modern and sleek look. It's definitely worthy of your next #shelfie.
THE TEXTURE
The mask has a creamy, soft texture that instantly gives your skin a feeling of luxury.
THE SCENT
The scent of my skin care products matter a great deal to me. I'm not a fan of skin care products that have a strong, overbearing fragrance. This mask has a pleasant, light fragrance which made it enjoyable to apply on my skin—especially so close to my nose!
THE RESULTS
Let's get down to the results. My skin has definitely been taking a toll since the weather has started to cool down. I have noticed increased dryness, sensitivity, and congestion in certain areas of my face. I used this mask once during the middle of the week and on the weekend to give my skin some extra TLC. The first time I used it, my skin was left feeling smooth, clean, and hydrated—just what it needed during these cold, dry months. Each time I've used it since, I've noticed my skin has felt refreshed and comfortable.
Vichy Clarifying Charcoal Mask, $20 MSRP
Read more

Back to top