5 Self-Tanning Myths, Debunked
July 01, 2016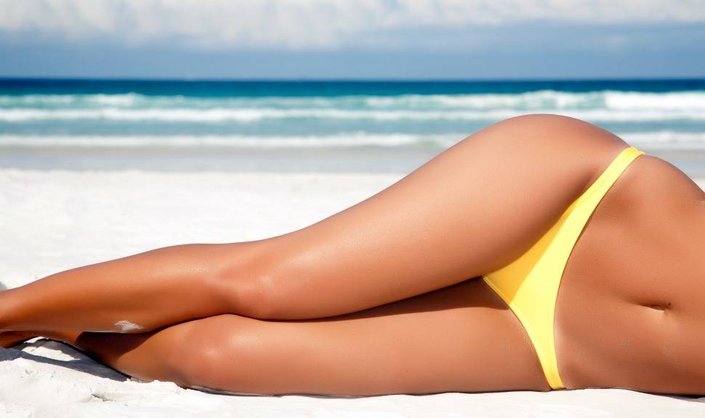 Self-tanner is a great way to achieve a sun-kissed glow—throughout every season!—without frying your skin in the sun and leaving it vulnerable to damage from UVA and UVB rays. But—as with all beauty crazes and must-haves—rumors about self-tanners get conjured up quickly and passed through the grapevine. You might even be falling for some self-tan tales right this instance. That's why we're here to separate fact from fiction, and settle the self-tanning debate once and for all. We're debunking five self-tanning myths, below. 
MYTH #1: SELF-TANNER WILL PROTECT YOU FROM THE SUN 
Think self-tanner can allow you to skip an application of sunscreen? Think again. Most self-tanner does not—we repeat, does not—provide any protection from the sun. Always wear sunscreen before heading outdoors—rain or shine. Opt for a water-resistant, broad-spectrum SPF 30 or higher to keep your skin protected from damaging UVA/UVB rays.
MYTH #2: ALL SELF-TANNERS ARE CREATED EQUAL 
Not true! All self-tanners are different. They can vary in texture, length of wear, even in depth of color. Need help picking the best self-tanner for you? We share some of our favorites, here!
MYTH #3: CHLORINE HAS NO EFFECT ON YOUR SELF-TANNER APPLICATION
Chlorine and other chemicals in swimming pools and hot tubs can fade your tan and make it look streaky, blotchy, and discolored. To avoid lightening your tan, limit your time spent in these environments.
MYTH #4: YOUR SELF-TANNER WILL MAKE YOU TURN ORANGE 
Many people shy away from self-tanner in fear that they'll resemble a carrot by the end of it. The truth is, if the formula is suited for your skin tone, your tan can look completely natural. So, be picky when choosing a self-tanner! If you're unsure, test a small area of your skin with the product to see how it looks before committing your entire body to the shade. To avoid coloring your palms, make sure to wear gloves if you're applying self-tanner yourself, or wash your hands after each section of your body.  
MYTH #5: EXFOLIATING BEFOREHAND WILL RUIN YOUR TAN 
False! It's recommended that you prep your skin by sloughing off dead skin cells prior to applying self-tanner to help ensure even coverage and longer-lasting results. Gently exfoliate—paying close attention to areas where the skin is thickest, like the elbows, knees, and ankles—using The Body Shop Exfoliating Bath Gloves on your body and The Body Shop Rounded Handle Facial Brush on your face.
Read more

Back to top