No Makeup Monday: The Secrets for Radiant Skin Without Makeup
June 16, 2017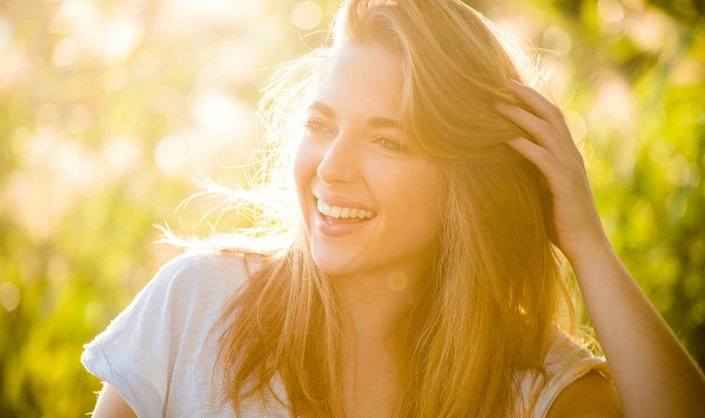 Don't get us wrong, we love a strong lip and winged liner as much as the next girl, but when it comes to the best foundation for our favorite makeup products, we prefer to start with a clean canvas. And by canvas, we mean our skin. While makeup can be a great way to express yourself and enhance your natural beauty, it's nice not having to rely on it day in and day out, because you know that underneath that highlight and contour is a killer complexion. Want to jump on the bandwagon the next #NoMakeupMonday? Keep reading, because we're sharing our tips for glowing, radiant skin, sans makeup!
STEP ONE: CLEANSE YOUR COMPLEXION
The first step in achieving a more radiant-looking complexion is to cleanse your skin every morning and night. This important ritual can help to remove any dirt and grime from the day and allow your skin to breathe better. We recommend using Vichy's Pureté Thermal Foaming Cream, as it can cleanse the skin of makeup and impurities without harsh rubbing. We also love this drugstore cleanser because it can help counteract the skin-damaging effects of hard water. 
STEP TWO: SLOUGH OFF DRY SKIN WITH EXFOLIATION
The second step in achieving gorgeous, glowing skin—though it should only be practiced once or twice a week—is exfoliation. Exfoliating your skin gently, using either mild mechanical scrubs or chemical exfoliators like acids, can help to remove any buildup of dead skin cells that live on the skin's surface and can cause the skin to appear dull. We like to use Decléor's Phytopeel Natural Exfoliating Cream a couple times a week to hit the refresh button on our radiance.
STEP THREE: REFRESH WITH A FACIAL MIST
Once you have cleansed your skin and/or exfoliated with a milk mechanical facial scrub or chemical exfoliator, reach for a refreshing facial mist. We love facial mists for their ability to provide the surface of the skin with a boost of hydration—pro tip: this feels especially great on hot and humid days!—as well as provide the skin with some nourishment, and—in some cases—tone the complexion. For help with choosing the best facial mist for you (and your skin), see our guide to facial mists and sprays, here.
STEP FOUR: GIVE A RADIANCE-ENHANCING FACIAL SERUM A TRY
In addition to cleansing, exfoliating the skin one to two times a week, and refreshing with a facial mist, you may also want to consider adding a radiance-enhancing facial serum to your regimen. We love serums for their ability to customize each and every skin care routine. Whether you're trying to achieve a more even-looking skin tone, improve the look of your skin's radiance, nourish dry skin, or protect against premature signs of aging, there is a serum out there for you! For more on facial serums, check out our guide to shopping for serums, here.
STEP FIVE: HYDRATE WITH MOISTURIZER
As board certified dermatologist and Skincare.com consultant, Dr. Michael Kaminer tells us, "hydrated skin is happy skin." Keeping your skin moisturized is crucial for a supple-looking complexion. In order to keep your complexion glowing, you want to be sure you're always applying moisturizer after cleansing. Find a moisturizer that is geared for your specific skin type! 
Editor's Note: In addition to finding the right moisturizer for your skin type, you should also consider finding the right moisturizer for the season. During dry and cold fall and winter months, try switching to a formula that's heavy duty. In the spring and summer, use a moisturizer that is lightweight like a gel moisturizer for instance. Doing so can ensure that your skin is receiving the right kind of hydration for your skin type and environment.
STEP SIX: PROTECT THE SKIN WITH SUNSCREEN… AND DON'T FORGET TO REAPPLY
The most important part of any skin care routine—whether you want to go makeup free, or wear a full face of glam—is applying a Broad Spectrum sunscreen. Sunscreen can protect the skin from the sun's harmful—read: damaging—UV rays and can prevent premature signs of skin aging and more. Look for a sunscreen that has an SPF of 30 or higher and offers Broad Spectrum protection, like L'Oréal Paris Sublime Sun Advanced Sunscreen SPF 50. The formula can help protect the skin from both UVA and UVB rays, and is non-comedogenic, which means it won't clog your pores. In addition to applying—and reapplying—sunscreen daily, you may also want to try incorporating an SPF oil, like L'Oréal Paris Age Perfect Hydra-Nutrition Facial Oil. The lightweight facial oil can protect the skin with SPF 30 and may also work to give the complexion some extra hydration while promoting a healthy-looking glow.
Read more

Back to top