8 Science-Backed Ways to Improve Your Skin's Appearance This Fall
November 25, 2016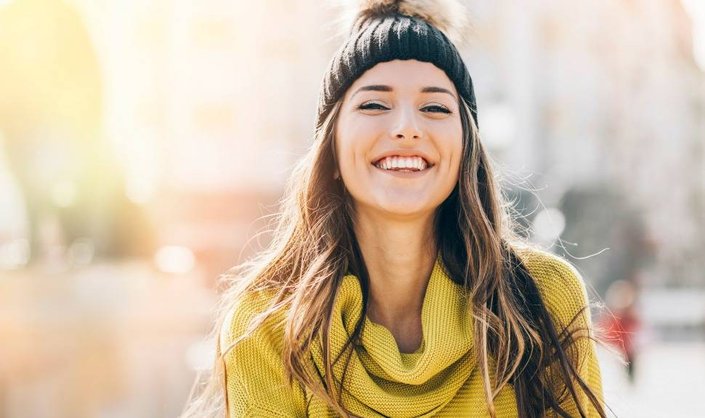 Want to improve the appearance of your skin? From protecting your complexion from environmental aggressors with antioxidant-rich formulated skin care products to keeping your skin hydrated all day long to customizing your skin care routine, we're sharing eight science-backed tips and tricks to promote radiance and improve the overall look of your skin, below.
WEAR SUNSCREEN… EVEN WHEN IT'S CLOUDY 
The summer sun may be long gone, but that doesn't mean you should let up on your daily sunscreen application. Sunscreen is the most important step in any skin care routine and it can protect your skin falling victim to the sun's damaging UV rays. According to the American Academy of Dermatology (AAD) "Up to 80% of the sun's harmful UV rays can penetrate your skin" even on cloudy fall days. So, if you plan to spend time outdoors, be sure to apply (and reapply) a broad-spectrum sunscreen to your exposed skin.
HELP SHEILD YOUR SKIN WITH ANTIOXIDANTS
Antioxidant-rich formulated skin care products aren't just for mature skin types. Incorporating antioxidants into your skin care routine in your 20s and 30s can be equally as important, since antioxidants can protect skin from environmental aggressors such as free radicals. Our consulting dermatologist Dr. Lisa Ginn tells us that when free radicals are created they look for something to attach to and often select our skin's collagen and elastin fibers—which they subsequently break down. Wearing products formulated with antioxidants under your broad-spectrum sunscreen each day can gives those free oxygen radicals an alternate mate!
KEEP YOUR SKIN MOISTURIZED
It's no secret that hydrating your skin is an important step in skin care— especially during the fall and winter months when seasonal dry skin can leave our skin looking and feeling parched. Moisturizing your skin from head to toe with a replenishing lotion or moisturizer can help to soothe dry, uncomfortable skin, and can leave it with a healthy-looking—read: radiant—glow. The AAD notes that comfort and radiance aren't the only visible benefits of moisturizing your skin, hydration can help reduce the appearance of some premature signs of aging (think: fine lines and wrinkles), too!
CUSTOMIZE YOUR ROUTINE ACCORDING TO YOUR SKIN TYPE
The AAD explains, "Over time, a careful and consistent skin care routine with products designed for specific skin types can gradually improve the overall health and appearance of the skin." In other words: In order to improve the look of your skin you're going to want to use products that are designed specifically for your skin type ASAP.
WASH YOUR FACE EVERY DAY… ESPECIALLY AFTER A SWEATY WORKOUT
Rinsing your complexion of the day's dirt and grime should not be overlooked—especially after a sweaty workout. According to the AAD, you should wash your skin morning, night, and after an intense sweaty workout. "Perspiration, especially when wearing a hat or helmet can irritate the skin. Wash your skin as soon as possible after sweating." Still not sold? Dr. Ginn explains that if you fail to rinse off at least 10 minutes after breaking a sweat, you may be creating the perfect environment for back and chest acne.
GET A GOOD NIGHT'S SLEEP
If you want to improve the look of your complexion, getting a good night's sleep is key. According to board-certified dermatologist and Skincare.com consultant, Dr. Dendy Engelman, "During the hours of sleep, the skin cells are working on reparation and regeneration—in other words: increased mitosis. Take that time away and you can be left with tired, dull-looking skin." If you have a hard time winding down at night, find a bedtime ritual that can help tire you out. We recommend drawing a relaxing bath, practicing a few calming yoga poses, or sipping on a cup of herbal tea.
EXFOLIATE WEEKLY
One of the season's biggest skin aggressors is seasonal dry skin. Not only can dry skin leave your complexion looking dull and lifeless, it can make it hard for your hydrating skin care products to do their job, too! One of the best ways to combat dry, dead skin cell buildup is to incorporate exfoliation into your weekly skin care routine. Using an exfoliant can help buff away the buildup on skin's surface and reveal soft, smooth, supple-looking skin that is ready to soak up all the moisture it can get.
EAT A HEALTHY, WELL-BALANCED DIET
According to the AAD, "A healthy diet and lifestyle can promotes healthy-looking skin, [so] make sure you eat plenty of fruits and vegetables, lean proteins, and healthy fats." In addition to eating well, make sure you keep your body hydrated by drinking the recommended amount of water throughout the day.
Read more

Back to top