How to Get Glowy Skin With Kiehl's Calendula Serum-Infused Water Cream
May 17, 2019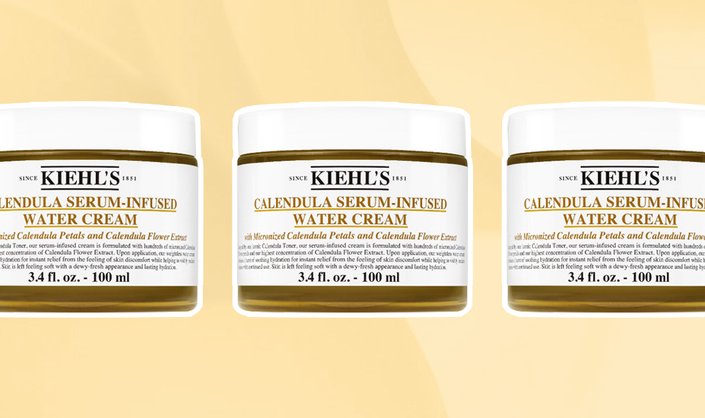 As Kiehl's fans, you can best be certain that we stay on top of new launches like it's our job (and it is, but that's besides the point). Their latest product, Calendula Serum-Infused Water Cream, is a serum-cream hybrid that gives your skin a burst of hydration and leaves it looking soft and super-dewy. In fact, the Serum-Infused Water Cream works so well that it was used in Serena Wiliiam's Met Gala beauty look, courtesy of celebrity makeup artist Renny Vasquez.
To recreate Williams' Met Gala beauty look, start by using the Calendula & Aloe Soothing Hydration Mask. Leave it on for five minutes, rinse and then follow up with Calendula Serum-Infused Water Cream. Use just a small amount for your entire face and massage it into your skin. After that, apply Hydro-Plumping Re-Texturizing Serum Concentrate to your face, extending it down to your neck. Finish with Creamy Eye Treatment with Avocado under your eyes and on your brow bone for an extra burst of hydration.
For those of you looking for a simpler way to use it at home, we recommend applying Calendula Serum-Infused Water Cream after cleansing and before you start your makeup. Think of the water cream as a primer or a hydrating base for the rest of your beauty products. The end result will leave your skin feeling refreshed, soothed and glowy — kind of like a celebrity about to make a red carpet appearance.

Kiehl's Calendula Serum-Infused Water Cream is available for purchase nation-wide in Kiehl's stores and at Kiehls.com.
Read More:
Kiehl's New Calendula Serum-Infused Water Cream Is Destined to Be a Best-Seller
12 Overnight Face Masks That Work While You Sleep
Read more

Back to top