Unsure About Self-Tanning Your Face? The L'Oréal Paris Sublime Bronze Facial Tanning Drops Make It Easy
July 08, 2021
Due to COVID-19 salon shutdowns, self-tanning has become a crucial part of my routine this past year. Between mousses, towelettes, sprays and more, I've tried almost every type of self-tanning product around. But there's one area I've been reluctant to faux glow: my face. Because of my combination skin type, I've always been hesitant to apply self-tanner on my face, but when L'Oréal Paris gifted me the new Sublime Bronze Facial Tanning Drops, I was ready to give it a try. This formula, with hyaluronic acid and glycerin intrigued me — and here's what happened when I tried it.
The first thing I noticed about this serum was how lightweight and non-sticky it feels when I pumped a few drops out onto my hands. I added a few drops (the instructions recommend five to ten drops depending on how bronze you want to go) to my moisturizer and watched as it seamlessly melted into the formula. I then applied the moisturizer-serum combo all over my face evenly, making sure to cover all areas from the edges of my temples, to the crevice of my nose and under my jawline , down to my neck.
Almost instantly, my skin looked and felt smooth, plump and radiant. I applied my makeup as usual and waited for the color to really set in. Throughout the day, I noticed that my skin appeared as if golden hour was hitting me at all times. When it was time to take off my makeup, I was able to see the lasting tan even more. Because the face is an area I'm consistently washing morning and night, I began using this every other day to keep my glow intact.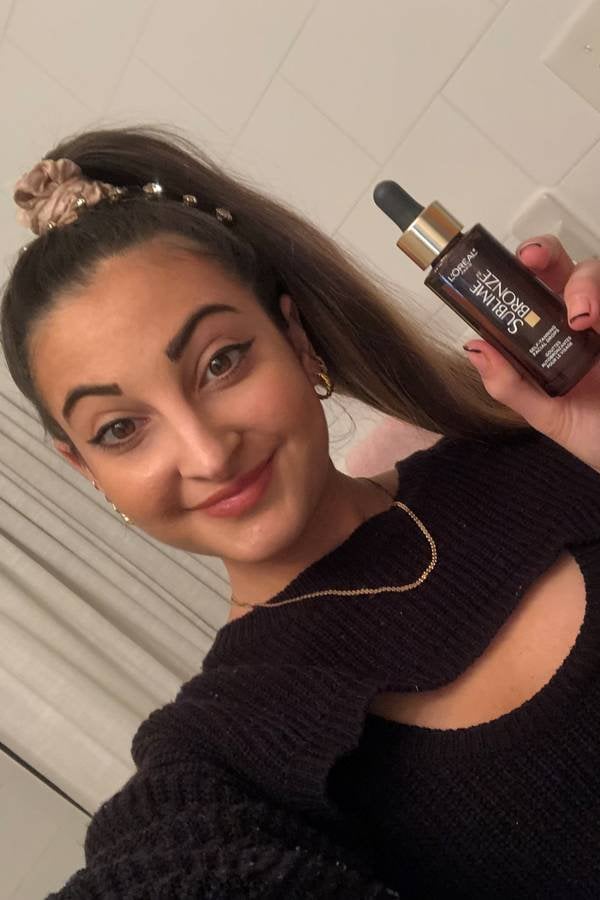 Final Thoughts
I'm truly a fan of this facial tanning serum because it managed to not only give me that golden glow, it actually made my skin look and feel hydrated and even. I also love that it's subtly fragrant, non-sticky and makes me feel confident about self-tanning the delicate skin on my faceThis will be a self-tan staple in my collection for a long time to come, I'm calling it now!
Read More:
Our Favorite Anti-Aging Moisturizers for Men
How to Smooth Out Indented Acne Scars
Read more

Back to top