How Two Former Pre-Med Students Created the Buzzy, Effective Skin-Care Brand, Topicals
January 27, 2021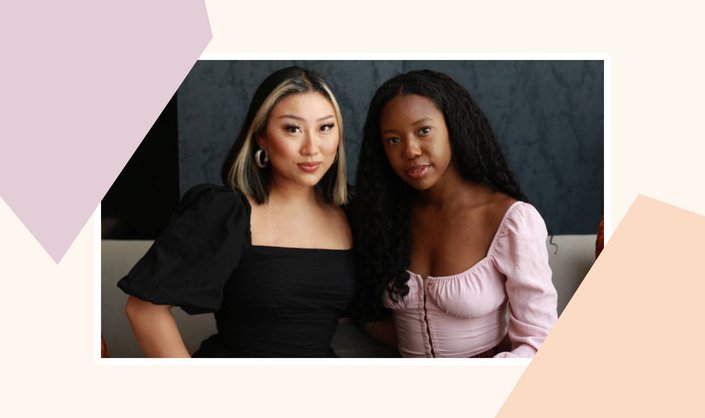 When Olamide Olowe and Claudia Teng met as pre-med students, they bonded over their unique skin conditions. This common ground led them to create Topicals, an Instagrammable, yet effective, skin-care brand with two hero products (so far!): Like Butter, an eczema-friendly hydrating face mask, and Faded, a brightening and clearing gel.  Ahead, we spoke to the co-founders about how they got started, their mantra of "funner flare-ups" and advice they have for aspiring beauty entrepreneurs. 
Tell us a little bit about both of your backgrounds. 
Olamide Olowe: I'm co-founder and CEO of Topicals. I was a pre-med student at UCLA and received a B.A. in political science with a concentration in race, ethnicity, and politics and a minor in entrepreneurship. I was the former co-founder of SheaGIRL, a Sundial Brands subsidiary now owned by Unilever.
Claudia Teng: I'm co-founder and CPO of Topicals. I was also a pre-med student but at UC Berkeley and received a B.A. in gender and women's studies. I hold six dermatology publications. I have conducted extensive dermatology research with a focus on non-melanoma skin cancers and a rare genetic disease called Epidermolysis Bullosa.
What was the concept behind Topicals? Why the focus on hydration and hyperpigmentation?
We both grew up with skin conditions (Claudia has severe eczema, Olamide has hyperpigmentation and pseudofolliculitis barbae) and never found a brand that resonated with us. We always felt embarrassed about our skin conditions and used to hide our ointments because they made us feel like outsiders. Topicals is transforming the way people feel about skin by making the treatment experience more like self-care rather than a burdensome ritual. We take the focus off of having 'perfect' skin and put the onus on having 'funner flare-ups'.
Tell us about how you're feeling regarding the beauty industry and Black Lives Matter movement.What changes would you like to see in the beauty landscape as a whole? 
Olamide: I'd like to see the industry become more inclusive not only in representation, but also from a product formulation standpoint as well. Seventy-five percent of dermatology clinical trial participants are white meaning that the vast majority of products have not been tested on skin of color.
Share with us some of your favorite Black-owned beauty brands.
Imania Beauty, Ami Colè, Bread Beauty Supply, Rosen Skincare, and Range Beauty.
What does a typical day look like for you both? 
Every day is different because of the pandemic. Some days we're figuring out shipping delays, other days we're testing out new products and discussing marketing campaigns. We're also both early risers since our design and fulfillment teams are on the east coast. 
Can either of you share your personal skin-care routine? 
Olamide: I love products that multitask so I use the least amount of products possible. I use Fresh Soy Face Cleanser, Faded Brightening and Clearing Gel and SuperGoop Sunscreen. At night, I use the Drunk Elephant Melting Butter Cleanser and Like Butter as an overnight hydrating mask.
How has working on Topicals impacted your life, and what moment in your career are you most proud of so far?
Olamide: I'm the youngest Black woman to raise over $2 million in venture capital funding ($2.6 million to be exact). Also, the day of launch and in partnership with Nordstrom's Pop-In Shop, Topicals sold out within 48 hours online and in stores.
What does the future of Topicals look like to you? 
Our goal is to always be where our customers are. This can be online, in store, or in a different country. You'll continue to see us transform the way people feel about skin through products, experiences and social impact.
What's your advice for an aspiring beauty entrepreneur?
Develop a unique insight and learn to storytell around the fact that you are the best person to bring this idea to life. Successful businesses are built around intuitive knowledge of an under-tapped category.
And finally, what does beauty mean to you both?
Beauty is self-expression!
Read More:
Our Favorite Chemical Exfoliators for Your Skin Type
Best Hydrating Lip Balms for Winter
Read more

Back to top