I Tried 8 Coconut Oil Hacks and Here's What Happened
November 14, 2016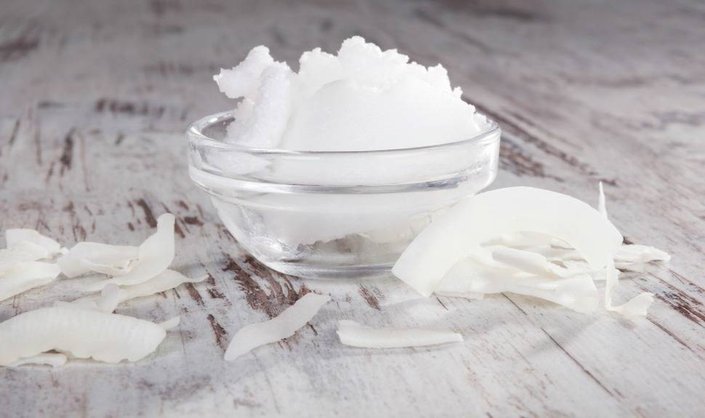 Coconut oil is more than a hydrating DIY skin care ingredient—it can be used in place of shaving cream, eye makeup remover, and more! Find out what happened when one beauty editor tried eight coconut oil skin care hacks, below
When it comes to my beauty regimen, there are few things that I am more passionate about than coconut oil. Seriously, I use it for everything. So, when I was asked to try some of the most popular coconut oil beauty hacks, I jumped at the opportunity. Ahead, I share a roundup of the eight coconut oil beauty hacks—some that I already use in my everyday routine and others that I attempted for the first time—that I tried in place of some of my everyday skin care and beauty staples. Spoiler alert: Some of them were a total bust.
HACK #1: USE COCONUT OIL AS AN OIL CLEANSER
I am a big fan of the Korean beauty double cleanse and already use an oil cleanser in my daily skin care routine, so I was excited to give this skin care hack a try. To use coconut oil as an oil cleanser, take a small amount of oil in your hands and rub them together to melt the oil. Apply the melted oil to dry skin in upward circular motions for about 30 seconds. Next, wet your hands with lukewarm water and continue to massage your skin in upward circular motions for another 30 seconds—this emulsifies the oil. Rinse your complexion with lukewarm water and follow up with a water-based cleanser.
After thoughts: Though my seasonal dry skin felt super-hydrated post-cleanse and my makeup came off in only a few swipes, coconut oil is much heavier than my oil cleanser—so, it was hard to rinse the oil off my complexion. I think I'll stick to my store-bought oil cleanser. 
HACK #2: USE COCONUT OIL AS A NIGHT CREAM
This coconut oil beauty hack is one that I am most familiar with, as I switched out my night cream for coconut oil about 6 months ago. I have normal-to-dry skin, so the coconut oil absorbs quickly into my parched complexion and leaves my face and neck feeling silky smooth. To use coconut oil as a night cream, apply a small (like dime-sized!) amount of melted oil to your complexion and décolletage.
After thoughts: I am a big fan of this one—however, there are a few things to keep in mind when using coconut oil as a night cream. One: Make sure you start with a small amount and add more as needed, too much oil can lead to residue and we don't want that! Two: Allow the oil to soak into your skin before hitting the hay, that way it doesn't rub off on your pillowcase.
HACK #3: USE COCONUT OIL AS A BATH SOAK
Pouring ½ cup of melted coconut oil into your bath can provide the skin on your body with some extra nourishment while you soak. To make things extra relaxing, try adding some aromatherapy essential oils and Epsom salts to the tub, too!
After thoughts: While my skin always feels silky smooth after soaking in a coconut oil-infused bath, the oil can be bad news for your plumbing, as it hardens in cold temperatures and can cause a blockage in your pipes. If you are concerned about this, I recommend applying the oil to your skin immediately after your soak instead.
HACK #4: USE COCONUT OIL IN PLACE OF BODY LOTION
Using coconut oil as body lotion can provide your skin with hydrating nourishment and leave the surface of your skin looking and feeling moisturized and radiant. After you shower, apply melted coconut oil all over your body in upward circular motions.
After thoughts: This is another coconut oil beauty hack that I use on the regular—however, I've noticed that it absorbs faster when applying it immediately after a shower or bath.
HACK #5: USE COCONUT OIL AS A CUTICLE CREAM
Using coconut oil as a cuticle cream can be a great way to hydrate your cuticles when in a pinch. 
After thoughts: This one definitely lives up to the hype! Not only did my cuticles feel hydrated throughout the day, they looked great too!
HACK #6: USE COCONUT OIL TO REMOVE LIP STAINS
Removing lip stains can be hard— that's why they call them stains. Good news is you can easily remove them with some coconut oil.
After thoughts: I tried this coconut oil beauty hack twice and both times worked out great! The only problem was that I didn't exfoliate my lips before applying the lip stain, so some of the pigment got stuck to the dry parts of my lips. To remove the color from those areas (and buff away the dry skin), I made a makeshift lip scrub out of coconut oil and brown sugar.
HACK #7: USE COCONUT OIL AS A SCALP MASK
I always apply a small amount of coconut oil to the ends of my hair after washing it, so I had high hopes for this deep conditioning beauty hack. To use coconut oil as a scalp mask, simply massage a small amount of oil into your scalp, cover your head with a disposable shower cap and let it sit for at least an hour (or, overnight).
After thoughts: This one was a huge disappointment. I was hoping for a hydrated scalp and silky smooth locks and all I got was grease soaked hair—and roots—that left me feeling grimy and gross. If you're going to try this hack, I recommend using a TINY amount of oil and rinsing well with a clarifying shampoo.
HACK #8: USE COCONUT OIL AS A HIGHLIGHTER
If you have normal-dry skin (like me) you can use coconut oil to brighten your complexion and enhance your cheekbones in the dry fall and winter months. To do so, simply dab a small amount of oil to the tops of your cheekbones.
After thoughts: I love this look! You can use the oil on it's own for a natural-looking shine, or apply a cheek stain to underneath for some added color.
Read more

Back to top