The Busy Girl's Guide To Post-Gym Skin Care
January 31, 2017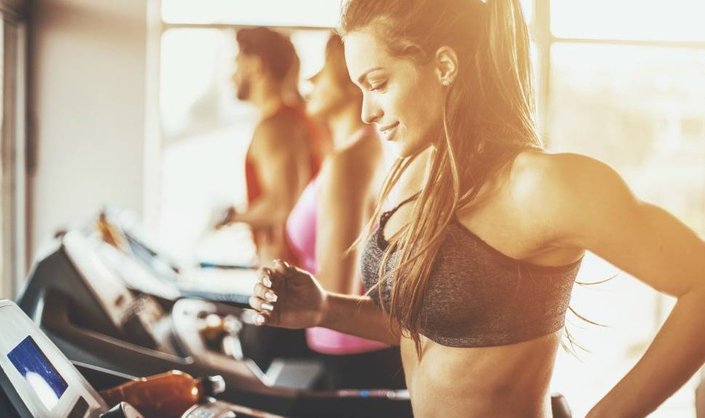 Looking for a fast— yet effective— post-gym skin care routine that can rid your skin of pore-clogging impurities, and leave your complexion feeling soft, soothed, and hydrated? Look no further! We share a busy girl's guide to post-workout skin care, ahead.
If there's one thing us busy girls don't always—read: never—have the time for, it's fussing over a post-workout skin care routine…especially when we barely have the time to make it to the gym in the first place. Nevertheless, skin care is at the top of our priority list, so we make it work with a fast—yet effective—post-workout skin care routine that can be completed in under five minutes. From cleansing with micellar water to refreshing with a hydrating facial mist to moisturizing with an oil-free face lotion, here's our busy girl's step-by-step guide to post-gym skin care:
STEP ONE: CLEANSE WITH A MINI MICELLAR WATER
The first step in any skin care routine is cleansing, especially after finishing a sweaty workout. For a quick—yet efficient—rinse, pack a travel-sized bottle of micellar water and cotton pads in your gym bag and use after your sweat sesh. We love micellar water because it can thoroughly cleanse and refresh the skin without the need to lather up and rinse away—so, you can pretty much cleanse your face anywhere—even an overcrowded locker room!
We recommend trying Garnier's all-new mini Micellar Cleanser Water. This no-rinse cleanser can help to cleanse your complexion of pore-clogging dirt, debris, and sweat, and leave your skin feeling clean and refreshed. To use, simply apply some the solution to a cotton pad and swipe across your face until clean.
STEP TWO: REFRESH WITH A FACIAL SPRAY
Following a workout, your body may need a quick cool down sesh…and the same goes for your complexion. After cleansing your complexion with micellar water, reach for a refreshing and skin-soothing facial spray that can replenish the skin with moisture and provide your complexion with a sense of comfort.
We recommend giving Kiehl's Cactus Flower & Tibetan Ginseng Hydrating Mist a try. This cooling and refreshing facial mist  purifies and hydrates the skin.  Formulated with cactus flower, ginseng, and lavender, geranium, and rosemary essential oils, it helps improve the overall skin texture and can leave the skin refreshed and healthy-looking!
STEP THREE: HYDRATE WITH A TRAVEL-SIZED MOISTURIZER
Post workout (or anytime, for that matter) it's important to keep your body—and your skin—hydrated. So, to ensure that you are never without moisture, pack a lightweight, travel-sized face lotion in your gym bag and use after your post-sweat sesh cleanse.
We recommend giving Kiehl's Ultra Facial Oil-Free Gel-Cream a try! Made with normal-to-oily skin types in mind, this lightweight, gel-like formula can intensely hydrate your complexion, without leaving a slick of oil across your complexion.
STEP FOUR: PROTECT WITH SPF AFTER DAY-TIME WORKOUTS
If you prefer to workout in the morning or afternoon, sun protection should be a priority post-workout—because chances are you sweat off that layer of SPF you applied before. To ensure that you are never without sun protection, store a bottle of your favorite broad-spectrum sunscreen in your gym bag and use as a final step in your post-gym skin care routine.
We recommend giving La Roche-Posay's Anthelios 45 Face a try. The fast-absorbing, oil-free, broad spectrum sunscreen can provide your complexion with the protection it needs from the sun's harmful UV rays without any grime or grease. What's more? The drugstore SPF can provide your complexion with a mattified-effect, too! 
Read more

Back to top