Skin Care Tips for Your Next Sweat Sesh
March 07, 2017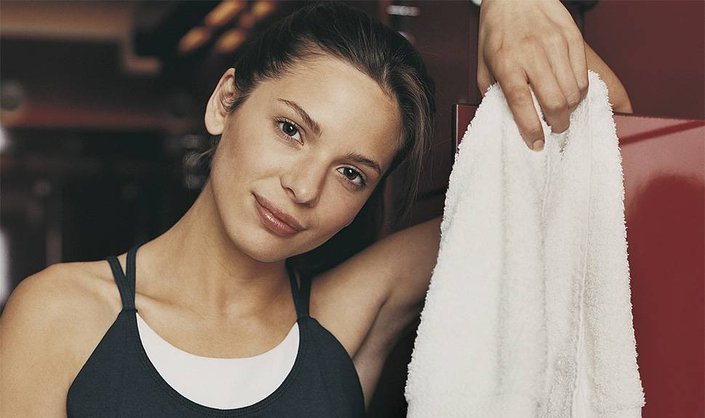 The good news is that working on your fitness is not all doom and gloom as it relates to your body's largest organ. There are ways to help keep your complexion clean and refreshed, and we're sharing them with you ahead. Keep reading to discover six expert-approved tips to follow before, during and after your next sweat sesh!
1. Cleanse Your Face and Body
You (fingers crossed!) cleanse your skin before getting onto the treadmill or elliptical. Follow suit immediately after your gym routine as well to get rid of dirt, bacteria, and sweat that may be sitting on the surface of your skin. The longer they linger, the more likely you are creating a breeding ground to experience pesky zits and pimples. Vanda Serrador, facialist and body care expert at The Body Shop, recommends showering immediately after working out. If you can't head home right away or the locker room showers are full, sweep away sweat on your face and body with cleansing wipes and micellar water stored in your gym bag. We prefer these cleansing options because they're quick and easy, and—best of all—don't require access to a sink. In other words, there's really no excuse not to cleanse. Be sure to wash your hands immediately post-workout, even before you begin to cleanse your skin.
Editor's note: Store an extra pair of clothes in your gym bag to change into after showering or cleansing. The routine will not be nearly as effective if you put your sweaty workout gear back on. Besides, do you really want to run errands and go about your day in sweat-soaked clothing? Didn't think so.
2. Moisturize
Hydrating your skin is a must whether you're exercising or not. After cleansing, reach for a lightweight facial and body moisturizer to help lock moisture back into your skin. When picking a formula, pay attention to your skin type. If you have oily or acne-prone skin, opt for a moisturizer that dries matte and targets excess oil, like La Roche-Posay Effaclar Mat. Apply facial moisturizer and body lotion onto your skin while it's still slightly damp from cleansing and/or showering for best results. But don't just hydrate your body on the outside! Hydrate on the inside by drinking the recommended amount of water daily.
3. Avoid Heavy Makeup
Just as it's ill-advised to wear makeup while breaking a sweat, we recommend skipping cosmetics once you're finished as well to allow your skin to breathe. If you don't want to go completely bare-faced, reach for a BB cream instead of a full coverage foundation. BB creams are typically lighter and may be less irritating. Bonus points if it's formulated with broad-spectrum SPF to help shield your complexion from harmful UV rays. Try Garnier 5-in-1 Skin Perfector BB Cream Oil-Free.
4. Cool Down with Mist
Post-workout you'll likely need a way to cool down, especially if you're sweating profusely and look particularly flushed. One of our favorite ways to give our skin a refreshing boost—aside from splashing it with cold water—is with face mist. Spritz Vichy Mineralizing Thermal Water onto your skin. The formula—rich in 15 minerals and antioxidants sourced from French volcanoes—immediately refreshes and soothes, while helping reinforce skin's natural barrier function for a healthy-looking appearance.
5. Apply SPF
Any sunscreen on your skin pre-workout is likely going to be sweated off by the time you wrap things up. Since few things are as important for your skin as daily broad-spectrum SPF, you'll have to apply it before heading outdoors during the A.M. hours. Reach for a non-comedogenic, water-resistant formula with broad-spectrum SPF 15 or higher, like Vichy Idéal Capital Soleil SPF 50.
6. Don't Touch Your Skin
If you have a habit of touching your face during and after your workout, it's time to break it. While exercising, your paws are exposed to countless germs and bacteria that can wreak havoc on your skin. To avoid cross contamination and breakouts, keep your hands off your face. Also, instead of flicking your hair out of your face and risking contact with your neck, tie your hair back before your workout session. 
Read more

Back to top