4 Travel-Friendly Products to Pack For Your Next Trip
May 26, 2016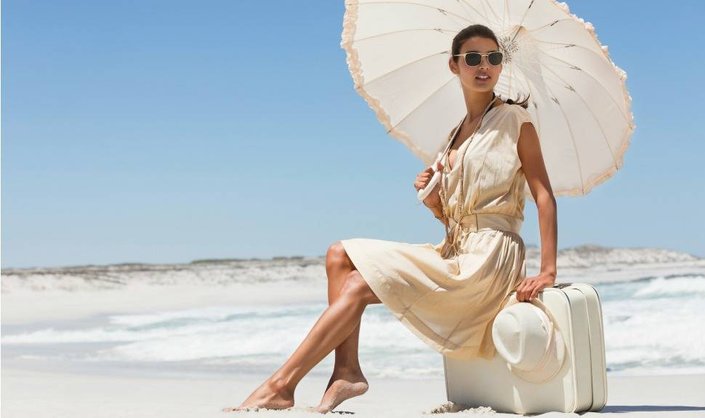 Packing your beauty bag ahead of a trip can be hard, especially when you have limited space to work with and an extensive at-home routine. You don't want to leave any of your coveted tools or products behind—but you also don't want to risk losing them for good at the hands of a TSA agent (trust us, it's a scarring experience). What's a girl to do? Before playing a throwback game of "eeny, meeny, miney, mo" with your skin care products, keep reading. Since carry-on space is tight, we've laid out four travel essentials—TSA-approved, of course—that'll save you time and (ever-so-important) space so you don't have to sacrifice your skin care while you're on vacay.
VICHY THERMAL SPA WATER 50G
It's no secret that dry cabin air can wreak havoc on glowing skin. To lock the moisture in before it's sucked out, keep a facial mist in tow. With 15 rare minerals and antioxidants, this travel-sized version of Vichy's mineralizing water from the French volcanoes—yes, actual volcanoes—can help resuscitate a dull-looking complexion. Spray it onto your face and then let it dry for a few moments. Skin will feel immediately soothed and refreshed—a perfect mid-flight pick-me-up.
Vichy Thermal Spa Water 50G, $14
LA ROCHE-POSAY ANTHELIOS 50 MINERAL TINTED PRIMER
Regardless of whether you're traveling somewhere warm and sunny or the weather forecast is predicting clouds, you'll need to bring sunscreen along with you and apply it every day—no excuses! You want to make sure it has a broad-spectrum SPF count of at least 15 to shield your skin from free radicals caused by UVA and UVB rays. To save space, opt for a dual-purpose product, like an SPF-packed tinted moisturizer, that'll provide sun protection while helping conceal an uneven skin tone or imperfections. Try La Roche-Posay Anthelios 50 Mineral Tinted Primer to get the job done.
La Roche-Posay Anthelios 50 Mineral Tinted Primer, $39.99
THE BODY SHOP VITAMIN E LIP CARE STICK
A handy lip balm is a must-have in every carry-on to help soothe dry lips while out and about. Major bonus points if it can coat your pout in SPF, too. That's why we love this vitamin E and vanilla flavored lip balm with SPF 15 from The Body Shop. It's soothing, hydrating, and protects lips instantly. Slip it on under your favorite lipstick or wear it solo.  
The Body Shop Vitamin E Lip Care Stick, $9
CLARISONIC MIA FIT
A vacation is no time to slack on cleansing your skin morning and night. With this compact, lightweight cleansing brush from Clarisonic, cleansing on the go is a piece of cake. It offers two speed settings—delicate and power cleanse—to remove impurities, sunscreen, and makeup six times better than hands alone. Small enough to fit in a handbag or carry-on without taking up much space, this cleansing tool is perfect for the jet set crew.
Clarisonic Mia Fit, $189
Read more

Back to top