7 Travel-Sized Beauty Products for Your Carry-On
March 03, 2022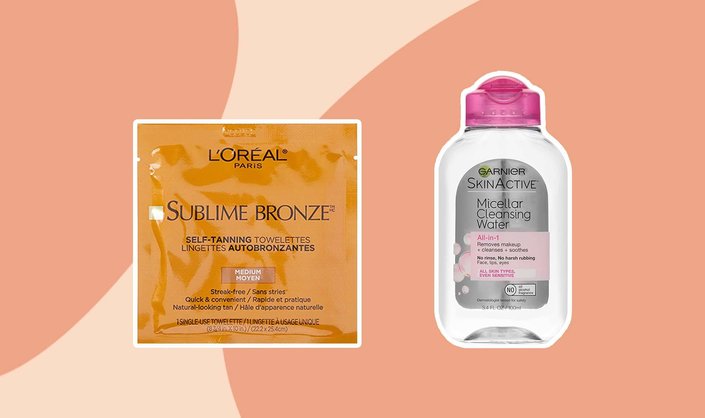 Between planning your outfits and finalizing last-minute travel details, getting ready for a trip, no matter how big or small, can be very stressful. The last thing you want to be worrying about is squeezing your favorite serums, moisturizers and sunscreens into TSA-friendly bottles the day before your getaway. 
With vacation season fast approaching, we rounded up our favorite travel-sized beauty products so that you can keep up your skincare routine no matter where you are in the world. See what's on our packing list, ahead.
This micellar water makes it easy to freshen up your skin anywhere you go, since you don't need to rinse it off. Simply saturate a cotton pad with the product and cleanse your skin in the car, poolside, wherever you may be.
One of the best ways to seal in moisture after a long flight (or even during) is by applying a sheet mask. This one instantly plumps up tired, jetlagged skin and gives your complexion a radiant glow. After just 10 minutes, fine lines appear softer, pores look smaller and your skin texture looks more even.
Hyaluronic acid is one of our secret weapons for a plump, dewy, fresh-faced appearance. This lightweight serum combines the hydrating ingredient with mineral-rich thermal water to help strengthen the skin's barrier and protect against environmental aggressors like UV rays.
This rich yet fast-absorbing lotion nourishes the skin with cocoa butter, shea butter and squalane. It's great for all skin types, but works especially well for those on the drier side.
The healthiest fresh tan is a faux one, which is why we love these towelettes. Application is practically foolproof — just rub them all over your limbs for a streak-free glow that develops in two to four hours. For best results, make sure to exfoliate and moisturize your skin beforehand. 
A facial mist is the perfect pick-me-up after a long day of travel. This pH-balanced option calms irritated skin and has a stamp of acceptance from the National Eczema Association, making it ideal for even the most sensitive complexions. 
Sunscreen is essential everyday, but you definitely want to stock up before a trip. This petite SPF 30 lotion sinks into the skin quickly and is water- and sweat-resistant. The broad-spectrum formula contains sunflower and rosemary leaf extracts to help defend against environmental irritants.
Design: Juliana Campisi
Read More:
Beauty Essentials to Pack on Your Next Summer Vacation
Career Diaries: How Frequent Traveler Misty Reich Turned Her Skincare Strifes into a Travel-Friendly Line
How to Prep Your Skin for a Summer Beach Day
Read more

Back to top