How to Get French Girl Skin, Stateside
May 24, 2016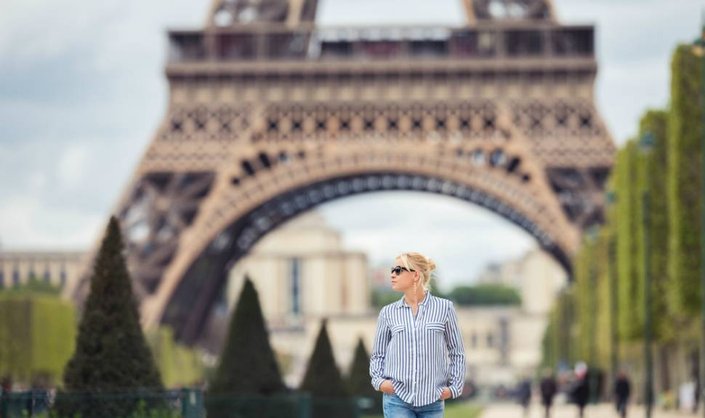 CLEANSE WITH MICELLAR WATER
The secret's out: French women swear by cleansing waters and have for some time now. The no-rinse-necessary liquid—it looks like plain old water, but don't be fooled—uses micelle technology to purify skin of dirt, oil, and makeup and leaves skin feeling soft and hydrated. In France, where hard water is notorious, micellar water cleansers offer a gentler alternative to cleansing skin. Today, they've become increasingly popular (and available) in the U.S. Head over to your local drugstore and pick up a bottle of La Roche-Posay Micellar Water. The soap-, alcohol-, and paraben-free formula gently removes impurities from the skin with the quick swipe of a cotton pad. Use it as a daily cleanser—remember: don't rinse—to achieve skin that's tres chic.
WEAR SPF EVERY DAY
Getting vitamin D from sun exposure is a good idea, but not taking the proper precautions beforehand may increase your risk of skin cancer and premature skin aging—think: fine lines, wrinkles, and discoloration. Since that's the opposite of gorgeous French girl-approved skin, make sure to apply SPF every single day—even if you're not laying out to catch some rays. Vichy Idéal Capital Soleil SPF 50 is an ultralight sunscreen with broad-spectrum SPF that's suited for all skin types. It's non-greasy and leaves an ultra-sheer, matte finish. As well, the sunscreen is non-comedogenic, so you can rest assured that layering it on your face underneath your makeup won't clog your pores.
USE A HYDRATING MASK
Women around the globe use face masks to hydrate and nourish skin—and French women are certainly no exception. Try Vichy Aqualia Thermal Night Spa, a replenishing anti-fatigue sleeping mask that provides hydration overnight so skin feels soft, soothed, and supple by morning. Apply a thick layer to your face and neck and massage it into your skin with an upward smoothing motion. 
Read more

Back to top