How Your Beauty Sleep May Be Destroying Your Skin
March 22, 2017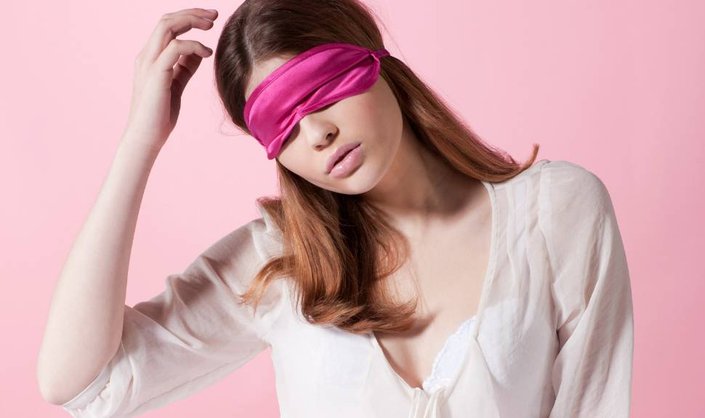 YOU'RE SLEEPING IN THE WRONG POSITION
Are you a stomach or side sleeper? Engelman recommends switching to a position on your back. "It helps to avoid compression lines and sleep wrinkles," she explains.
YOU'RE NOT REMOVING YOUR MAKEUP BEFORE BED
We get it: You've had a long day and you're just too tired to bother taking your makeup off before getting some shut-eye. It's best to muster up the strength and make that trip to the bathroom, though. "Sleeping with your makeup on can cause a host of problems as a result of a buildup of dirt, makeup, dead skin cells, oil, and anything else from the environment that could have come into contact on your skin," Engelman says. "All of this can lead to skin irritation and  breakouts." Gross.
YOU'RE NOT GETTING ENOUGH SLEEP  
While you sleep, skin cells are working on reparation, Engelman says. If you continually strip that time away, you could be left with tired, dull-looking skin. Lack of sleep can also result in poor water balance, which may lead to puffy bags under your eyes, dark circles, and more visible wrinkles. And perhaps worst of all, sleep deprivation can accelerate the aging process. "During deep sleep, the rise in growth hormones allows damaged surface cells to become repaired," she says. "Without the deeper phases of sleep, this won't occur, allowing daily small breakdowns to accumulate, instead of being addressed overnight. This results in more noticeable signs of aging." Looks like we're going to go ahead and hit the snooze button after all.
YOUR PILLOWCASES, SHEETS, AND BLANKETS ARE UNWASHED
Anything that transfers dirt and oil to your skin can cause acne and skin irritations, Engelman says. "This is called acne mechanica, a type of acne that is the result of materials or objects touching your face. Even if you end up washing your face before going to bed, that residual product will be on your pillowcase and can transfer back onto your skin when you lay down." She recommends washing your pillowcase every other week at a minimum. If you took a nap with product in your hair and on your face, switch your pillowcase before going to bed that evening.
YOU'RE SLEEPING WITH YOUR HAIR DOWN
Letting your hair down while you sleep—though it sounds nice—may not be such a great idea. "It's best to keep your face as free of clutter as possible," Engelman says.  
YOU'RE NOT SLEEPING IN THE OPTIMAL TEMPERATURE
The National Sleep Foundation suggests that a room around 65 degrees makes for the best sleep. The heat itself may not cause any direct damage to your skin per se, but it can interfere with your body's natural temperature adjustments and create restlessness throughout the night, according to Engelman. "Sleeplessness can lead to elevated levels of cortisol, which can lead to increased stress and inflammation in the body, hurting your skin's quality. If you have conditions such as acne, stress hormones can increase its severity."
YOUR NIGHTTIME SKIN CARE ROUTINE NEEDS WORK 
If you're missing important steps in your nighttime skin care regimen, your skin may lack what it needs before bed. Engelman likes to start with a clean face, move on to serums and lotions, and end with masks and sleeping packs. Here's how she preps for bed: "I start with a serum with antioxidants that help improve the appearance of fine lines and wrinkles . Then, I follow with Skinceuticals Retinol 1.0 or a prescription retinoid. These vitamin A derivatives are the ultimate multitaskers; they help reduce the appearance of fine lines and wrinkles, improve skin's overall tone, and hydrate. Lastly, skin can lose a lot of water while you sleep, so I like to use hydrating products that are specifically formulated for overnight use."
Sweet dreams!
Read more

Back to top