8 Self-Care Tips to Help Combat Seasonal Affective Disorder
November 27, 2018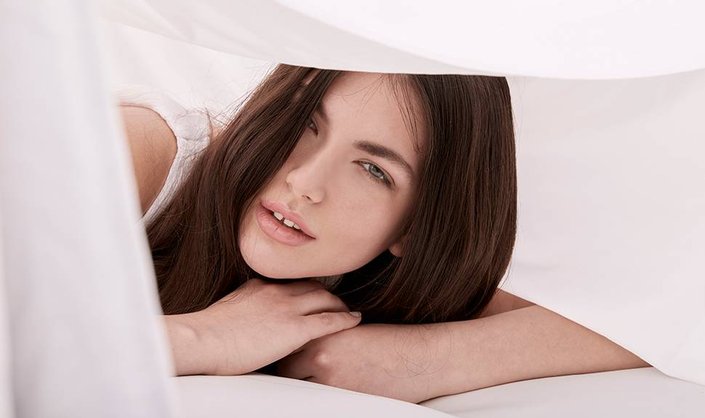 Winter has officially arrived. The days can feel shorter, sunshine is more limited, and the temperature outside is nothing less than brutally cold. For many, this sudden shift can be hard to cope with. Coming off the heels of a summer spent outdoors at the beach or under the warm sun, sitting indoors (to escape the bitter cold) and staring out at a bleak and gloomy day can cause a change in moods and emotions. Can you relate? If so, know that you're not alone—and there's actually a name for what you're going through.
Seasonal Affective Disorder (SAD), also known as seasonal depression, is an extremely common type of depression related to seasonal changes. It typically starts in the fall or winter and ends in the spring or early summer. To help lift your spirits on days when you're feeling low, commit to taking care of your mind, body, soul…and skin. Below, we're sharing a few self-care practices that can help keep your mind off the "winter blues."
What Exactly Is Seasonal Affective Disorder?
As we mentioned before, Seasonal Affective Disorder (SAD), is a form of depression that comes about with the shifting of seasons. According to the Mayo Clinic, SAD can cause decreased energy levels and can make you feel a bit moodier. There are a variety of factors that can contribute to SAD, but one of the most significant components is the lack of sunlight during the late fall and winter. Reduced sunlight can cause a drop in serotonin levels that may trigger depression, according to the Mayo Clinic. However, there are some steps you can take that may help you feel less down and dreary.
Tip #1: Treat Yourself to a Bubble Bath
After a long day at work, it's not surprising if all you want to do is crawl straight into bed. However, finding some energy to start running a warm bath may help you sleep even better. Everyone needs an escape from the daily stressors of life, and what better way to do this than letting a bubble bath transport your mind to a more relaxed state? If you're a fan of lavender scent, add a few capfuls of Kiehl's Lavender Foaming-Relaxing Bath into the bath.
Tip #2: Put on a Sheet Mask

 
Skin care is self-care…period. By taking care of your skin, you're taking care of your body. It is your body's largest organ, after all. Besides, a healthy-looking complexion is nothing to get upset over. If you have about 10 minutes of downtime, grab your favorite hydrating sheet mask, apply it onto your facial contours and kick up your feet on the couch. We've rounded up some of our favorite sheet masks, here.
Tip #3: Lather on Body Lotion
While we're on the topic of skin care and self-care, we should mention that moisturizing your body is one of the best things you can do for your skin. Especially during the winter months, dry and callused skin are ever-present. By applying your favorite body lotion, you can help combat this uncomfortable dryness and feel more comfortable. Plus, the act of putting lotion on can be relaxing in and of itself. We handpicked some of our favorite body oils and lotions to get us through winter, here!
 
Tip #4: Try Out Meditating
Between the holidays coming up and a busy work schedule, fitting in time to meditate can be difficult. However, just a few minutes of practicing mindfulness per day can yield immense results. According to the Mayo Clinic, meditation offers benefits such as helping with concentration, relaxation, inner peace, stress reduction, and fatigue. If you don't know where to begin, good news: there are a ton of resources online to help. Try out a meditation app for quick, guided meditations and mindfulness techniques right on your phone.
Tip #5: Eat a Well-Balanced Diet
There's something about colder weather that makes us crave hearty (and maybe unhealthy) foods. And with the weather being so brutal, chances are you're opting for a delivery service and not walking to pick up your food. This decrease  inactivity and exercise paired with a poor diet can make you feel even worse. Studies have shown that individuals who ate diets rich in fruits, vegetables and fish were less likely to report feeling depressed. Self-care doesn't always mean treating yourself to junk food and being a couch potato, but rather, making decisions that benefit your overall health and well-being. 
Tip #6: Get Enough Sleep
When you're constantly feeling fatigued, it's harder to be in a happy mood. By ensuring you get the recommended amount of shut-eye, you can function at a higher level and feel more energized through the day. Not getting enough sleep can also negatively impact the appearance of your skin. Combat this by trying your very hardest to get enough shut eye and eliminating distractions like bright lights and electronics before bedtime.
 
Tip #7: Get Lost in a Good Book
It's always nice to get transported to another world when you open the pages of a book. Books can be stimulating for your mind as well as a relaxing way to spend your free time. If you're anything like us, you'll want to pick up a book that can teach you a bit more about your skin. We are fans of The Beauty of Dirty Skin: The Surprising Science of Looking and Feeling Radiant from the Inside Out by board-certified dermatologist, and our own Skincare.com consultant, Dr. Whitney Bowe. 
Tip #8: Find Your Zen with Yoga
Yoga is one way to release tension in your body and help you find inner solace. You don't need to head to an expensive yoga studio in order to find your Zen, there are plenty of resources online that allow you to practice yoga in your very own home. Looking for a form of yoga that can also benefit your skin? Try face yoga, one of our favorite methods for relieving the look of stressed or fatigued skin.
Read more

Back to top