Cactus Is the Moisturizing Ingredient Your Skincare Routine Needs
March 14, 2022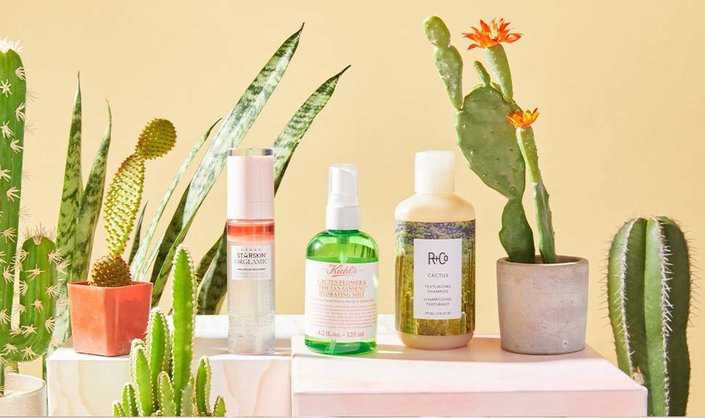 There are some skin-care ingredients that just make us stop in our tracks and go "huh?" — case in point: cactus. But as a skin-care ingredient, the cactus flower can help skin retain moisture, which is why we're loving it in everything from mists to sheet masks. We rounded up five of our favorite skin-care products (and one hair must-have) that are infused with the prickly flowering plant ahead.
Kiehl's Cactus Flower & Tibetan Ginseng Hydrating Mist
This is the cooling facial mist you need in your cactus-infused product stash ASAP. It works to purify and hydrate the skin for a healthy-looking appearance and is formulated with real cactus flower. It can be used any time throughout the day as a way to refresh the skin, over makeup or on its own.
Tony Moly I'm Real Cactus Mask Sheet
This really refreshing sheet mask is infused with real prickly pear extract and works to calm, soothe and purify the skin. Try this as a before-bed treatment to keep your skin feeling dewy overnight or use it right before makeup application to keep foundation flaking at bay.
Pacifica Cactus & Kale Oil Free Renewal Lotion
If you like the clean scent of cactus water, kale extract, rose and aloe vera, try this lotion by Pacifica. This 100% vegan product will help give you a boost of hydration.
R+Co Cactus Texturizing Shampoo
We love this cactus-infused texturizing shampoo from R+Co because it's designed to amp up your hair's natural wave. Not to mention, it smells glorious with notes of bergamot, wild fig, lotus flower, cedarwood and tonka beans.
Starskin Orglamic Pink Cactus Serum Mist
Another crowd-pleasing mist, this one by Starskin is the multi-tasking product you'll want to add to your collection STAT. It's a combination of a serum, toner and makeup prepper in one: with liquid cactus concentrate for major hydration. This can be used before, during and after makeup and will keep your skin feeling radiant and fresh.
Photo Credit: Chaunte Vaughn
Prop Stylist: Katrina Rozeville
Read More
Best Hydrating Skin-Care Products to Apply Over Makeup
The 10 Best Face Moisturizers of 2018
The Best 5 Makeup-Primer-and-Foundation Pairs
Read more

Back to top