Five Brands You Need On Your Radar — As Seen at the International Beauty Show
March 13, 2019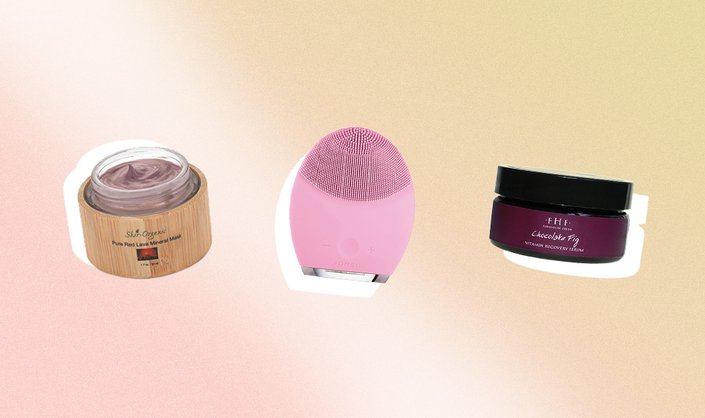 As beauty obsessees, there's no feeling more exciting than discovering a new super-cool skin-care product that no one knows about yet. That's one reason why we explore all of the expos we can possibly attend, the most recent being the International Beauty Show. The three-day event featured over 500+ exhibitors to explore products, learn new techniques and see what's trending in the beauty space. Ahead, find five brands we fell in love with at the show and learn why you need to keep them on your radar.
Lumini Skincare Assistant
Korean skin-care brand Lumini is basically a dermatologist in the form of a sleek device. Simply scan your face for a thorough analysis, including your skin's age, your skin "score" (out of ten), the worst problems your skin is facing and areas for improvement. From there, you will find product recommendations based on your specific skin type in the form of a handy list to refer to. You can't get your hands on this skincare assistant just yet, but keep it on your radar because we heard the device will be available at cosmetics counters starting this summer.
Shira
Meet the organic skin-care brand that wants to help you establish the perfect everyday skin-care routine. The brand's Shir-Organic line features bamboo packaging that's not only eco-friendly and sustainable, but is also really pretty. Scroll through their website to find masks, scrubs, gels and moisturizers tailored to your specific skin type. For example, the Red Lava Mineral Mask is formulated for oily, combination, acne-prone and congested skin, whereas the Sweet Citrus Marmalade Mask is made for dry, dull-looking skin.
Foreo
It's not always easy to find skin-care products that are worth the splurge, but a good facial cleansing brush is a must to simplify your routine. Our Clarisonic Mia Smart is a must-have, but Foreo cleansing devices are also a great travel and gym-friendly option. One of the brand's bestsellers is the Luna 2, which is available in four different varieties based on your skin type: normal, combination, sensitive and oily.
FarmHouse Fresh
If you love farm-fresh food, chances are you'll love FarmHouse Fresh. Products are inspired by fresh foods and use 100% natural and naturally-derived ingredients. We got to check out the brand's new Chocolate Fig Vitamin Recovery Serum which is great for those of you with dry, dull skin looking for hydration and glow. Apply before bed under your daily moisturizer and be warned: this will make you crave chocolate.
Battington
This brand is important to know about if you're a faux lash enthusiast. Each set of handmade silk lashes can be used up to 25 times. Either purchase a set of lashes on their own or choose from their starter kits for a box full of everything you need. Inside of the kit, you'll find a set of lashes of your choosing, a lash curler, scissors and lash glue. The chic packaging and gold accessories makes for a great gift for yourself or a fellow lash-lover.
Read More:
This Hack Is About to Make Reapplying Your Sunscreen So Much Easier
How to Transition Your Skin-Care Routine for Spring
How to Use a Sugar Scrub — And the Ones You Should Add to Cart
Read more

Back to top