I Tried CeraVe's Cleansing Balm and My Face-Washing Routine Is Better for It
April 10, 2023
In order to double cleanse, I typically reach for a micellar water and a hydrating water-based cleanser. I can usually count on this combo to thoroughly remove every trace of makeup, excess oil and sweat from my skin without leaving my complexion parched or uncomfortable. But when I squeezed out the very last drop of my micellar water the other day, instead of running out to buy another bottle, I decided it was time to switch up my lineup with a cleansing balm — specifically, the CeraVe Makeup Removing Cleanser Balm, which was generously gifted to me by the brand.
Keep reading to learn more about the balmy formula and to find out how it performed at removing my long-wear makeup. (If you're looking for a cleanser that melts off your foundation with ease, this is it.)
The Benefits of the CeraVe Makeup Removing Cleanser Balm
Formulated with jojoba oil and ceramides, this cleanser balm removes makeup, dirt, oil and impurities from the skin with ease while also keeping skin hydrated and supporting the skin's moisture barrier. As its name suggests, it has a thick, balmy texture that glides across the skin to melt away makeup (even long-wear formulas!), therefore making it the perfect first-step in a double cleansing routine. Following up with another cleanser (in double cleansing, that typically means a water-based cleanser) will ensure you've removed every trace of makeup or dirt and that your skin is prepped to absorb any toners, serums or creams.
Some other details worth noting: The formula is non-comedogenic, allergy-tested, developed in partnership with dermatologists and free of alcohol, fragrance and parabens.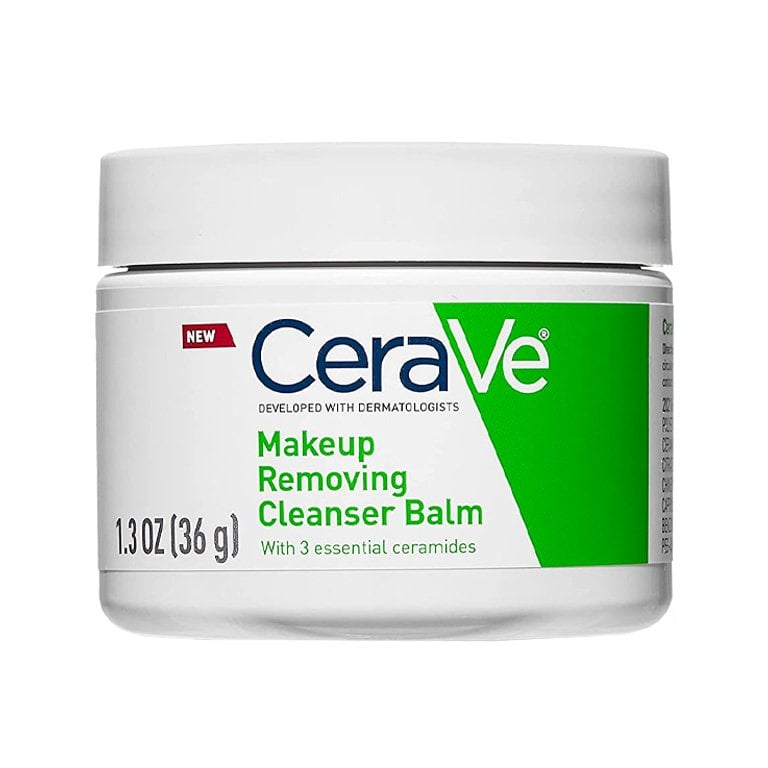 My Review of the CeraVe Makeup Removing Cleanser Balm
Sometimes I purposely choose not to wear makeup because I know that I won't feel like taking it off before I climb in bed at the end of the day. A makeup-removing formula that lifts my makeup up and off my skin with ease (i.e. without aggressive wiping and multiple cotton pads) makes the experience way less of a chore. I usually opt for micellar waters because they don't leave my skin feeling taut, uncomfortable or screaming out for an immediate reup of moisture, so I was curious to see how this balm would compare.
To test the CeraVe Makeup Removing Cleanser Balm, I followed the brand's directions and scooped up about a pearl-sized amount of balm out of the container. First, I worked the balm between my clean fingertips and then massaged it onto my skin in circular motions. It quickly transformed from a thick balm into a silky, oil-like consistency. Within just a few seconds, I could feel the stubborn makeup (like my long-wear foundation, concealer and bronzer) melting off my skin as I continued to massage the product on my skin.
After massaging the balm on my skin for about a minute, I thoroughly rinsed my face with lukewarm water. It took about three quick splashes to feel like the balm (and all of the makeup residue) was gone. When I looked in the mirror, I'd say 99 percent of my makeup was removed, and all of it was completely rinsed away when I moved onto the second part of my double cleansing routine.
While I was super impressed that this balm was powerful enough to remove my 24-hour foundation, what I loved even more was that it didn't leave my sensitive skin feeling stripped of moisture, rough or irritated. In fact, my skin felt touchably soft, properly hydrated and clean.
It's been weeks since I ran out of my micellar water, and once I scoop the very last bit of balm out of this tiny tub, I might just run out to buy another.
Read more

Back to top