Career Diaries: How the EADEM Founders Are Reframing the Industry's Approach to Melanin-Rich Skin
September 13, 2021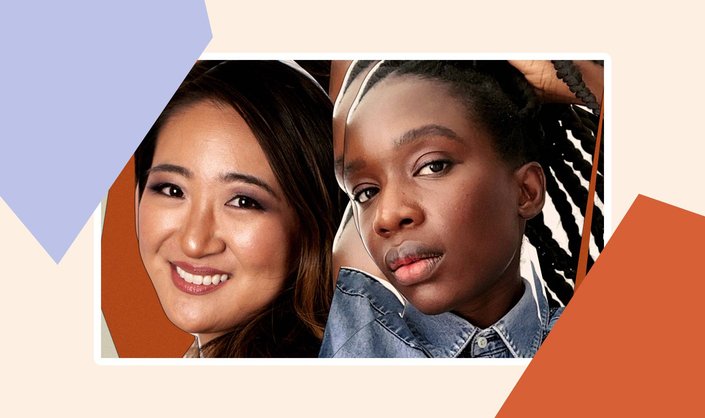 EADEM, a women of color-owned beauty brand that just landed at Sephora, has just a single hero product — the Milk Marvel Dark Spot Serum. This isn't just any dark spot serum though. This serum had a waitlist of over 1,000 shoppers this spring and has been critically acclaimed by users for its powers to target post-inflammatory hyperpigmentation on melanin-rich skin. Marie Kouadio Amouzame and Alice Lin Glover are the pioneers behind the thoughtful product. The lady bosses spoke to Skincare.com about how EADEM is reframing everything we thought we knew about melanin, hyperpigmentation and the beauty industry as a whole.
How did you two meet and what led you to create EADEM?
Alice Lin Glover: Marie and I met as coworkers at Google almost eight years ago and we always say that even though we look different on the outside, we realized that as women of color working in a tech company, we had shared so many experiences on how we navigated not just the workplace but also beauty. We both straddled the beauty ideals of what our parents had as children of immigrants, but also what we saw as children growing up in Western cultures.
I grew up in the US and Marie grew up in France. Marie showed me all about the French pharmacy and we kind of navigated Asian beauty together going to South Korea and Taiwan. Talking about beauty brought us together to start this company. Eadem means 'all or the same,' so it's drawing upon the idea that it encapsulates a lot of diverse cultures with shared perspectives and skin needs. Most people think about melanin as just darker skin tones, but the way we think about it is the biological and dermatological definition, which is skin tones from me to Marie and all the shades in between. 
Marie Kouadio Amouzame: When you dig into what it is that our skin needs, hyperpigmentation is one of the top concerns and if you look at the market, a lot of those serums focus on age spots and use harsh chemicals, so for us it was important to create a completely original product with our skin in mind. Skin with more melanin tends to get hyperpigmentation because our skin is more sensitive to inflammation. There's almost this myth of darker skin tones being kind of resistant to anything which is the complete opposite of the truth.
Can you tell me more about EADEM's hero product, the Milk Marvel Dark Spot Serum?
Glover: It was a multi-year development. A lot of brands go to a manufacturer and buy a formula off the shelf and tweak it, but that didn't work for us. We worked with a dermatologist and a woman of color formulator to build it from scratch and we went through over 25 iterations of it, keeping in mind everything from ingredient selection to how it feels and sinks into the skin. 
For example, a few rounds were just dedicated to Marie noticing that the serum would soap up on her skin and we wanted to make sure that it sunk into the skin. Small details like that are how we approached the serum. Smart Melanin Technology is our philosophy around how we formulate products. It incorporates testing and having research around each of the actives that we include so we know how it reacts on skin of color. It also makes sure that we're doing everything at the right percentage so it not only effectively treats hyperpigmentation, but doesn't aggravate your skin further.
Amouzame: We started the online community as our first step into the public. We both have personal stories of being an afterthought in the beauty community. For myself, I was looking for a product in-store and they told me that they don't carry products for Black people. 
For Alice, it was growing up with severe acne and trying everything she could to mitigate that. So, creating products was always top of mind when we started three years ago. But as we were talking to women and they were sharing their experiences — bonding around the fact that we were often 'othered' by the society in which we live — we knew it was obvious that we had to meet more women like us, center around more women like us and tell our stories.
What are your thoughts on the beauty industry's relationship with melanin?
Glover: Honestly, I don't know that they do view melanin or think about it. I think they do from a marketing perspective but just given all the experiences we've had through the supply chain, talking to clinical formulators and clinical testers, there's still a lot of research to be done. I love that now everyone recognizes that the beauty industry needs to be more inclusive, but I think there's still more work to be done.
Amouzame: And it's almost like melanin is the enemy somehow. For us, it's the other way around — we make our products so that they're 'melanin-loving.' That's the essence of everything we do.
What's a skincare trend you are personally excited about?
Amouzame: It's something that a lot of Black kids have gone through when we're children — our moms put either Vaseline or shea butter all over us. I love that it came back and that people are now using it on their faces, which I do as well. I do my full skincare routine and then I apply a thin layer of Vaseline over my face.
Glover: For me, it's people moving away from the extremely long skincare routines. As someone who has always had that skin hyperpigmentation, I feel like it's a dangerous game to play when you have to be careful about what you put on your face. I'm happy that people are kind of educating themselves more on skincare and doing the less-is-more approach.
Photo Courtesy of EADEM
Read More:
Career Diaries: Meet the Kinship Founders Who Are Crusading For Gen Z Skincare Concerns
6 Dark Spot Correctors to Add to Your Cart
Read more

Back to top