5 Editors Share Their Go-To Vitamin C Product in Honor of Vitamin C Day
March 23, 2023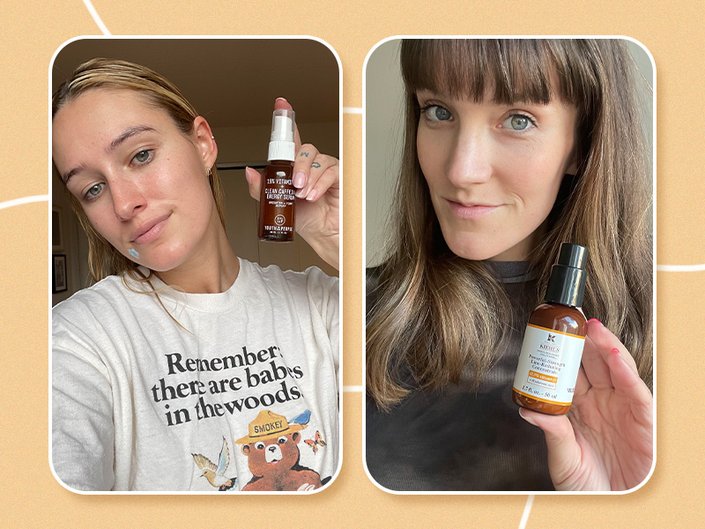 Vitamin C Day is just around the corner — which means it's the perfect time to celebrate this potent skincare ingredient that works to even out skin tone and improve radiance. Vitamin C skincare products come in a variety of forms, from serums to moisturizers, eye creams and more. Here, our editors are sharing their favorite vitamin C-infused products for the holiday — and we recommend you treat yourself to one or more of the picks to celebrate!
Victoria, Content Director
My skincare routine is extremely simple, but vitamin C always makes the cut. I love that this formula from CeraVe is suitable for all skin types and helps to even skin tone while restoring the skin barrier with ceramides. No matter the season, I struggle with dry skin, and this vitamin C serum helps combat that concern with an amazing technology that continues to release the formula's moisturizing ingredients after application.
The Kiehl's Powerful Strength Vitamin C Serum is another one of my all-time favorites. In addition to bringing a radiant glow to the skin, the potent formula helps to firm and smooth the texture of the skin, delivering results you can see in as little as two weeks. That's thanks to an infusion of 10.5% l-ascorbic acid and hyaluronic acid.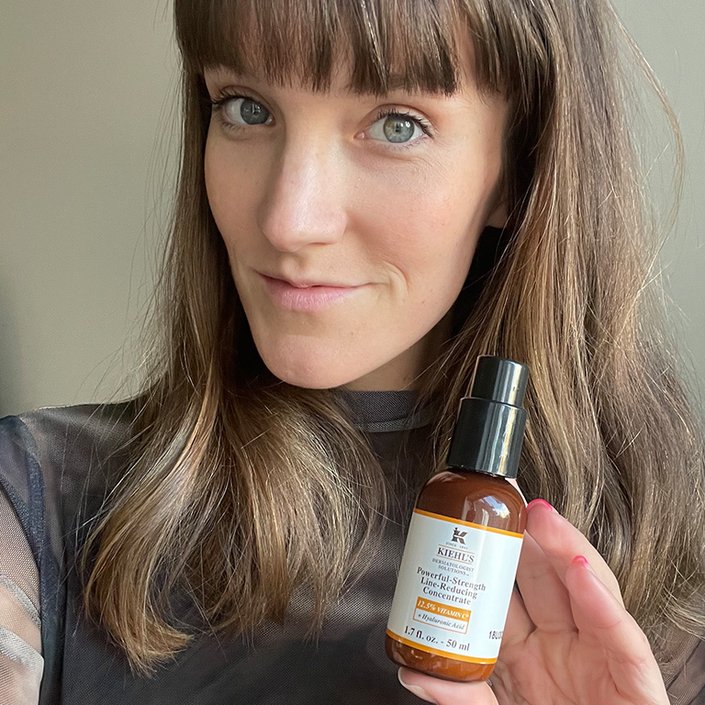 Alanna, Assistant Managing Editor
I love when vitamin C truly packs a punch in my skincare routine, which is why I rely on both a vitamin C serum and moisturizer. The first step for me is this 12% vitamin C serum from L'Oréal Paris that also contains salicylic acid — a perfect ingredient combination for my acne-prone skin. It helps refine and clarify my problem areas, reduces dullness and helps zap the appearance of pesky acne scars. I finish with this antioxidant-packed moisturizer from iNNBeauty Project to lock everything in. It contains vitamin C and peptides to help nourish, brighten and soften the skin. Combining both of these powerhouse vitamin C products has proven to be a game changer for my combination skin, and I couldn't picture my routine without them.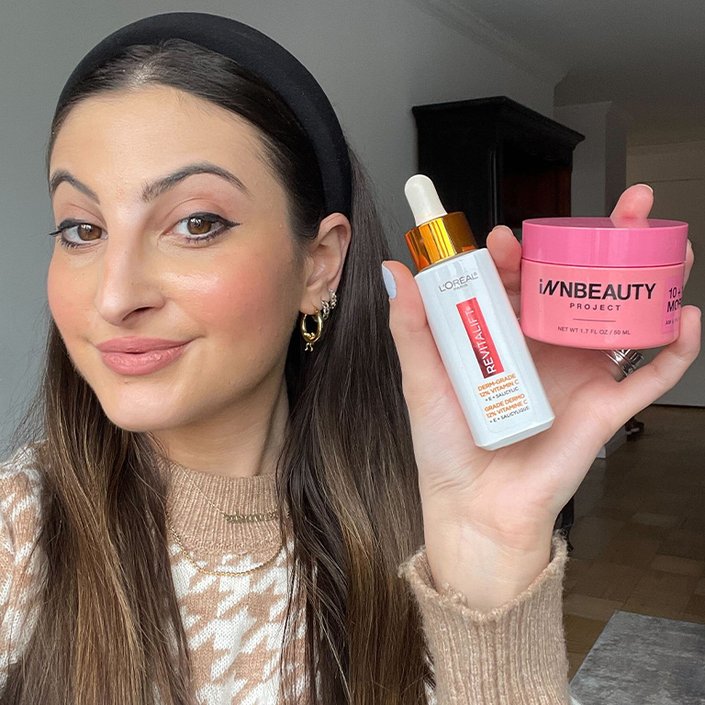 Ariel, Editor
Finding a vitamin C serum that brightens my sensitive skin without causing irritation is no easy feat. I've tried countless formulas, but this one stands out for its ability to leave my skin glowy and redness-free. It's formulated with only 11 ingredients, including pure vitamin C, vitamin E and pine polyphenols. These antioxidants help protect against environmental aggressors and leave my skin looking radiant and even. It's suitable for all skin types, not just dry, sensitive skin like mine.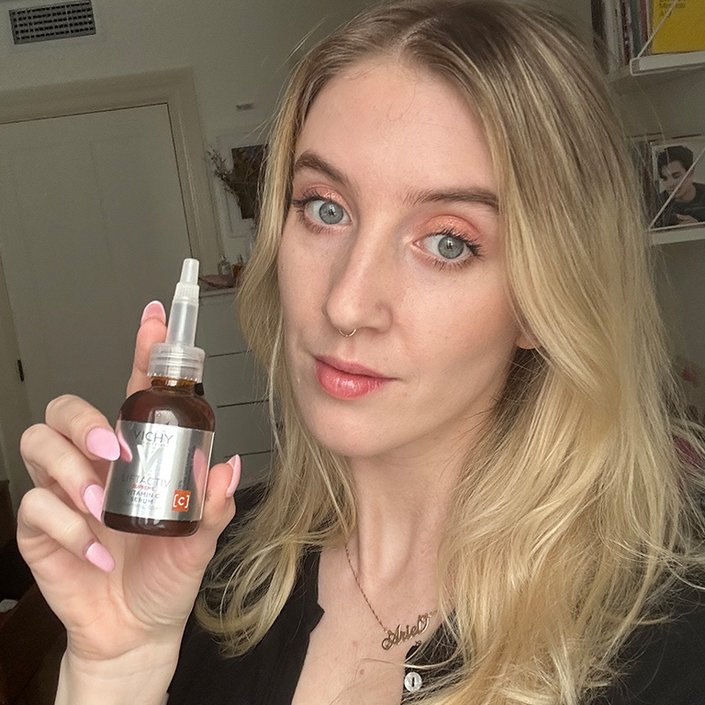 Jordan, Associate Editor
Ever since I was told by a dermatologist that you should start incorporating vitamin C into your skincare routine
in your early 20s
, I've been on the hunt for the best products featuring the anti-aging ingredient. I love using this serum from Youth to the People as an energizing step in my morning skincare regimen. Formulated with 15% vitamin C and caffeine, it works to reduce hyperpigmentation, even skin tone and add firmness. Plus, the caffeine helps depuff. This lightweight, antioxidant-packed serum leaves my skin looking so refreshed and youthful.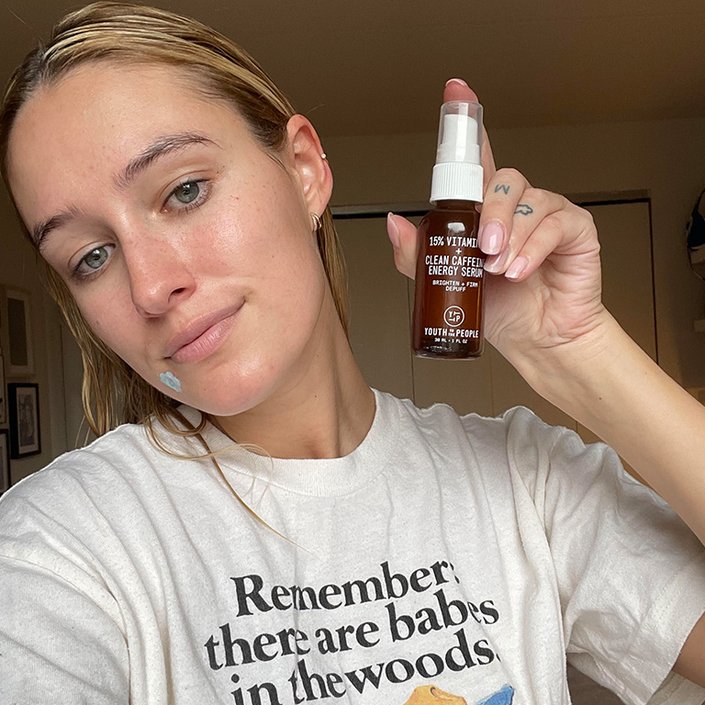 Kat, Social Media Editor
Vitamin C is one of my favorite skincare ingredients for the numerous anti-aging benefits it provides, but I tend to be a little picky when it comes to incorporating the ingredient into my routine. I look for something that's lightweight and quick-absorbing. That's why the cult-classic SkinCeuticals C E Ferulic Acid Serum has been a staple in my routine for months. Formulated with 15% vitamin C, this is an extremely potent serum that works to protect and brighten the skin. I notice that when I use it consistently, not only does my skin look brighter and more radiant but dark marks and discoloration tend to fade away quicker. It's definitely a staple in my routine that I don't see changing anytime soon!
Editor's Note: When you buy select SkinCeuticals vitamin C serums in the month of April, you'll be automatically entered to win three bottles of a SkinCeuticals antioxidant of your choice or a $555 SkinCeuticals Flagship gift card for an in-office experience. Find out more here!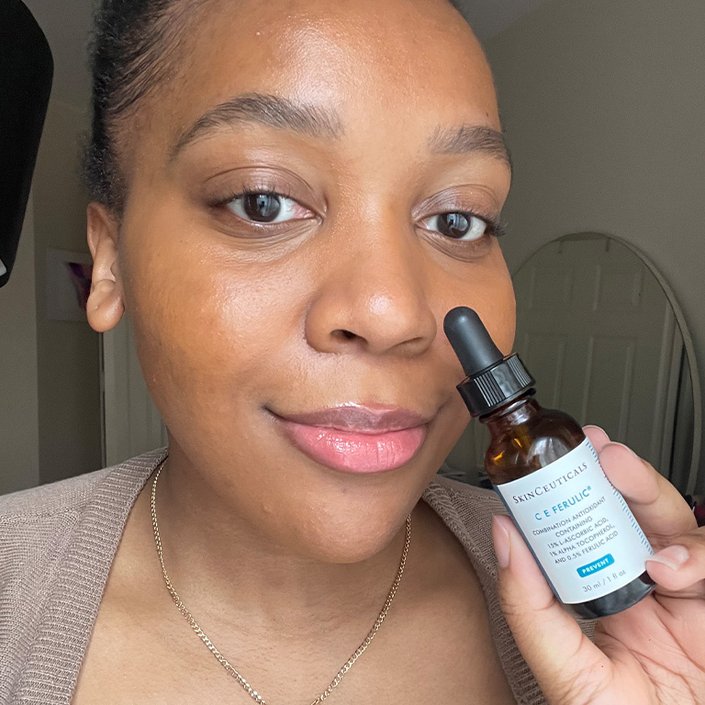 Photos: Alanna Martine Kilkeary, Jordan Julian, Victoria Moorhouse, Kat Pierre, Ariel Wodarcyk; Design: Juliana Campisi
Read more

Back to top