Fall Skin-Care Products Our Editors Are Loving This October
October 01, 2020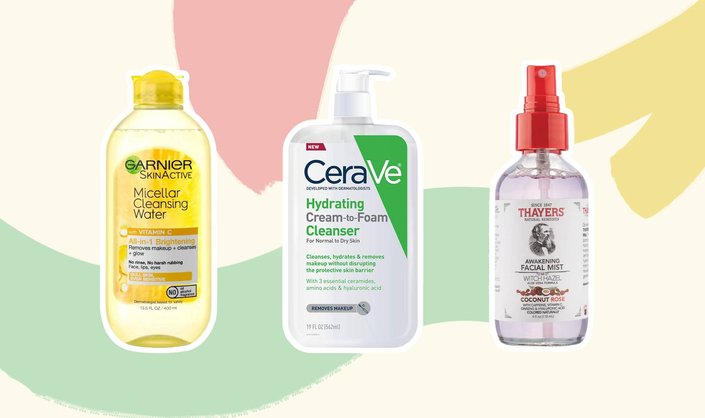 It's a brand-new month, which means different products are making their way into our bathroom cabinets and skin-care routines. These are the products Skincare.com's editors can't live without this October.
Lindsey, Content Director
Garnier SkinActive Micellar Cleansing Eco Pads
I'm a big fan of double cleansing, and these reusable cotton pads let me swipe on a hydrating micellar water or cleansing oil without causing as much damage to the environment as disposable cotton rounds. I simply use and toss and into my hamper to go in the wash when I'm done.
Sarah, Senior Editor
Garnier SkinActive Micellar Cleansing Water with Vitamin C
My vanity is never without a Garnier micellar water. The formulas are incredible makeup removers (I wear waterproof mascara every day) and perfect for a quick and refreshing morning cleanse. I was so excited when I heard that the brand would be expanding the line with this brightening formula, and it does not disappoint. In addition to providing all of the same cleansing benefits I know and love, it contains vitamin C to help me get my glow on.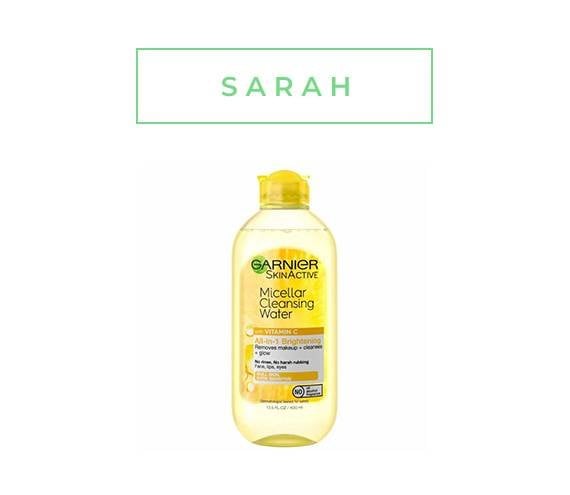 Alanna, Associate Editor
Thayers Coconut Rose Awakening Facial Mist
A refreshing facial mist keeps me perky and awake throughout all my work-from-home days (and accompanying screen time), and lately I've been reaching for this sweet-smelling formula from Thayers. I love that it contains a mix of glycerin, aloe and caffeine to help revitalize and refresh my complexion multiple times a day. 
I rarely use pore strips because I often find them drying to the skin, but lately, I've noticed a few extra blackheads popping up around my nose area (I blame maskne), so I decided to give the Lift Off Pore Strips a try. These gentle strips lift away dirt and oil and contain witch hazel leaf extract, aloe barbadensis leaf extract and allantoin to help reduce inflammation and block bacteria. After using them a few times, I'm proud to say that the nose on my skin appears a lot smoother and less congested. Plus, they are super cute and Instagram-friendly!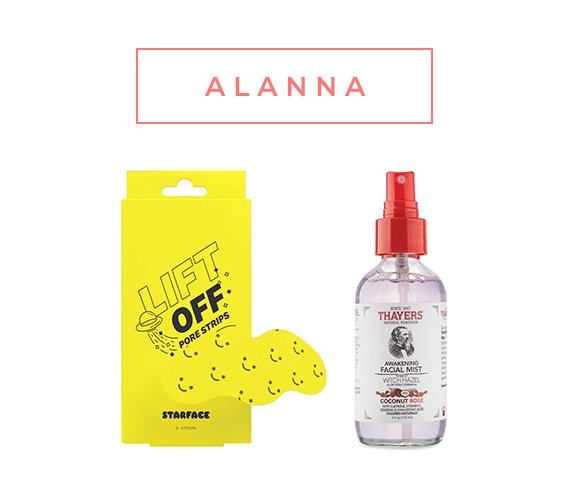 Genesis, Assistant Editor
Femmue Dream Glow Revitalize and Radiance Mask
I always gravitate towards skin-care products with the words "glow" or "radiance" in the name, so you can imagine how pumped I was to see this one. It's a bio-cellulose sheet mask that's saturated in a thick, hydrating serum formulated with niacinamide to brighten, hydrate and provide nourishment to the skin. After I applied the mask and wore it for 20 minutes, my skin instantly looked more luminous and felt soft and supple. 
CeraVe Hydrating Cream-to-Foam Cleanser 
My skin is very influenced by the weather. And while I normally struggle with excess oiliness in the summer, I can already feel certain parts of my face getting dry as we head into fall. This cleanser is a serious game-changer because it starts off with a rich creamy texture that feels hydrating but then transforms into a foam that effectively removes excess dirt, oil and impurities. Formulated with hydrating hyaluronic acid and essential ceramides, which help to maintain your skin barrier, the wash satisfies my combination skin type and leaves my skin feeling clean without stripping it of its moisture.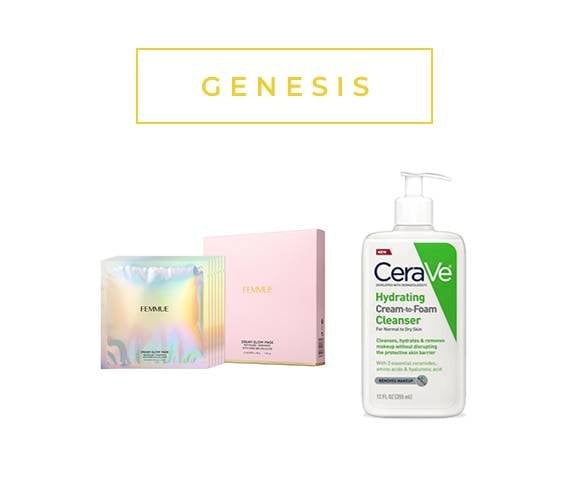 Samantha, Assistant Editor
Snow Fox Crystal Eye-Light Serum Roller 
To help my very dark and very puffy under eyes, I've been leaning on this three-in-one product that depuffs, firms and brightens the skin. The serum is dispensed through a rose quartz crystal ball roller that helps you massage and drain built up fluid in and around the eye area. The serum itself is formulated with deep sea ferment, which hydrates and plumps the skin, and caffeine to tighten and brighten dark areas. I love to drag the rollerball along the high points of my cheeks and down the bridge of my nose, too. The serum has light reflectors that give a nice, dewy sheen to the skin.
La Roche-Posay Lipikar AP+ Moisturizing Body Wash
This body wash from La Roche-Posay has been my go-to over the past few weeks. Not only is it gentle enough for my uber sensitive skin, but it also works up a nice lather. I don't love to use shaving cream, but this foaming wash creates enough of a barrier between my skin and the razor to double as one on my legs. With moisturizing ingredients like shea butter and glycerin, it's no surprise that the wash leaves my skin soft and smooth after use.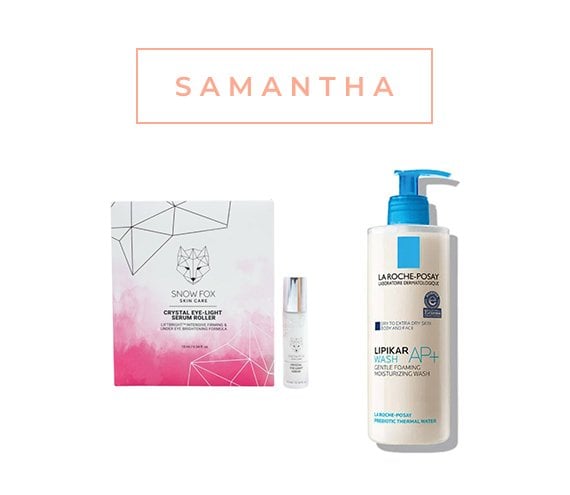 Jillian, Senior Social Media Editor
Glow Recipe Plum Plump Hyaluronic Acid Serum
As soon as the weather gets colder, I incorporate as many hydrating ingredients as possible into my routine to help my dry skin, and hyaluronic acid is at the top of the list. Glow Recipe's new serum not only gives me my perfect daily dose of HA, but the kakadu plum and vegan collagen rejuvenate my skin, so I can keep my complexion nourished and plump around the clock. If you're looking for a serum that will help combat a dull and dry complexion, definitely pick this up during your next Sephora run.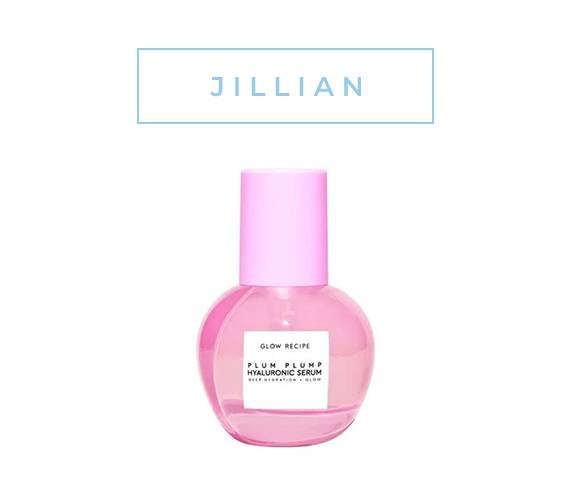 Design: Hannah Packer
Read More:
The Best Cleansers for Oily Skin, Hands Down
What Causes Ashen Skin? — Plus, How to Get Rid of It
Read more

Back to top