The Best New Skincare Products of June 2021, According to Our Editors
June 01, 2021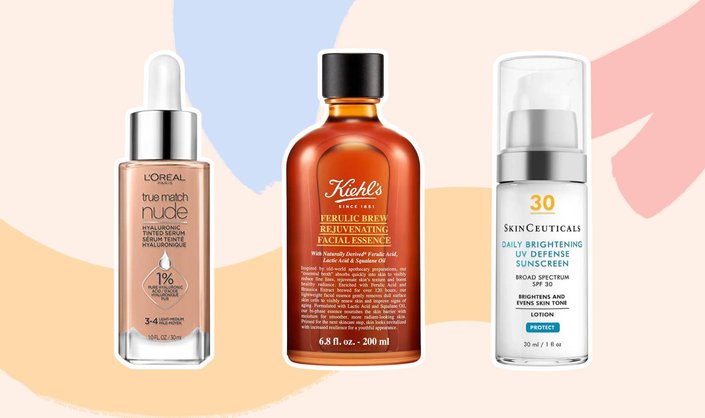 It's a brand new month, which means that a new round of products is making its way onto store websites and shelves and into our medicine cabinets. These are the products Skincare.com's editors can't live without this June.
Sarah, Associate Content Director
Kiehl's Ferulic Brew Facial Treatment Essence
It's my opinion that essences are underrated in the skincare world. These products are typically meant to be applied after cleansing and before serums and can help hydrate, soften and brighten skin. The category is getting more sophisticated of late and this Kiehl's essence is an example of that. It contains ferulic acid, an antioxidant that helps prevent visible signs of aging and dullness, lactic acid, an alpha-hydroxy-acid that helps refine texture and tone, and squalane to hydrate. If you see me glowing this summer, it's all thanks to the Ferulic Brew.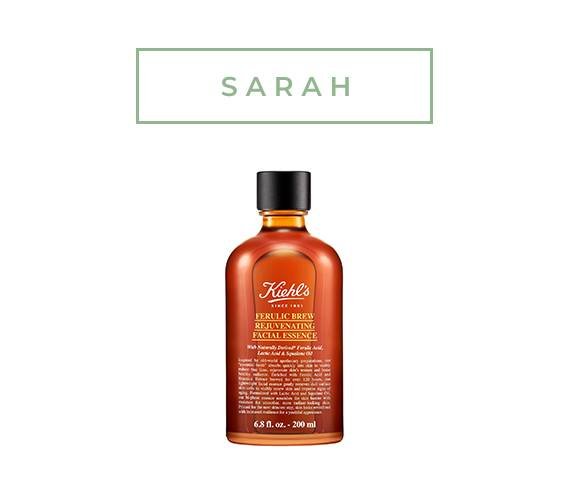 Alanna, Assistant Managing Editor
L'Oréal Paris True Match Nude Hyaluronic Tinted Serum
There's not much else I love more than a multi-tasking product. This serum contains 1% hyaluronic acid and provides light coverage for the ultimate skincare-makeup hybrid. I love to use this as the last step in my skincare routine (after SPF, of course!) and the first step of my makeup routine. Next, I layer on concealer and powder and my skin feels supple, more even-toned and ultra-hydrated throughout the day. 
Sol de Janeiro Rio Deo Aluminum Free Deodorant 
I've switched over to aluminum-free deodorants a couple of years ago, and I definitely have a few favorites that I never thought I'd stray from. But that all changed when Rio Deo landed in my mailbox. This ultra-moisturizing, long-lasting and sweet-smelling formula has become my new go-to. It has a combination of coconut oil, papaya, vitamin c and mango seed butter to hydrate, soften and brighten the underarm area, and I've already seen results after just a few weeks.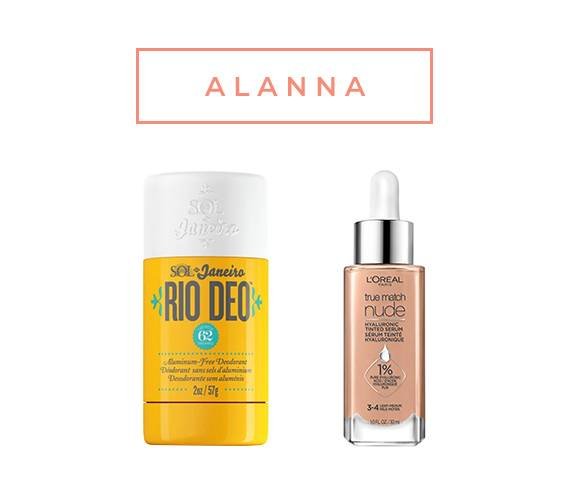 Ariel, Associate Editor
L'Oréal Paris Revitalift Derm Intensives 3.5% Glycolic Acid Cleanser
I'm always looking for an exfoliating cleanser that won't strip my dry, sensitive skin, and this one fits the bill. Glycolic acid can be irritating, so I only use this cleanser two to three times a week and am left with softer, smoother skin each time. The formula also contains soothing aloe extract and is free of parabens, fragrances, dyes and mineral oil. 
MDSolarSciences Hydrating Sheer Lip Balm SPF 30 in Bare
I rarely go out without at least three lip products in my bag — gotta have all the bases covered, from balm to gloss! This sheer tinted balm is quickly becoming my new go-to. It's slightly shiny, feels buttery and hydrating on the lips and you can barely see the nude color at all, which makes it easy to apply on the go without making a mess. SPF 30 protects my lips while a blend of avocado, jojoba and olive oil moisturizes.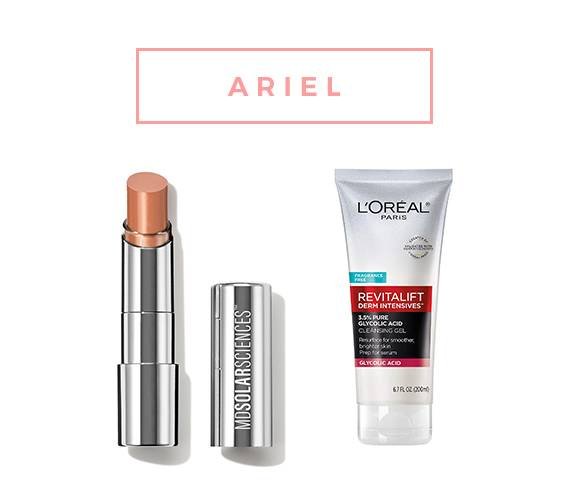 Mary, Associate Editor
I was never a fan of body oils until I tried this one from Momoterra Apotheca — and I truly don't know how I ever lived without it. Made from a luscious blend of cold pressed argan, jojoba and sweet almond oils, it seamlessly melts into my skin leaving it beyond hydrated and soft. Plus, a little goes a long way — massaging a quarter-sized amount of the subtle, sandalwood-scented oil into my legs post-shower leaves them looking glowy for the entirety of my day.
Maybelline New York Fit Me! Tinted Moisturizer
I've tried quite a few tinted moisturizers, but I am continuously coming back to the Maybelline New York Fit Me! Tinted Moisturizer. This one particularly stands out because it applies more like a lotion than a foundation, evens out the color of my rosacea-prone skin without hiding my freckles and keeps my face feeling hydrated all day thanks to the aloe-infused formula.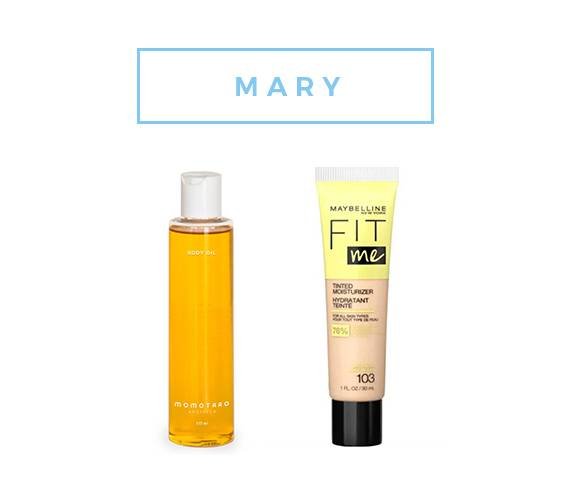 Caitlyn, Assistant Editor
SkinCeuticals Daily Brightening UV Defense Sunscreen SPF 30 
Say hello to my new favorite sunscreen that quite literally does the most. Like standard sunscreens, the formula acts as a line of defense against UV damage, but it doesn't stop there. This daily hydrating sunscreen is formulated with actives like niacinamide and works to prevent discoloration (read: UV-induced pigmentation) while also brightening and evening my skin tone. As someone with sun spots, this sunscreen is the solution to my (many) summer skincare woes and will be a permanent fixture in my sun-care routine. 
Ole Henriksen Cold Plunge Pore Remedy Moisturizer
Between the hot, humid weather and my oily skin type, applying a thick coat of moisturizer is truly the last thing I want to do in the summer.  When Ole Henriksen dropped a pore-tightening moisturizer with a cooling effect, I knew I had to give it a try. The lightweight, BHA- and LHA-infused formula feels cool to the touch for a refreshing splash of hydration without weighing my skin down or making me feel super oily. It also helps minimize pores and control shine. I can honestly say that I look forward to applying moisturizer now, and will continue to do so all summer so my skin continues to feel calm, cool and collected.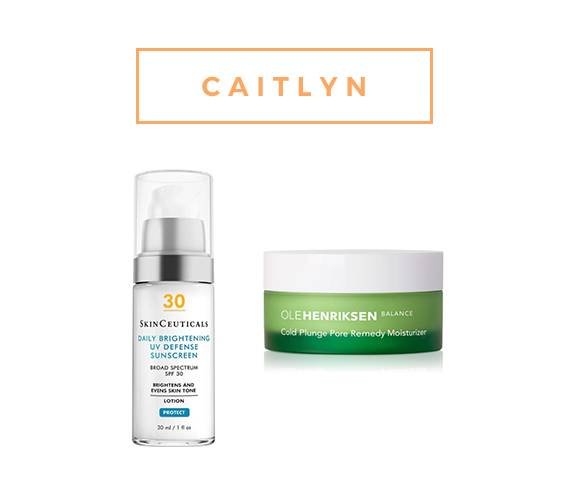 Alyssa, Assistant Editor, Beauty Magazine
HOLIFROG Grand Amino Cushion Cream
It's quite rare that I come across a moisturizer that I immediately fall in love with. Typically, it takes a while for me to appreciate what one does for my skin, but when I tried out Holifrog's first ever moisturizer, it was love at first application. It's the perfect transitional product from winter to summer because it's deeply hydrating without being too heavy. Not only did it provide the perfect amount of hydration for my combo skin, but it gave me a gorgeous, natural glow, too. I've been using it religiously all month!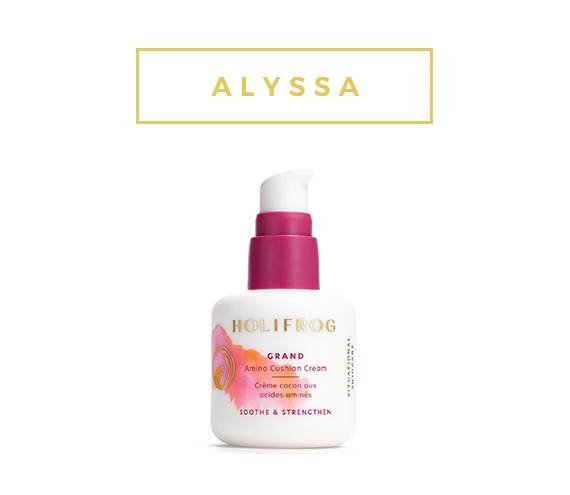 Design: Hannah Packer
Read More:
Sunscreen 101: What SPF Means and Different Sunscreen Types, Explained
Read more

Back to top