The La-Roche Posay Lipikar AP+ Body Wash Is Perfect for My Sensitive Skin
October 30, 2020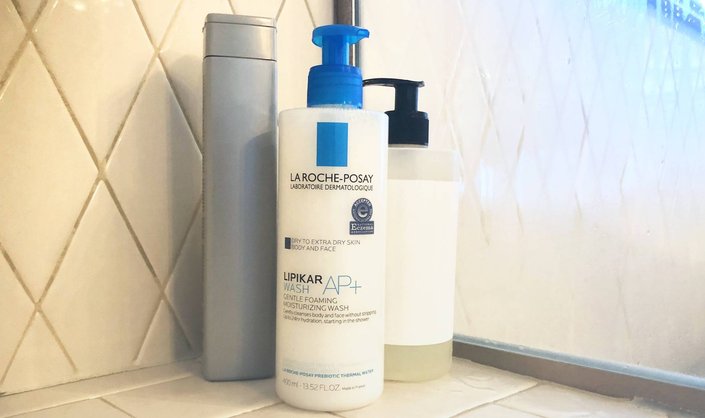 My skin and winter don't get along too well. The second the temperature drops, my legs look flaky and ashy and I start to develop itchy patches of eczema on my arms. That's why I'm always on the hunt for a body wash that can soothe my sensitive, dry skin. So when La Roche-Posay sent me a complimentary sample of its new Lipikar Wash AP+ Moisturizing Body and Face Wash ($19.99 MSRP), I couldn't wait to test it out. My thoughts on the hydrating wash, below. 
The Benefits of the La Roche-Posay Lipikar Wash AP+ Moisturizing Body and Face Wash
This face and body wash is ideal for people with dry and sensitive skin (like me!) because the formula, which includes shea butter and glycerin, provides up to 24-hour hydration. The foaming wash, which can be used on both the face and body, leaves the skin feeling soft, clean and instantly soothed. Another benefit to note? The product is certified by the National Eczema Association and has been dermatologist-, sensitive skin- and allergy-tested.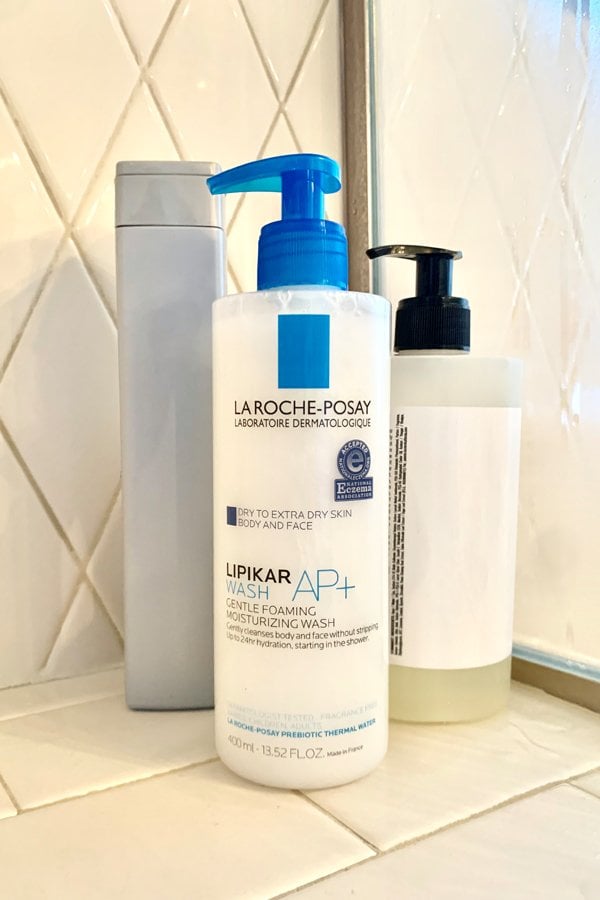 My Review of the La Roche-Posay Lipikar Wash AP+ Moisturizing Body and Face Wash
Taking a shower or a bath is my time to relax, so I like to stock my shower with soothing products that not only feel nice on my skin but also smell refreshing. And the first thing I noticed about this wash is its spa-like scent. It's not overpowering in the slightest; it has a clean smell that instantly puts me in a more zen state of mind. 
As far as texture goes, the wash is very milky. It foams up a bit, but for the most part it maintains a creamy feel that is extra gentle on my sensitive skin. I felt like the itchy spots on my inner arm were noticeably calmed  right after washing my body. Another plus? This product can also be used as a face wash. And considering I'm a product hoarder, having a double-duty cleanser saves me major space in the shower. 
After patting my skin dry, both my face and body felt soft and soothed. I locked in the moisture with the La Roche-Posay Lipikar Balm AP+ Moisturizer for Dry Skin. Fast forward 24 hours and my body still felt hydrated. I've been using the body wash for the past month and can confidently say that my eczema has flared much less than normal and my typically dry and flaky skin has stayed supple. 
So if you're in the market for a new body wash and have uber sensitive skin like me, try out this new body and face cleanser — you won't regret it. 
Photo: Samantha Holender
Read More:
A Simple Skin-Care Routine for Acne-Prone Skin Types
Skin-Care Tips for Every Skin Type
Read more

Back to top