6 Unexpected Ways to Use Your Clarisonic
July 21, 2016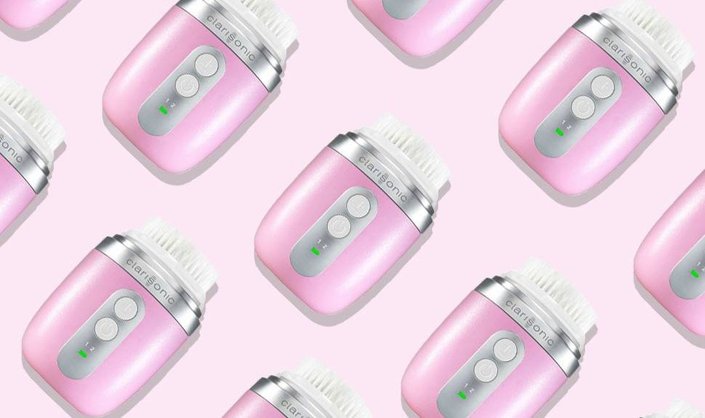 Newsflash: There's more than just one way to reap the benefits of your Clarisonic. If you've only been using one to cleanse your face better than hands alone, prepare to see the trusty device in a whole new light. Below, six nifty beauty hacks you never knew you could try with your Clarisonic. 
1. GIVE YOURSELF A PEDICURE
Now, wait a minute. You don't actually think we'd recommend that you use the same cleansing brush for your face on your feet, right? (Yuck!) Good, glad we sorted that out. For a little DIY pedicure magic, use the Clarisonic Smart Profile device paired with the Pedi Wet/Dry Buffing Brush Head and Pedi-Buff exfoliating scrub to dissolve rough, dead skin on feet. Follow up with an application of the brand's soothing and hydrating Pedi-Balm to lock in moisture. Did someone say sandal-ready feet? 
2. SCRUB YOUR LIPS
Mimic your favorite lip exfoliator by swapping your classic brush head for a more precise one—like the Satin Precision Brush Head—and sweeping it across your pout. The brush features a dynamic dual-layer design that gently cleanses delicate and contoured zones of the face such as the nose, lips, and around the eyes. Follow up with your favorite lipstick—try one of these with skin care benefits!—gloss, or balm. The skin on your pucker will feel soft and smooth, and product will glide on easy without settling into dry, cracked ridges.      
3. TREAT YOUR BODY
Below-shoulder skin—think: décolletage, back, and arms—is (unfortunately) commonly neglected in a skin care routine. But you're not going to fall victim to that mistake, right? Invest in the Clarisonic Smart Profile for luxurious head-to-toe sonic face and body cleansing. Use the highest speed setting (turbo) to buff away pore-clogging dirt and debris on your body. Who ever said only your face deserves some deep-cleansing Clarisonic love? 
4. PREP (OR REMOVE) SELF-TANNER
To help your self-tanner last longer, gently sloughing off dead skin prior to an application makes all the difference. Cleanse your body from the neck down (focusing on rough spots like the knees and elbows) using the Clarisonic Smart Profile device per the above, and follow up with your favorite moisturizer for smooth, even skin that can prolong the life of your fake tan. When it comes time to remove the self-tanner, whip out your Clarisonic again and cleanse any stubborn patches with the help of a gentle scrub. 
5. ENJOY A MASSAGE
While in the shower, run the device over your neck for a soothing massage with warm water. The soft vibrations will take your shower up a notch.
6. CLEAN UP YOUR BOYFRIEND'S BEARD
Ladies, change your brush head and consider sharing your Clarisonic with your man for use on his beard. Sonic cleansing can help remove any buildup or debris lingering within facial hair, leaving him with a cleaner and softer beard. Better yet, gift him his own brush altogether. The Alpha Fit is Clarisonic's first brush specially engineered for men.
Read more

Back to top