Editor's Pick: This Eye Mask + Balm Duo Is The Ultimate Treat for Tired-Looking Eyes
August 18, 2016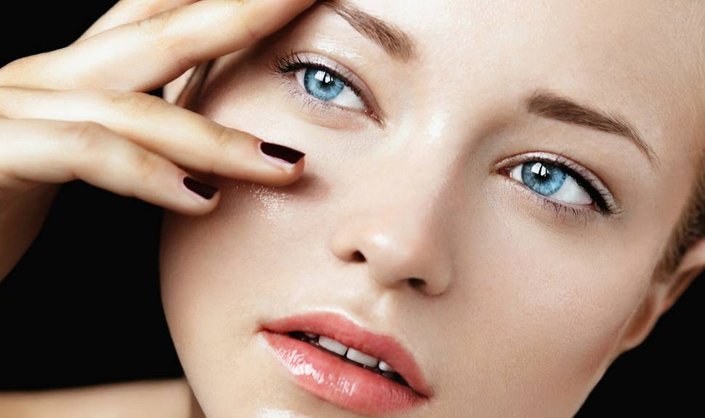 The longer hours of sunshine we get to enjoy in the summer months are amazing for packing in lots of after-work plans, weekend adventures, and late-night fun. And, while you may be having the best summer (ever!) you may not be getting enough of that much-needed sleep you got during the colder seasons. If summer fun has you looking less bright-eyed and bushy-tailed, boy do we have a treat for you!
Confession: I have dark circles. I do not leave home without my concealer—really, it's within arm's reach right now—and, with the exception of a few eye creams that help to diminish their appearance with regular use, there's not much I can do to make them go away for good—thank you, genetics! Well, dark circles plus that dried-out, dull look caused by fatigue—and by fatigue I mean having a little too much fun this summer—is just not a good look, on me…or anyone. Thankfully, I was invited to a recent Lancôme event and got to take home a complimentary sample of the brand's latest innovation for tired eyes and now I say, bring on the late nights because I can get rid of the visible evidence!
The Lancôme Absolue L'Extrait Ultimate Eye Patches are truly the ultimate treat for tired eyes. When used with the Absolue L'Extrait Ultimate Rejuvenating Eye-Balm Elixir, the 10-minute mask helps to smooth and plump the appearance of the eye contour area, diminishing some of that tell-tale evidence of a few too many sleepless nights! Formulated with cooling bio-cellulose, the eye masks help to leave your skin feeling nurtured, deeply hydrated, fresh, and comfortable.
What I love most is the spa-like ritual that accompanies the use of the eye patches and the fact that they force me to sit back and relax for at least 10 minutes—something that's hard to come by during the busy summer season. To use, first apply your Eye-Balm Elixir–infused with Lancome's exclusive Rose Native Cells—with its provided spatula. Next, warm the rotating Faceted Massaging Eye Petal with warm water—this helps to assist with the application process. Then, adhere the eye patches to skin, and allow them to sit for 10 minutes. When you remove the masks, massage the remaining product into the skin. For the best results, use the Eye-Balm Elixir twice a day, morning and night, and the eye patches once a week.
Lancôme Absolue L'Extrait Ultimate Eye Patches, $50 for 6 sets, available September 2016 on lancome-usa.com.
Read more

Back to top