I Tried the NYX Professional Makeup #thisiseverything Lip Oil — Here Are My Thoughts
April 10, 2020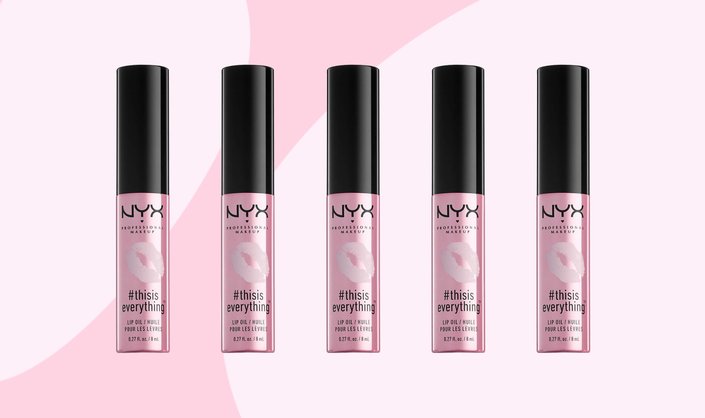 My lip collection is overflowing. Be it mattes, creams, glosses, stains or oils, I have it — and in every color available, too. Call me a lip connoisseur if you will. But with perpetually chapped lips, I have to take caution with the products I apply. The wrong formula will leave lips peeling and rough for weeks. I sway toward hydrating lippies with good-for-you ingredients that leave my pout moisturized rather than dry. Recently, I've been loving lip oils, a lip gloss hybrid that's shiny and nourishing all at once. That's why when NYX Professional Makeup sent over the #thisiseverything Lip Oil for the purposes of this review, I volunteered to give it a shot. Find my thoughts, ahead. 
My Review of the NYX Professional Makeup #thisiseverything Lip Oil 
The lineup has five shades: sheer, lavender, sky blue, berry and blush. I typically lean toward pinks and peaches when doing my makeup, so I knew I wanted to give the blush shade a test-run. Before applying it to my lips, I swatched it on my hand to see the consistency. It was super sheer with just a slight tint. It would be fine to wear alone, but I knew I wanted to layer it on top of a lipstick. After finishing my makeup and applying my NYX Professional Makeup Shout Loud Satin Lipstick in Chic, a rosy nude, I reached for the #thisiseverything Lip Oil. As I lifted it toward my lips, I got a whiff of the vanilla and cherry blossom scent. The sweet and floral combination smelled like spring.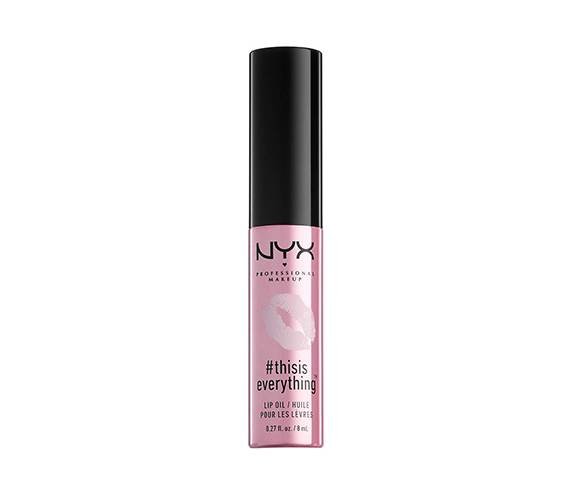 When I applied the product, I was immediately pleased by its hydrating consistency. I could feel the nourishing properties of the almond, rosehip and jojoba oils. Another plus? I loved the texture. It wasn't gloppy, thick or sticky like some other products. Instead, it applied in sheer layers, was super silky and felt great when I rubbed my lips together. What's more, the glossy shine gave my pout a fuller appearance.
Throughout the day I found myself reaching for the lip oil again and again. My lips felt pretty good by the end of the day, but I was still looking for some added hydration. When it came time to go to bed, I reached for the NYX #thisiseverything Lip Oil in Sheer, a clear shade, and packed on a few layers. It felt thick, so I probably wouldn't wear that much during the day, but it was OK for nighttime. I let my make-shift lip mask work overnight. Come morning, I was thrilled with how hydrated and moisturized my lips felt — no cracks or dryness in sight. I'm a pretty big fan of the NYX #thisiseverything Lip Oil. And the best part is that it's only $6 (MSRP) at the drugstore. I don't think it gets any better than that.
Read More: 
5 Editor-Approved Eye Creams Available on Amazon
This Is Why You Should Never Wear Makeup to the Gym
Career Diaries: How Craig Dubitsky, Founder of Hello Products, Is Making Toothpaste Fun
Read more

Back to top