A Skin Care Routine That Can Prolong Your Makeup Application
June 24, 2016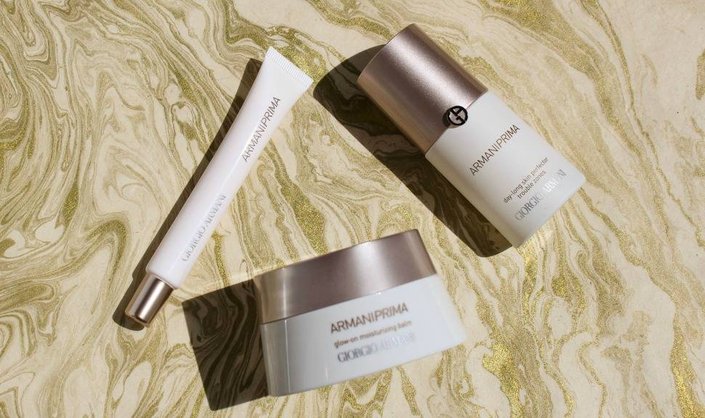 What if the makeup application you spent time—hours, even!—perfecting could stay put all day? And what if that healthy-looking glow could stay with you for hours and hours? Lucky for everyone, Giorgio Armani just eliminated the "what if" and transformed it into reality thanks to their innovative new skin care collection that promises to keep the glow of freshly applied makeup all day. And to think, it only requires three products! Meet the star-studded lineup of Armani Prima. 
STEP 1: GIORGIO ARMANI PRIMA GLOW-ON MOISTURIZING BALM
The secret to better makeup hold is hydrated skin. For a long-lasting makeup base, apply this melting balm that plumps the appearance of your complexion and helps to deeply moisturize skin, leaving it with a luminous finish. Skin will feel smooth, making foundation easier to apply and less likely to settle into fine lines. 
Giorgio Armani Prima Glow-On Moisturizing Balm, $110
STEP 2: GIORGIO ARMANI PRIMA SKIN PERFECTOR 
For help with oily patches and visibly open pores, apply this fluid formula gently with your fingertips around the nose, eyelids, upper lip, chin, and forehead. It'll leave the skin feeling resurfaced, as well as reduce the appearance of pores and excess shininess. What's more, it can double as a lip exfoliator. Apply a generous layer of this skin perfector on your lips and leave on for 3 minutes. Then, softly exfoliate with a damp towel. Follow up with an application of the collection's lip & eye perfector—detailed below—for soft, sultry, and plumped-looking lips.
Giorgio Armani Prima Skin Perfector, $100
STEP 3: GIORGIO ARMANI PRIMA LIP & EYE PERFECTOR 
This versatile formula—as its name suggests—helps target problem areas on the lips and near the eye contour area—think: dark circles and under eye puffiness—where signs of makeup fatigue are among the most obvious. Apply under the eye area to treat, smooth, and increase luminosity to the eye zone, as well as directly on and around the lips. Use prior to an application of under-eye concealer and lipstick to help both last longer.
Read more

Back to top