Blinded By The Highlight: Your Guide to Strobing with Skin Care
August 10, 2016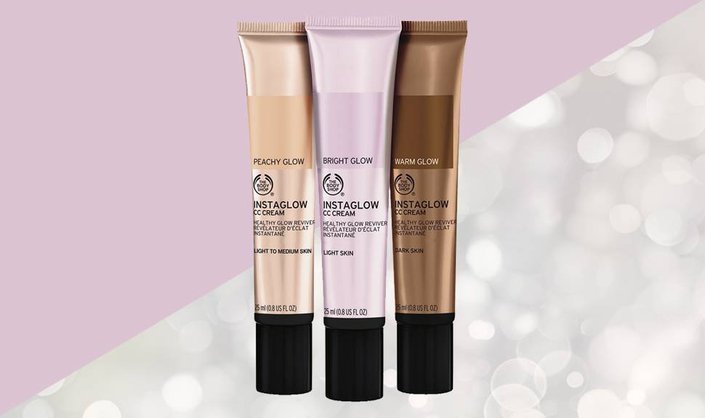 This byproduct of the highlight and contour craze, helps you to showcase your best features by mimicking the effect of the light. Think of it like a spotlight pointed directly—and consistently—at you! Our favorite way to strobe? With a side of skin care, of course and thanks to The Body Shop's new Instaglow CC Cream, we can do just that!
What Is Strobing?
Considered the lazy girl's answer to contouring, strobing is the internet's more recent approach to highlighting, enhancing, sculpting, and drawing emphasis to to the eyes, cheeks, nose, and lips—leaving your face with a bright, natural-looking glow. The best part about this trend? It's a piece of cake! When strobing, you would typically use an illuminating compact powder and brush or a strobing stick to apply the highlighter across the bridge of your nose, onto your cheekbones, in the corners of your eyes, on your upper and lower brow bones, and to your Cupid's bow. However, with the introduction of The Body Shop's Instaglow CC Cream, you can now accentuate these features with a product that does way more than highlight.
The Body Shop's Instaglow CC Cream
Formulated to prime, smooth, color correct, moisturize and—of course—illuminate, the Instaglow CC Cream is one makeup plus skin care item that you'll want to keep in your beauty bag year-round. Formulated with skin care ingredients like, kaolin, Marula oil, aloe vera, citric acid, and more, the highlighting CC cream can minimize the appearance of large pores, reduce excess shine, and may also leave your skin feeling—and looking—hydrated for up to 24 hours. Perfect for all skin types and tones, the CC cream comes in three different shades: Bright Glow, Peachy Glow, and Warm Glow for a strobe effect that matches your unique complexion. We share the details on each shade, below.
Bright Glow: Created for lighter skin tones, the Bright Glow shade can neutralize the appearance of shallowness and brighten the look of your complexion with its blend of white pigments and purple pearls. 
Peachy Glow: If your skin tone is on the medium side of the spectrum, the Peachy Glow was made for you. With a blend of coral pink tint and light-reflecting pearls, the Peachy Glow shade can reduce the appearance of dull skin while creating a natural-looking radiance on the complexion.  
Warm Glow: Made for darker skin tones, the Warm Glow is formulated with a rich brown tint and warm golden pearls that work together to unify darker complexions sans the shine.
Editor's Tip: For a customizable highlight, blend two of the Glow shades together to reach your desired color!
The Body Shop Instaglow CC Cream, $22

Interested in trying giving the strobing trend a try? Follow our visual guideline for where to apply your Instaglow CC Cream, below.
Read more

Back to top