7 Highlighter Hacks For Better-Looking Skin
June 08, 2017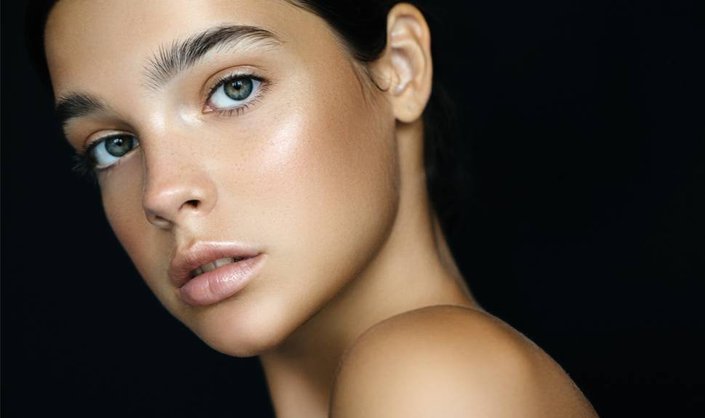 Want to know how to get glowing skin… fast? Incorporate an illuminating highlighter into your daily makeup application! Ahead, we share seven highlighter hacks to help you accentuate some of your favorite features and achieve your best glow up yet.
There's a reason why highlighter is one of our favorite beauty products to use in our daily makeup application: it's so easy to create the illusion of better-looking skin with them! Whether you have dry skin and want to make it look like your skin is actually dewy, have a few favorite body features that you wish to accentuate, or are thinking about giving the strobing effect a try, there's a highlighter hack out there for you. Find out how to get glowing skin and more with our eleven favorite, must-try highlighter hacks, ahead.
HIGHLIGHTER HACK #1: APPLY A CREAM-BASED HIGHLIGHTER BEFORE YOU APPLY YOUR FOUNDATION
Before applying your foundation, dab a little highlighter on the high points of your face—the bridge of your nose, your temples, and under your brown bone. This highlighter hack can accentuate your facial features and can create the illusion of a natural-looking glow.
HIGHLIGHTER HACK #2: HIGHLIGHT FOR A PLUMP-LOOKING POUT
Create the illusion of a plumper-looking pout with a few dabs of highlighter. To do so, simply dab highlighter over your favorite lip gloss or lipstick on the top and center part of your pout.
HIGHLIGHTER HACK #3: MIX LIQUID HIGHLIGHTER WITH LIQUID FOUNDATION
When our friends at Makeup.com shared this beauty hack, we just had to give it a try! What we love about this personalized beauty hack is that it can give the complexion a strobing effect, without the extra effort—perfect for when you're in a hurry and want a little glow! 
HIGHLIGHTER HACK #4: USE A POWDER HIGHLIGHTER TO ACCENTUATE YOUR FAVORITE BODY FEATURES
The next time you're wearing a low-cut dress, dust a little powder highlighter over your chest to accentuate the look of your collarbone. And while you're at it, run some highlighter up the center of your legs—this can create the illusion of slimmer, longer-looking legs. 
HIGHLIGHTER HACK #5: CREATE A DEWY EYESHADOW LOOK
Take inspiration from the runways and create a dewy, shimmering eye look using your favorite highlighter stick and a multi-purpose skin salve—such as, this one from NYX Professional Makeup. To get the look, simply apply the illuminating highlighter all over your eyelids, then follow up with a few dabs of skin salve.
HIGHLIGHTER HACK #6: CONCEAL TIRED-LOOKING EYES
Give tired-looking eyes the book by applying a few dabs of illuminating highlighter to the inner corners of your eyes. This subtle trick can help create the illusion of more awake, refreshed-looking eyes. 
HIGHLIGHTER HACK #7: DUST HIGHLIGHTER OVER YOUR BLUSH FOR DEWY-LOOKING CHEEKS
When it comes to using highlighter and blush on the cheekbones, some women like to use one or the other, but we like to use both. The next time you're applying your favorite pink blush to the apples of your cheeks, top it off with a little highlighter. This makeup hack can create the illusion of glowing skin in just a few swipes.
HIGHLIGHTER HACK #8: DE-PUFF THE LOOK OF UNDER-EYE BAGS
Want to know a little trick for concealing puffy under-eye bags? Mix a little little highlighter, liquid concealer, and hydrating eye cream together and dab the elixir over your eye contour. The light-reflecting highlighter, combined with hydrating eye cream and concealer can deflect the light and create the illusion of de-puffed eyes. For more on this under-eye beauty hacks, see our full tutorial here. 
HIGHLIGHTER HACK #9: DRAW ATTENTION TO YOUR POUT
In addition to applying highlighter on top of your favorite lipstick or lip gloss for a plumper-looking pout, you can apply a little highlighter to your Cupid's Bow—the area between your lips and nose—to draw attention to your lips and create a more lifted look.
HIGHLIGHTER HACK #10: MATCH YOUR HIGHLIGHTER TO YOUR FOUNDATION FORMULA
When selecting the best highlighter for you and your skin, keep your foundation formula in mind. If you use a liquid foundation, try a liquid highlighter. If you use a powder foundation, try a powder highlighter, and so on. Using the same formula for both can make for easier application and better blending.
HIGHLIGHTER HACK #11: USE A FACIAL OIL
If you are looking to add a little highlight to your complexion and don't have a highlighter on hand, reach for your favorite facial oil and concealer. To get the look, simply apply the concealer to the high points of your complexion and follow up with a few dabs of facial oil. Blend with a beauty blending sponge and voilá! The added hydration from the facial oil can create the illusion of glowing skin.
Read more

Back to top