How to Wear Beach Makeup Without Sacrificing Skin Care
July 20, 2016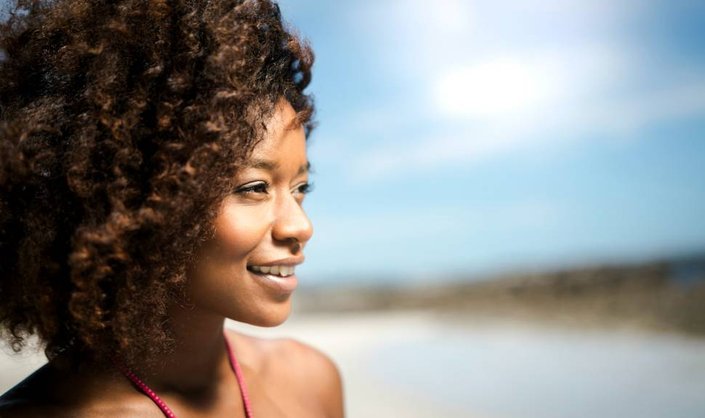 While rocking a makeup-free complexion works for some, for many of us, even a day at the beach requires a touch of our favorite cosmetics. If you fall into that second category, you're going to want to read this. Whether you want to hide skin imperfections like breakouts or dark circles, rock a faux sun-kissed glow, or just want to look glamorous—we share the best beach makeup products that give you a glow without sacrificing your skin.
To some, the thought of putting on a full face of glam to go to the beach—or to sit by a pool—seems ludicrous, but for many of us, leaving the house without makeup just isn't an option. At Skincare.com, skin—obviously—comes first. So for us, when it comes to getting ready for a day at the beach, we are all about cosmetics that can give us our sought after beach glam, while still benefiting our skin. Lucky for us—and you—skin care and makeup brands alike offer different types of skin benefiting—and protecting—makeup that is perfect for a day on the beach. From bronzer to concealer to lipstick, we've rounded up our picks of must-try products for your beach #MOTD.  
BRONZE
At Skincare.com, we're in favor of getting our tans from a bottle. After all, it wouldn't be a beach day without a little bronze. And with L'Oréal's Sublime Bronze Summer Express Wash-Off Face Bronzer Cream, you can fake it until you make it—fake tanned skin that is. This wash-off face bronzer is a great way to provide your complexion with a little sun-kissed glow, sans the sun and the commitment that comes with other self-tanners. Unlike other bronzing creams or powders, this needs to be applied before makeup application. To use, squeeze a small amount into your hand or fingers and apply directly onto your face and neck using your fingertips. Allow to fully dry before moving on with your routine.
L'Oréal Sublime Bronze Summer Express Wash-Off Face Bronzer Cream, $10.99
SPF
Whether you're going to the beach or just heading to the office, applying an SPF should always be the last step in your daily skin care routine and the first step in your makeup application. After you've cleansed your skin and applied a moisturizer, use a facial sunscreen like Vichy's Idéal Capital Soleil in SPF 45. This fast absorbing sunscreen provides the skin with broad-spectrum coverage—protecting it from the sun's dangerous UVA and UVB rays—and leaves it with a silky and dry-touch finish. Be sure to give the sunscreen time to soak into your skin before starting with your makeup application, that way you have a dry surface to work with. 
Vichy Idéal Capital Soleil SPF 45, $28.50
PRIMER
If you don't already use one, switch to a primer with SPF, especially when getting ready for a day at the beach. One of our favorite primers is Maybelline's Face Studio Master Prime. This drugstore buy can smooth the look of fine lines, illuminate the appearance of your complexion, and works to hide redness and other skin tone imperfections—all while protecting the skin with SPF 30. 
Maybelline Face Studio Master Prime, $9.99
CONCEALER
If you experience dark circles or blemishes, you most likely can't imagine going a day without concealer. And luckily, you don't have to. With Maybelline's beach—and skin care—friendly Instant Age Rewind Eraser Treatment, you can cover up your blemishes and protect your skin with SPF 18. Though it has been deemed a foundation, its Micro-Corrector Applicator makes it easy to dab onto smaller areas, like a concealer. Formulated with goji berry, the Instant Age Rewind Eraser can help to reduce the appearance of fine lines and wrinkles and may smooth out imperfections on the skin's surface, as well.
Maybelline Instant Age Rewind Eraser Treatment, $12.99
BB CREAM
By now, you may be familiar with the many skin care benefits of BB Cream. But, to recap: BB Cream is both makeup and skin care, as it can hydrate the complexion and offer protection from the sun's harmful rays with SPF. Some formulas also may include ceramides, essential fatty acids, and antioxidants. If we had to pick one thing from this list of beach makeup—aside from sunscreen—we would choose BB Cream for its lightweight, barely-there coverage, ideal for girls who can't possibly think about skipping foundation. From drugstores to luxe, these days, BB Creams are not hard to come by, as many makeup and skin care brands have created their own variations of the BB formula. One of our favorites is from Kiehl's. Kiehl's BB Cream has a dual-action formula that can conceal imperfections, while working to correct skin tone irregularities, and offers a lightweight hydration and SPF 50 broad-spectrum protection. Plus, this antioxidant-packed formula helps to also protect your skin from environmental aggressors, as well—win, win. Apply in the morning and throw in your beach bag for touchups throughout the day.   
Kiehl's BB Cream, $37
POWDER
For midday touchups and to help kick shine to the curb, we love a powder with SPF like L'Oréal Paris' True Match Super-Blendable Compact Makeup. With its weightless feel and similar blendable formula, this compact powder contains SPF 17 for added protection and does not contain oils or pore-clogging fillers.
L'Oréal Paris True Match Super-Blendable Compact Makeup, $12.95
BLUSH
For that fresh off a game of beach volleyball—without ever having to break a sweat—look, we turn to blush. Our current beach-worthy fave? Shu Uemura's Tint in Gelato Lip and Cheek Color. This two-in-one product is perfect for applying on the go, as its creamy pigmented formula comes in a squeezable tube that can be easily applied using the tips of your fingers as a blending tool—just make sure you wash your hands off first to avoid spreading germs and bacteria to your skin. With four colors to choose from—from a bronzed orange to a soft pink—there's a shade for everyone.
Shu Uemura Tint in Gelato Lip and Cheek Color, $28
HIGHLIGHTER
After hours, keep your glow going strong with a highlighter. Urban Decay's Naked Illuminated Shimmering Powder is a must-have for our summer beach makeup bags. With a brush, apply a swipe of the highlighter onto the tops of your cheekbones and the bridge of your nose, then dab a little on your fingertips and touch on the inner corners of your eyes, and the top of your cupid's bow.  
Urban Decay Naked Illuminated Shimmering Powder, $30
LIP BALM
If you're headed to the beach, don't skip out on a lip balm that is formulated with SPF—even if you have plans to rock a shiny lipstick or gloss. Wearing a shiny product on our lips without a layer of protection underneath can attract the sun to this delicate part of our bodies—similar to that of laying in the sun with baby oil slathered all over our bodies—and wreak havoc. We are currently loving Maybelline's Baby Lips lip balm in "Quenched." A hydrating formula—with SPF 20—this cult-favorite balm can provide the skin with a base of moisture and protection. Wear it alone or under your favorite color—and don't forget to reapply. 
Maybelline Baby Lips in Quenched, $3.99
LIP GLOSS
In case you missed it: Lancôme has answered our skin care prayers and recently released a buzz-worthy lip oil that provides the same shine as a gloss, with a side of skin care benefits. Inspired by the fan favorite, Juicy Tubes, the Lancôme Juicy Shaker combines colorful pigments with five different hydrating oils for a pout that glistens in the summer sun. And with 20 different shades available, there's no doubt you'll be able to find one that matches your new bikini.
Lancôme Juicy Shaker, $21
LIPSTICK
If you're not the gloss type, there are plenty of other options, when it comes to getting some color. Case in point: Yves Saint Laurent's Rouge Volupté lipstick with SPF 15. Get your beach glam on with this award-winning lipstick is saturated in color and hydration, leaving lips looking and feeling smoother, plumper, and more radiant.
Read more

Back to top