6 Sheet Masks for Every Part Of Your Body
December 12, 2018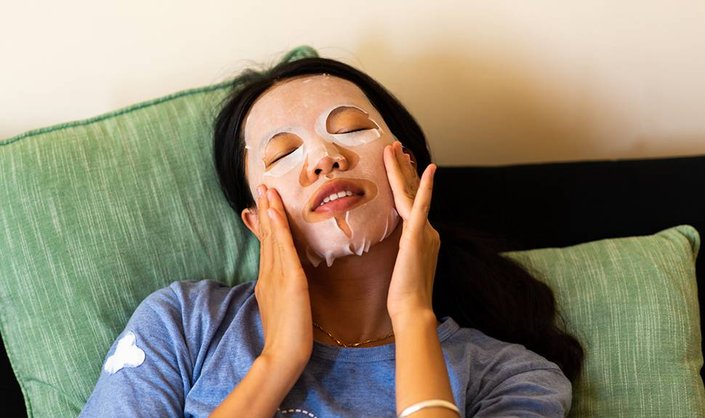 We owe a lot of thanks to whomever it was that thought to take a sheet, cut it out in the shape of a face, soak it in serum, and apply it onto the skin like a mask. Sheet masks, as they're called, are an incredibly effective way to treat your skin and can deliver a wide range of benefits. There are sheet masks formulated to target specific concerns, such as dryness, dullness, and signs of aging. But did you know that the versatility of sheet masks doesn't end there? In addition to sheet masks for the face—including those specific to the under-eye area, lips, and forehead—there are sheet masks for virtually all areas your body skin. Ready to extend the sheet mask trend past your jawline? Read on for some of our favorite sheet masks for different parts of the body.

SHEET MASK FOR NECK & CHEST: SKIN LAUNDRY WRINKLE RELEASE NECK & CHEST SHEET MASK
The neck and décolletage areas are among the most neglected areas of skin. Give your neck and chest some attention with Skin Laundry's Wrinkle Release Neck & Chest Sheet Mask. Formulated with conditioning extracts, this mask can leave skin looking brighter and refreshed.
SHEET MASK FOR HANDS: MISS SPA DEEP THERAPY HAND TREATMENT
Your hands do a lot for you on a daily basis. Reward them with this Deep Therapy Hand Treatment which can deliver deep replenishing moisture to soothe dry, parched hands. You'll want to keep them on for 20 minutes, which means your hands will be out of commission for that period of time. Turn on the TV before applying the gloves and just sit back and relax. 
SHEET MASK FOR DERRIERE: BAWDY BITE IT HYDRATING + TONING BUTT MASK
Even though bikini season is still a way's away, keep the skin on your rear end looking and feeling its best with a butt sheet mask. Bawdy offers a four-product range of butt sheet masks, each one targeting different skin concerns. For hydrating and toning benefits, reach for Bite It, which is formulated with hyaluronic acid, collagen, aloe leaf juice, and chamomile.   
SHEET MASK FOR BREASTS: BIOXIDEA MIRAGE24 BREAST MASK
How often are you targeting the skin on your breasts? If the answer is rarely, you might want to introduce a breast sheet mask into the equation. Mirage24 Breast Mask is suitable for all skin types and can help plump and smooth skin. Each box contains three masks, and can be used daily as an intensive treatment or as needed for a skin boost.

SHEET MASK FOR FEET: TONYMOLY FOOT PEELING SHOES
It's not quite time to wear sandals and flip flops, but that's no excuse for the skin on your feet to look worse for wear. If you're noticing a buildup of dead cells and dirt, give your feet the ultimate softening treatment with these Foot Peeling Shoes. Here's how they work: Put the sheets onto your feet and leave them on while they soak up the peeling liquid (about 1-1.5 hours). Once time is up, remove the sheet and wash your feet to remove all traces of liquid. In a few days, you'll notice the dead cells on the bottom of your feet start to peel away.
SHEET MASK FOR STOMACH: HATCH MAMA BELLY MASK
Got a bun in oven? The Hatch Mama Belly Mask was formulated specifically for pregnant women as a way to hydrate and soften belly skin during pregnancy. It looks just like a typical sheet mask for the face, just without the holes for your mouth, eyes, and nose.
Looking for more sheet masks to try? Try out one of our picks of the best sheet masks for your hair, here!
Read more

Back to top