Our Favorite Essences for Your Budget
June 14, 2019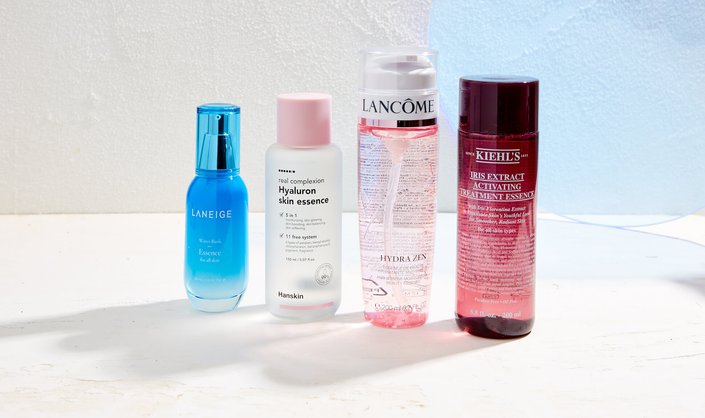 If you want soft, supple, plump looking skin, consider adding an essence to your routine. While commonly misunderstood stateside, essences are a Korean beauty skin-care staple. Not to be confused with toners, emulsions or serums, essences are designed to hydrate and prep your skin for the rest of your skin-care routine. They typically have a water-like texture (although some can feel similar to a serum) and are packed with a high concentration of active ingredients. If you're looking to dabble in the world of essences, we rounded up five at varying price points.
Kiehl's Iris Extract Activating Treatment Essence, MSRP $45
Intended as a first step (after cleansing) of your usual skin-care regimen, this essence helps smooth skin's texture and boosts radiance with regular use over time. It primes and prepares skin to receive the rest of the skin-care regimen that follows while also providing instant hydration.
Laneige Water Bank Essence, MSRP $36
Formulated with hydro ionized mineral water, this essence provides your skin with six essential minerals, including zinc, magnesium, manganese, potassium, calcium and sodium for a toned, smoother appearance. To use, apply the luxe-feeling water essence both morning and night.
Peach & Lily Wild Dew Treatment Essence, MSRP $39
If you want to achieve "glass skin," you might want to try this K-beauty product from Peach & Lily. It helps fight breakouts while improving skin's radiance for a glowing look. It's formulated with a combination of different ingredients commonly used in skin-care products, like antioxidant-rich lotus extract, brightening niacinamide, protective bamboo extract and nourishing radish leaf extract to restore and protect your complexion.
Lancôme Hydra Zen Beauty Facial Essence, MSRP $42
Designed to provide intense hydration to the skin, the Hydra Zen Beauty Essence leaves skin feeling soothed and comfortable. To use, press it onto a cleansed, toned face and neck for a suppler, more refreshed complexion.
Hanskin Hyaluron Skin Essence, MSRP $25
For an extra boost of hydration, this essence contains a form of hyaluronic acid called sodium hyaluronate, which holds 1,000 times more moisture than water. With regular use, the skin will start to look more plump, supple and smooth.
Read More:
11 of the Best Facial Serums That Can Help Transform Your Skin
The 12 Best Non-Comedogenic Moisturizers
Read more

Back to top