6 SPF Products for People Who Hate Sunscreen
June 12, 2019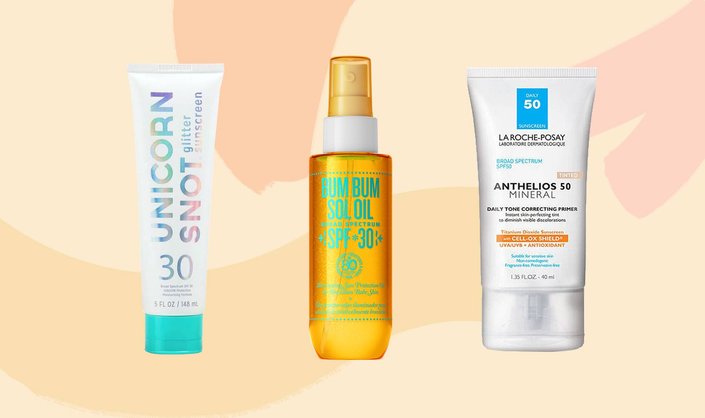 Although it's drilled into our heads that sunscreen is the most important step in a skin-care routine, plain-old formulas leave us feeling a little boring sometimes. Between balmy sticks, colorless formulas and greasy finishes, sunscreen is rarely the most exciting product in our beauty collection, until now. Ahead, we rounded up six unique sunscreen products that have added skin or makeup benefits that make applying SPF a lot more fun.
A Tinted Moisturizer
La Roche-Posay Anthelios 50 Mineral Tinted Sunscreen
We love the La Roche-Posay Anthelios 50 Mineral Tinted Sunscreen for many reasons, but chief among them may be its tinted formula. Even though the product's purpose is to protect against UVA and UVB rays with SPF 50, the tint works to even out our skin tone and give us a healthy-looking glow.
A Colored Face Paint
Bare Republic Neon Sunscreen Sticks
With festival season in full force, colored face paint is a must-have for every music-loving beauty guru. These Neon Sunscreen Sticks from Bare Republic come in six shades: neon yellow, neon orange, neon green, neon pink, neon blue and neon purple and can be used all over the face or body. Get creative by wearing one or a combination of them to your next concert, and feel good knowing that you'll also be protecting your skin from the sun with SPF 50.
A Serum
If you love applying serum in your skin-care routine but hate applying sunscreen, the Dr. Barbara Sturm Sun Drops are your answer. These luxe SPF 50 drops also contain purslane and hyaluronic acid for hydration and can be applied under makeup or on bare skin.
A Sun Oil
Sol de Janeiro Bum Bum Sol Oil
The Bum Bum Sol Oil is a game-changer if you're looking for a glossy body finish with actual sunscreen protection. This non-greasy oil smells like coconuts, provides major glow and contains SPF 30.
A Body Shimmer
Unicorn Snot Glitter Sunscreen
This SPF 30 glitter sunscreen comes in three shades — pink, gold and blue — to give you sun protection and the slightest hint of colorful highlight and sparkle. We dare you to find a more festive sunscreen!
A Body Mist
La Roche-Posay Anthelios Lotion Sunscreen Spray SPF 60
A sunscreen spray can feel like a refreshing body mist on hot days. Cool down and protect your skin from the sun with this SPF 60 spray. Once applied, it immediately absorbs into the skin and leaves no greasy residue behind.
Read More:
Quick Question: Can You Still Get Tan Wearing SPF?
CeraVe Just Launched a Vitamin C Serum — Here's Why You Need It
Read more

Back to top