The IT Cosmetics Confidence in Your Beauty Sleep Night Cream Stays On My Face, Not My Pillow
December 28, 2021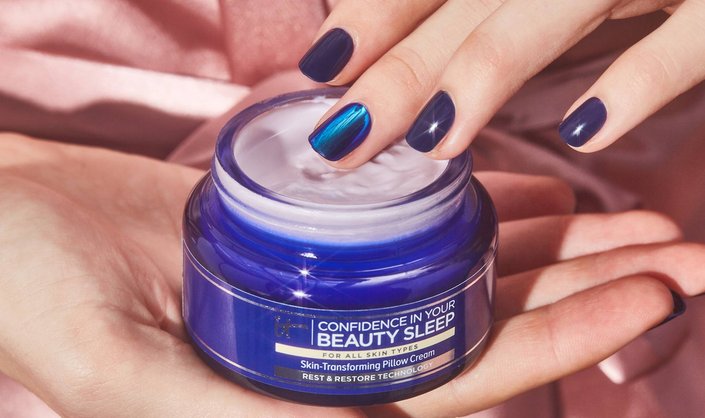 I swear by my nighttime skincare routine and, more specifically, my night cream. It's a ritual for me that involves at max (when I'm feeling like my most extra self), layering on nine different liquids, serums and creams. Needless to say, by the time I've applied the final product, I'm more than ready to hop into bed and get some beauty sleep. But that poses just one problem — I'm constantly struggling to keep my night cream (and the collection of other expensive products on my face) from rubbing off on my pillow the second I lie down. Enter: the IT Cosmetics Confidence in Your Beauty Sleep Night Cream. 
What does Confidence in Your Beauty Sleep do?
When IT Cosmetics gifted me this cream to try and review, I couldn't wait to apply it, mostly because of the brand's claims that the product's unique, lightweight texture wouldn't transfer to my pillow. It's formulated to visibly address the top signs of aging while you sleep and enhance your skin's natural surface cell renewal, so you wake up looking more refreshed and well-rested. 
The face cream, infused with Persian silk tree bark extract, also helps with the appearance of fine lines, wrinkles, uneven texture and dryness (my biggest skincare concern right now). It hydrates with ingredients like hyaluronic acid, jojoba seed and ceramides.
My Experience
The Beauty Sleep Night Cream didn't visibly transfer onto my pillow at all after application (or my sleep mask, for that matter). That same technology is also to thank for the cream's uber light and just downright fun texture — it actually bounces when you touch it. To add to the luxurious experience of smearing this cream onto your skin, it smells like lavender. 
While I crave the deep hydrating that heavier face creams bring, I don't always love the greasy feel of them on my skin (who does, really?). Luckily, this option is nothing like that. When you apply it, it feels similar to a water cream and covers your skin with moisture, leaving behind a glowing sheen. There's no sticky residue left on my face — or visible transfer on my pillow — when I wake up. Instead, my skin just feels comfortable and looks radiant.
Photo: Chaunte Vaughn
Read More: 
6 Products That Work Wonders While You Sleep
Our Favorite Night Serums to Add to Your Routine Based on Your Skin Type
Here's Why You Should Apply Retinol at Night
Read more

Back to top