This New IT Cosmetics Moisturizer Doesn't Skimp on Hydration
January 24, 2019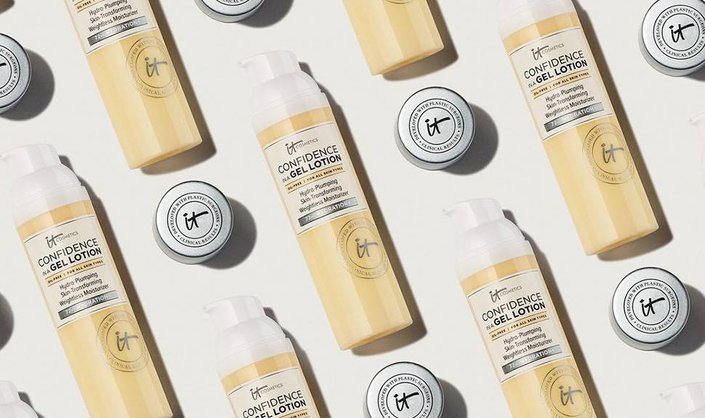 Have you ever applied a moisturizer and felt like it didn't do a great job of hydrating your skin? We've had that feeling more times than we can count, and it's highly probable you have as well. While the reason your skin still feels dry after moisturizing could be due to your lifestyle habits, the problem could also be that your moisturizer isn't doing a good enough job, in which case you should absolutely swap it for a more hydrating formula. If you're looking for a hydrating moisturizer that absorbs quickly, we recommend trying IT Cosmetics' new Confidence in a Gel Lotion Moisturizer. Read on for everything you need to know about this exciting new formula! 
IT COSMETICS CONFIDENCE IN A GEL MOISTURIZER: WHAT YOU NEED TO KNOW
Texture: Gel is a texture that's oft-forgotten (but much-beloved) when it comes to moisturizers. Since they feel light on the skin, they work great when worn on their own or under makeup, and almost never make the skin feel heavy or weighed down. But if you're worried that a gel moisturizer won't hold up to your dry, winter skin, we're here to put you at ease. It Cosmetics' new Confidence in a Gel Lotion Moisturizer is oil-free, suitable for all skin types, and can deliver 72 hours of hydration. That's three days of hydrated skin!
Benefits: If you don't like to wait a while for your moisturizer to absorb into your skin, consider a gel moisturizer. Since the texture is water-light, they can typically absorb quickly and Confidence in a Gel Lotion Moisturizer is no exception. Formulated with ceramides, glycerin and cactus flower extract, the formula can boost skin's hydration levels with each application. The result? Supple, healthy-looking skin that only gets better over time! Since the formula is so hydrating, expect to see a smoother look of fine lines, and all-around radiant skin that's primed for makeup.
How to Use: Cleanse your skin well prior to applying the formula. While your skin is slightly damp, apply the gel in upward, sweeping motions to your face, neck, and chest. You can repeat this twice daily, once in the morning and once in the evening.   
Read more

Back to top