Here's Why CeraVe's New Exfoliating Treatment Is a Staple In My Bedtime Skincare Routine
January 26, 2022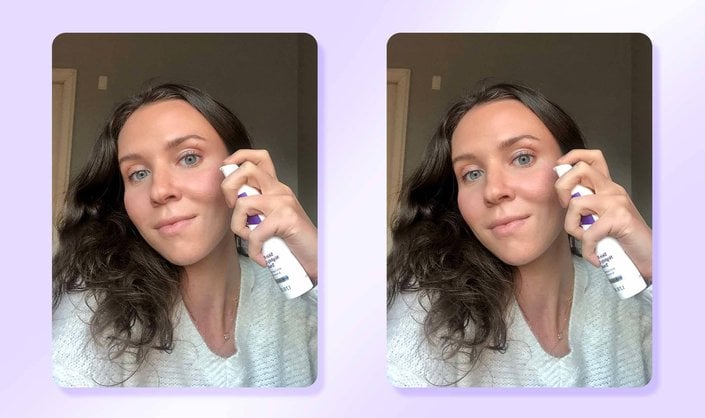 I don't know about you, but in the cold winter months, my skin looks and feels dull. I'm not sure if the bitter winds or my moisture-killing indoor heating system is to blame, but my skin isn't happy. In an effort to clear the dead skin cells off the surface of my skin to make way for newer, brighter ones, I decided to give the new CeraVe Skin Renewing Nightly Exfoliating Treatment a try, courtesy of the brand. Ahead, find my thoughts on the multitasking overnight treatment. 
What is the CeraVe Skin Renewing Nightly Exfoliating Treatment 
The CeraVe Skin Renewing Nightly Exfoliating Treatment is a potent alpha hydroxy-acid (AHA) serum developed with the help of dermatologists. It contains a 5% blend of glycolic acid and lactic acid for a gentle exfoliation that helps promote skin cell renewal without causing redness or flaking. Plus, the serum is formulated with three essential ceramides that work together to help the skin lock in moisture and restore its protective barrier. 
Why You Need the CeraVe Skin Renewing Nightly Exfoliating Treatment
When it comes to a solid skincare routine, cleansing and using sunscreen probably come to mind. But, in my opinion, an exfoliator is the one important component that doesn't always get the appreciation it deserves. Sure, the skin sheds dead cells naturally, but it can sometimes take a while. I find that a few days without exfoliating can make my complexion appear dull and dry. But, when I use a gentle exfoliator like this one, my skin appears smoother and brighter. 
My Experience With the CeraVe Skin Renewing Nightly Exfoliating Treatment
When I opened the packaging and saw the long, skinny tube with an attached pump, I immediately wondered why this product is a bit different from other glycolic acid treatments. Other products I've tried come in liquid form and with droppers, so this was quite the change-up. My initial thoughts were confirmed when I put one pump of the product into my palm. To my surprise, it felt creamy and hydrating to the touch, which is definitely attributed to the fact that the formula contains ceramides plus hydrating hyaluronic acid. I applied the product to my clean face, avoiding my eyes and lips. I loved how quickly it absorbed into my skin and didn't leave me feeling greasy. The next morning, my skin felt soft and hydrated. If you're new to retinol like me, the brand recommends using the product once or twice a week at first to see how your skin reacts, and then gradually working up to every other day. After using the product a few times over the course of a week and a half, I'm happy to report that my pores look smaller, which is a huge win in my book.
Photo Credit: Caitlyn Martyn, Design: Juliana Campisi
Read More:
Your Guide to Facial Exfoliation
Physical vs. Chemical Exfoliation: What's the Difference? 
Read more

Back to top