3 Things You Didn't Know About the New Kiehl's Cannabis Sativa Seed Oil Herbal Concentrate
March 11, 2019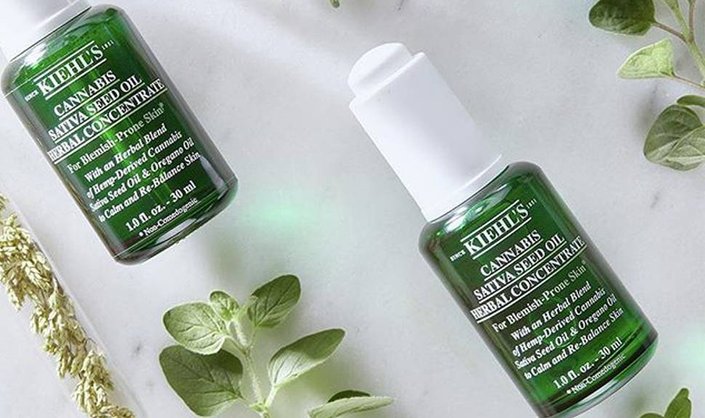 With hemp, cannabis and CBD beauty products growing in popularity, more and more skin-care brands are creating innovative products centered around these ingredients. Considering Kiehl's has been creating products inspired by nature for over a hundred years, we weren't super surprised when it recently launched a
cannabis-infused concentrate
. 
The
Kiehl's Cannabis Sativa Seed Oil Herbal Concentrate
is meant to be used in both your morning and evening skin-care routines, after you cleanse, tone and apply serum, but before you moisturize. It boosts the ability to calm and rebalance problem skin, but not many people fully understand its long list of potential skin-care benefits. If you're unsure whether this facial oil is right for you, keep reading to learn more about it. 
1. It's Designed Specifically for Problem Skin
Kiehl's Cannabis Sativa Seed Oil Herbal Concentrate is designed specifically for problem skin. This includes skin prone to blemishes, visible redness and discomfort. 
2. It's Made With 100-Percent Naturally Derived* Ingredients
*Kiehl's considers ingredients to be naturally derived if they retain more than 50% of their molecular structure after being processed from a natural source. Kiehl's Cannabis Sativa Seed Oil Herbal Concentrate is formulated with only 13 ingredients, including 60% Cannabis Sativa Seed Oil, which is derived from cold-pressed hemp seeds from the cannabis sativa plant. This oil can help improve skin's barrier, reduce visible redness and has a calmative effect on skin. The other naturally derived key ingredient, Green Oregano Oil, is extracted and distilled from the flowering section of the herb.
3. It Strengthens the Skin's Barrier to Help Skin Protect Itself
The Cannabis Sativa Seed Oil can help calm the feeling of stressed skin, whether that be from dryness, acne or other environmental stressors, while helping balance hydration. This makes the oil a solid addition to your skin-care routine for all seasons. In addition to improving the look and feel of stressed skin, the facial oil also simultaneously strengthens the skin's barrier to help it protect itself.
Read More:
Is Avocado Oil Good for Your Skin?
10 Common Skin Conditions & How to Address Each One
What Are PHAs? Here's Everything You Need to Know
Read more

Back to top