I Tried the Lancôme Advanced Génifique Face Serum and My Skin Has Never Looked Brighter
November 02, 2021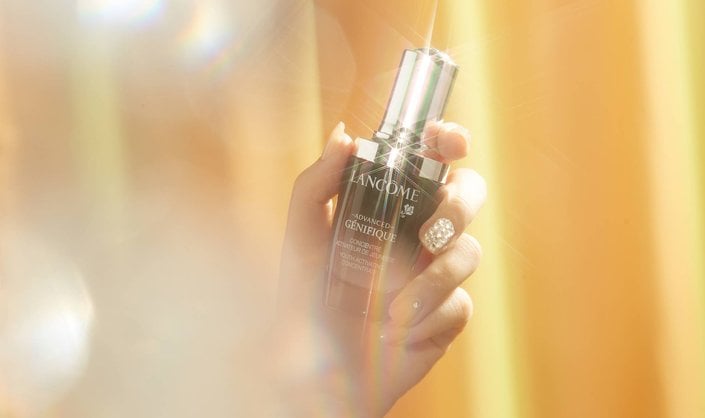 In the serum category, the Lancôme Advanced Génifique Face Serum is known as an overachiever. It features a patented complex that works to improve ten common skin concerns, including lack of radiance, uneven skin tone and fine lines and wrinkles. It's formulated for all skin types and age ranges and has clinically proven results to back it up. As someone who's entered her 30s, I figured it was high time to add this radiance-boosting, anti-aging serum into my routine. Read on for my review. 
About the Formula
The Lancôme Advanced Génifique Face Serum promises to boost radiance within seven days, and tackle ten common signs of aging after using one bottle. In clinical trials, participants reported 52% improved radiance, a 42% more even skin, a 42% reduction in wrinkles and a 57% improvement in skin texture after finishing the bottle. Its potent ingredient list boasts 10% bifidus prebiotic, which fosters the growth of healthy bacteria on the skin, and hyaluronic acid, which helps skin retain moisture. It's also rich in vitamin C, which helps to correct dark spots and even skin tone and ceramides, which help strengthen the skin's natural moisture barrier.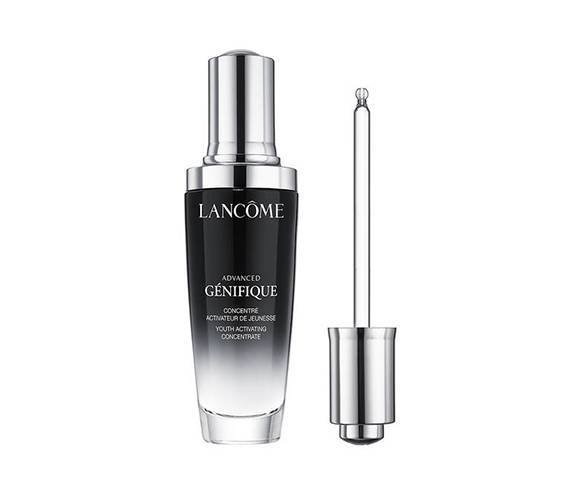 How Do You Use the Lancôme Advanced Génifique Face Serum? 
To use, I gently applied the serum onto my cleansed face and neck, morning and night. The self-loading dropper was super helpful because it provides the perfect amount of product every time. Then, I followed up with my regular moisturizer. 
My Final Thoughts
The texture of the serum is incredibly lightweight and fresh. It immediately absorbed into my skin without any leftover oiliness or residue. Right off the bat, I noticed an added glow to my skin, in addition to a softer, more supple feel. I followed the routine for seven straight days and am happy to report that my skin looks visibly better and brighter. I'm excited to see if my fine lines will appear minimized after I finish the bottle.  
In addition to applying it during my serum step, I've learned a couple of other tricks: Mix the serum with your foundation for extra luminosity and apply it onto your lips before lipstick to help smooth out the lines on your lips.
Photo: Chaunte Vaughn
Read More: 
6 Anti-Aging Skincare Products We Swear By
The Top 5 Ingredients You Should Look For in an Eye Cream
Why You Need Vitamin C and Retinol in Your Anti-Aging Routine
Read more

Back to top