Why House 99, David Beckham's Men's Grooming Brand, Needs to Be on Your Radar
April 08, 2019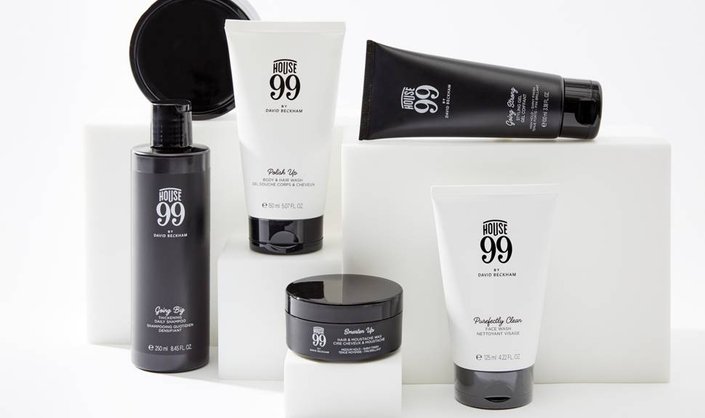 Just in case you haven't been keeping up with all things David Beckham, the very famous pro-soccer player's brand, House 99 by David Beckham, is flourishing and deserves your undivided attention — especially with Father's Day just around the corner (hint, hint). As the men's grooming industry rapidly expands, House 99 is leading the charge with its comprehensive lineup of high-quality products created and tested by the soccer mogul himself. Known for both his iconic hairstyles (remember that pompadour?) and soccer skills, Beckham continues to encourage others to experiment with their looks, much like he's always done with his. So, whether you're looking to dip your toe into the world of skin care and grooming for men or in search of the perfect Father's Day gift set, we feel confident you'll find something worth clicking that add to cart button for.
For those of you who aren't familiar with House 99's product selection, every area of men's grooming is covered, including face, hair, body, styling, beard and shaving. In the face and body category, one of the standout products is Bold Statement, a very on-brand tattoo body moisturizing cream. It hydrates with vitamin E and protects with SPF 50 to enhance your ink and brighten and preserve its color.  
In the beard and shaving arena, the brand's Soft Touch Beard Oil is a must-have. It deeply nourishes and moisturizers beard hair to leave it feeling soft and tamed, as if you just left the barbershop. For those who prefer a fuzz-free look, the multi-tasking product can also be used as a pre-shaving oil to help your razor glide better.
When it comes to the hair on your head, don't sleep on House 99's shaping pomade, Smooth Back. The paste works wonders on short-to-medium length hair and is humidity and sweat resistant to keep your style in place all day, whether you're hitting the gym or a black-tie event.
Read More:
Serums, Ampoules, Emulsions and Essences: Is There Really a Difference? Editors Share Their Very First Skin-Care Product — And What They Use Now
Body Acne 101: How to Reduce Back and Chest Acne
Read more

Back to top