6 Sunscreens You Need to Get Your Hands On This Summer
June 13, 2017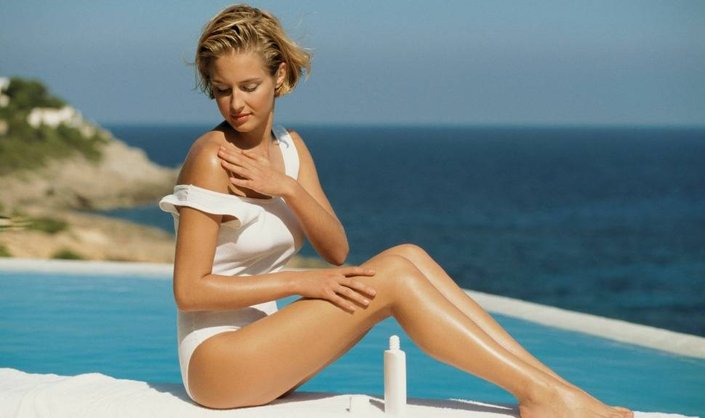 Looking for a new sunscreen to help keep your skin protected against harmful UV rays during the hot summer months? Look no further! We're giving you a roundup of six sunscreens—from the L'Oreal portfolio of brands—you need to get your hands on, below!
Summer and sunscreen go together like peanut butter and jelly— leave one out, and things are just not right! If you haven't found your perfect SPF match for the summer season, it's time to get started, since wearing sunscreen is one of the easiest ways to reduce your risk of developing premature signs of skin aging—think: wrinkles and fine lines—and even some cancers. With so many different sunscreen options to choose from, finding your ideal formula can be overwhelming. Luckily, we're here to help! Ahead, we're giving you a rundown on six of the best sunscreens—from the L'Oreal portfolio of brands— that can help protect your skin this summer and beyond.
KIEHL'S ACTIVATED SUN PROTECTOR 100% MINERAL SUNSCREEN SPF 50
If you have sensitive skin, you know how difficult it can be to find a sunscreen that agrees with your skin. But thanks to Kiehl's Activated Sun Protector 100% Mineral Sunscreen with SPF 50, your search is basically complete. Ideal for those with sensitive skin, the formula is water-resistant for up to 80 minutes (perfect for your next beach day), can be used on both face and body, and boasts Broad Spectrum SPF 50 protection. Shake well before use and be sure to apply at least once every two hours or immediately after swimming, sweating, or toweling off.
Kiehl's Activated Sun Protector 100% Mineral Sunscreen SPF 50, $29.00 MSRP
SKINCEUTICALS PHYSICAL MATTE UV DEFENSE SPF 50
Sunscreen often gets a bad rap as being "too greasy" or "too heavy," but you won't have to worry about those stigmas with SkinCeutical's Physical Matte UV Defense with SPF 50. This lightweight, oil-absorbing formula offers broad spectrum SPF 50 UVA/UVB protection with a matte finish. Yes, you read that correctly: a matte finish! It's oil-absorbing base makes Physical Matte UV Defense a perfect match for oily or combination skin types.
SkinCeuticals Physical Matte UV Defense SPF 50, $34.00 MSRP
LA ROCHE-POSAY ANTHELIOS DAILY SPF 50 PRIMER
If you're looking for a sunscreen that fits seamlessly into your beauty routine, La Roche-Posay's Anthelios Daily SPF 50 Primer is a no-brainer. This primer formula reduces the appearance of fine lines, wrinkles, and pores to help prep the skin for your foundation all while offering SPF 50 protection. Use this product in place of your current makeup primer for a boost of sun protection without any extra steps!
Editor's note: Even if you're wearing makeup, it's important to reapply sunscreen at least every two hours. For tips on how to reapply sunscreen throughout the day without ruining your makeup, click here!
La Roche-Posay Anthelios Daily SPF 50 Primer, $39.99 MSRP
SKINCEUTICALS PHYSICAL EYE UV DEFENSE SPF 50
The delicate skin around the eyes is one of the first areas to show visible signs of skin aging, so it's important to protect the area with sunscreen. Swapping out your rich, hydrating eye cream for one that offers SPF protection during the summer months is a move we fully support. One of our favorite eye creams formulated with SPF is SkinCeuticals' Physical Eye UC Defense SPF 50. It's non-migrating formula stays in place to help prevent eye irritation while helping prevent additional UV damage! Plus, its sheer universal tint helps even out your skin tone in the eye area.
SkinCeuticals Physical Eye UV Defense SPF 50, $30.00 MSRP
VICHY IDEAL CAPITAL SOLEIL SPF 45
If you love a dry-finish sunscreen, look no further than Vichy's Ideal Capital Soliel SPF 45. This breakthrough formula is cooling, refreshing, non-greasy, and lightweight— everything we want in a bottle! Plus, it's suitable for both face and body use on all skin types, sensitive skin included! To use, apply liberally at least fifteen minutes before sun exposure and reapply at least once every two hours.
Vichy Ideal Capital Soleil SPF 45, $28.50 MSRP
KIEHL'S BUTTERSTICK LIP TREATMENT SPF 25
So you finally found your face & body sunscreen and your ideal eye cream formulated with SPF— what's next? Your lips, of course! It's important to keep your pout properly protected year-round, but especially during summer. Since the lips lack oil glands and melanin, they are especially susceptible to UV damage, which is why we recommend always having a lip conditioner formulated with SPF on hand! We love Kiehl's Butterstick Lip Treatment SPF 25. Available in five different tints, this lip conditioner helps protect the lips from potential UV damage and adds a sheer layer of hydration. Be sure to reapply throughout the day as you would your facial sunscreen— at least once every two hours.
Kiehl's Butterstick Lip Treatment SPF 25, $19.50 MSRP
Read more

Back to top