Need a New SPF? This L'Oréal Paris Sunscreen Is Lightweight, Fast-Absorbing and Under $30
August 28, 2023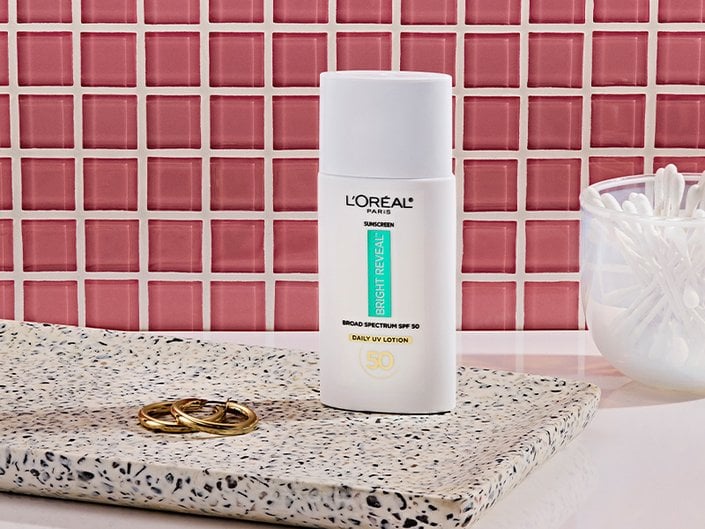 Sunscreen is never not going to be important for the well-being of your skin, which is why it's so necessary to find one that you love. The L'Oréal Paris Bright Reveal Broad Spectrum SPF Daily 50 UV Lotion is a recent drugstore launch and one of our editors' favorite formulas as of late. It has an ultra-lightweight, non-greasy finish that blends with all skin tones, plus UVA and UVB filters that protect against sun rays that can contribute to premature signs of aging and sunburn. To learn more about this chemical sunscreen (which rings in at less than $30 and was gifted to us by the brand to test!) and why our editors just can't get enough, keep reading.
L'Oréal Paris Revitalift Bright Reveal Broad Spectrum SPF 50 Invisible UV Fluid Review
Alanna, Managing Editor
Skin Type: Combination Skin
My
combo skin
makes it a little difficult to find a sunscreen that doesn't make my skin look or feel
too
dewy or
too
dry. Some formulas enhance my oily area if they have any kind of glow-infused ingredients, while others that are a little too matte tend to make my dry patches more noticeable. When I first applied this formula, I absolutely loved how lightweight it was and how quickly it absorbed into my skin. Once I applied my foundation on top, I knew this formula could easily become a staple in my routine — it didn't make my makeup pill and served as a great hydrating base. Throughout my makeup wear, it kept my skin looking hydrated but not shiny, which is exactly what I need.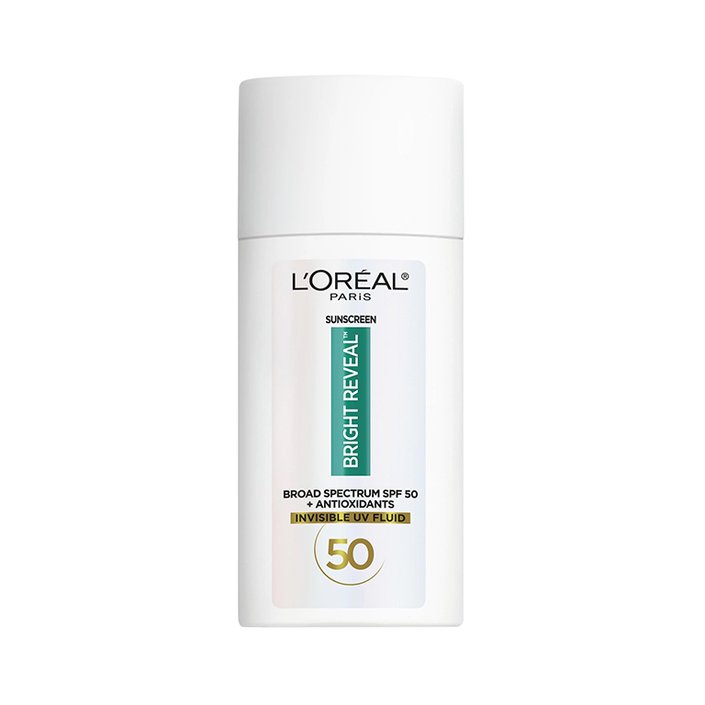 Kat, Social Media Editor
Skin Type: Oily Skin
Being a fan of dewy skin while simultaneously having oily skin can be tricky. While I love the look of a healthy glow, it can quickly look like I've doused my face in oils by the end of the day if I'm not using the right products for my skin — especially my sunscreen. When I had the opportunity to test this L'Oréal Paris sunscreen, the lightweight, non-greasy finish instantly caught my attention. Since adding it to my routine, I've been getting a lot of compliments about how glowy my skin looks — and I have to agree. I love that after I apply it in the morning, my normally dull skin looks more radiant and glowy, but it doesn't look or feel oilier than usual. Without makeup, I notice that my skin looks healthier, and when I do layer on foundation, my skin appears to have a "lit-from-within" vibe that I really love.
Reece, Associate Editor
Skin Type: Dry Skin
I'm picky with my sunscreen: It can't feel heavy or greasy on my skin, but it can't further dry out my already dry skin, either. In a perfect world, my sunscreen would offer ample sun protection but would be so lightweight and comfortable that I would forget I had any on. Lucky for me, this one checks both of those boxes. The formula is lightweight, quick to absorb, and doesn't leave a gray finish. It definitely has a dewy finish, but it doesn't cross the line into greasy-looking, which is really flattering for my dry, typically dull skin. I like how it makes my skin look healthy and fresh when I'm not wearing makeup and how it can double as a hydrating base when I do wear makeup. Overall, I definitely see it holding a consistent spot on my top shelf all season!
Read more

Back to top