The 7 Best Sunscreens to Wear Under Makeup
April 24, 2017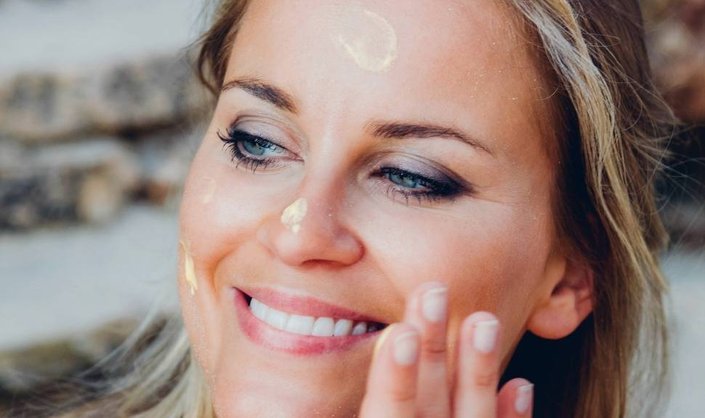 There's thousands—millions even—of excuses you could come up with to skip an application of sunscreen. One that we hear frequently is that wearing sunscreen under makeup ruins your look—think: an extra layer of goop and grease, lingering white residue etc. etc.—and can lead to blemishes. But guess what—these under-makeup sunscreen fears are for naught. There are plenty of ultra-light, sheer formulas that can provide protection without the grease. Some even boast a slight tint and can (sort of) double as a BB cream. For those who said sunscreen and makeup can't play nice, this one's for you. Keep reading for our top picks of cosmetic-friendly sunscreens—from the L'Oreal portfolio of brands—that'll silence the skeptics. 
VICHY IDÉAL CAPITAL SOLEIL SPF 50
The trick to avoiding a caked-on makeup look while wearing sunscreen is to allow the sunscreen to fully absorb before applying anything on top of it. The good news is that this lightweight formula absorbs quickly. Best of all, it dries matte, isn't sticky or greasy, and doesn't leave a white cast on the skin. All in all, it's a perfect choice for wearing under makeup. 
Vichy Idéal Capital Soleil SPF 50, $25.50 MSRP
LA ROCHE-POSAY ANTHELIOS 50 DAILY ANTI-AGING PRIMER WITH SUNSCREEN
This broad-spectrum sunscreen and primer duo—formulated with CELL-OX Shield and antioxidants—delivers instant optical correction of fine lines, wrinkles, and pores. It's also non-comedogenic, so it won't clog your pores.
La Roche-Posay Anthelios 50 Daily Anti-Aging Primer with Sunscreen, $39.99 MSRP
LA ROCHE-POSAY ANTHELIOS CLEAR SKIN DRY-TOUCH SUNSCREEN
Looking for a sunscreen that won't cause breakouts? Look no further than La Roche-Posay's Anthelios Clear Skin. The broad-spectrum SPF 60 formula—with La Roche-Posay Thermal Spring Water— is non-comedogenic, as well as oil-free with a dry-touch texture and finish that provides a clean feel.
La Roche-Posay Anthelios Clear Skin Dry-Touch Sunscreen, $19.99 MSRP
SKINCEUTICALS PHYSICAL FUSION UV DEFENSE SPF 50 
As far as tinted sunscreens go, this one is a definite favorite of ours at Skincare.com. The weightless fluid boasts broad-spectrum protection and translucent color spheres that adapt to most skin tones. It's light enough to wear underneath your foundation or as a BB cream, but since it does provide some coverage, you can wear it alone, too. Score!  
SkinCeuticals Physical Fusion UV Defense SPF 50, $34 MSRP
SKINCEUTICALS PHYSICAL MATTE UV DEFENSE SPF 50
Worried your complexion will appear slimy and slippery after sunscreen use? Fear not, friends—we've got you covered. The key is to find a broad-spectrum sunscreen that protects skin from harmful UV rays while absorbing excess oils to help ensure a long-lasting matte finish. A formula that's up for the task? Meet SkinCeuticals Physical Matte UV Defense SPF 50. Not only does this physical sunscreen offer broad-spectrum SPF 50 protection, its weightless mousse texture dries to a matte finish, which can totally optimize your makeup application! 
SkinCeuticals Physical Matte UV Defense SPF 50, $34 MSRP
KIEHL'S SUPER FLUID UV DEFENSE SPF 50+
Calling all sensitive and acne-prone skin types! This non-comedogenic sunscreen has been formulated with your specific needs in mind. The sheer formula—lightly tinted to enhance skin's natural skin tone—delivers broad-spectrum UVA and UVB protection to help prevent sunburn and decrease the risk of premature skin aging caused by harmful UV rays.
Kiehl's Super Fluid UV Defense SPF 50+, $38 MSRP
KIEHL'S ACTIVATED SUN PROTECTOR 100% MINERAL SUNSCREEN SPF 50
If you're a fan of double-duty products, you'll love this titanium dioxide sunscreen by Kiehl's that suitable for both face AND body skin! The non-greasy, non-comedogenic formulation boasts a 100% mineral sun filter specifically for sensitive skin. Apply it daily to help prevent sunburn and reduce the risk of premature skin aging caused by UV rays. 
Kiehl's Activated Sun Protector 100% Mineral Sunscreen SPF 50, $29 MSRP
Read more

Back to top