The Best Sunscreens for Broad-Spectrum Protection from Head to Toe
August 02, 2016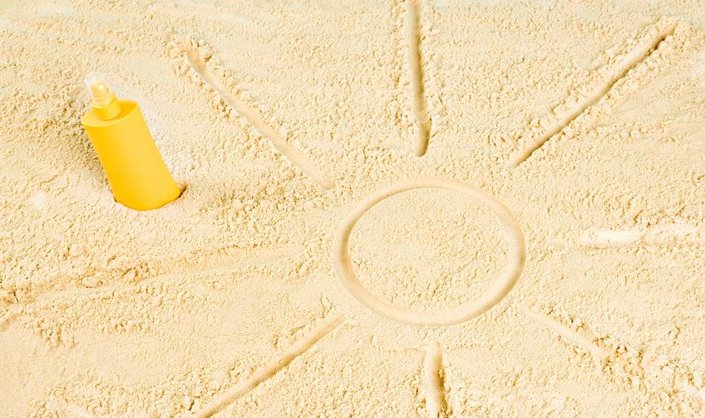 Unless you're holed up in a box or living in a dark cave at all hours of the day, you can't afford to skip an application of sunscreen…ever. Sun protection is arguably one of the most vital steps in a skin routine to help prevent skin cancer—which, in case you missed it, affects 1 in 5 Americans in the course of a lifetime—and premature skin aging, like fine lines, wrinkles, and dark spots. Lathering it on daily is a no-brainer (agreed?!), which is why we've rounded up the best SPF-packed sunscreens that'll keep your entire body (not just your face, ladies!) protected all year round. Below, seven sunscreens for your face, feet, and everything in between. 
FACE: VICHY IDÉAL CAPITAL SOLEIL SPF 50
If you wear daily makeup, you know that an SPF that's lightweight and virtually transparent is basically a must to avoid a heavy, caked-on look. That's just one of the reasons why we love this broad-spectrum formula with anti-aging antioxidants white grape polyphenol and vitamin E to help neutralize free radical damage. Other benefits include fast absorption, a non-sticky (and non-greasy!) feel, and the inclusion of ingredients that won't irritate sensitive skin or clog pores. It's an all-around winner for your complexion.
Vichy Idéal Capital Soleil SPF 50, $25.50 
EYES: LANCÔME BIENFAIT MULTI-VITAL EYE SPF 28
If your eyes are the window to your soul, they shouldn't be surrounded by dark circles and crow's feet. Yes, you could technically use your facial sunscreen around your eyes, but why not try a targeted treatment? This eye sunscreen formulated with caffeine and SPF 28, hydrates the eye contour area to help visibly reduce dehydration lines and the appearance of puffiness and dark circles.
Lancôme Bienfait Multi-Vital Eye SPF 28, $40
LIPS: THE BODY SHOP VITAMINE LIP CARE STICK SPF 15 
Does your favorite lip balm not boast any SPF benefits? It might be time to break up with it. We say this because our delicate lips have almost no melanin, the pigment responsible to giving our skin color and protecting it from UV damage. Thus, lips are incredibly susceptible to sun damage. (If you've never experienced sunburned lips before, let us be the first to tell you that it's not a pleasant experience.) To soothe your dry pout moving forward, reach for a balm that hydrates and protects at the same time, like this best-selling formula by The Body Shop formulated with vitamin E and vanilla flavor. 
The Body Shop Vitamin E Lip Care Stick SPF 15, $9
NECK & CHEST: LA ROCHE-POSAY ANTHELIOS 45 BODY 
If you follow Skincare.com religiously, you're already well-educated on the importance of extending SPF love below the chin. The neck and chest are among the most neglected areas of skin in a routine, but not on our watch. We like layering this body sunscreen on our neck and chest because it offers broad-spectrum protection against damaging UVA/UVB rays, and is super silky and lightweight on the skin. It almost feels like you're not wearing anything at all. 
La Roche-Posay Anthelios 45 Body, $36.99 
HANDS: LANCÔME ABSOLUE HAND
Remember how we said the neck and chest are typically neglected in a skin routine? Well, your paws are too, so don't forget about them! This SPF 15 hand treatment by Lancôme is formulated with soy and sea algae to help reinforce skin elasticity and firmness, as well as wild yam to help intensely hydrate the skin.
Lancôme Absolue Hand, $50
BODY: KIEHL'S ACTIVATED SUN PROTECTOR SPRAY LOTION FOR BODY SPF 50
You wouldn't skip sunscreen on your arms, legs, and torso when you're laying out on the beach (hopefully), so don't skip it when you're walking down the street, either. This SPF 50 spray works well to target larger areas with uniform broad-spectrum protection. 
Kiehl's Activated Sun Protector Spray Lotion for Body SPF 50, $25
FEET: LA ROCHE-POSAY ANTHELIOS 60
Many people don't realize that skin cancer can turn up on the soles of feet and even in between toes. That's why it's necessary to coat them in SPF when they're exposed to the sun on the beach or through open sandals. This ultra-light spray works well for gapless, even coverage in every little corner and crevice between your toes and on your feet.
La Roche-Posay Anthelios 60, $35.99
Read more

Back to top