The Thayers Milky Toner Has Been Game-Changing for My Dry, Sensitive Skin
March 29, 2023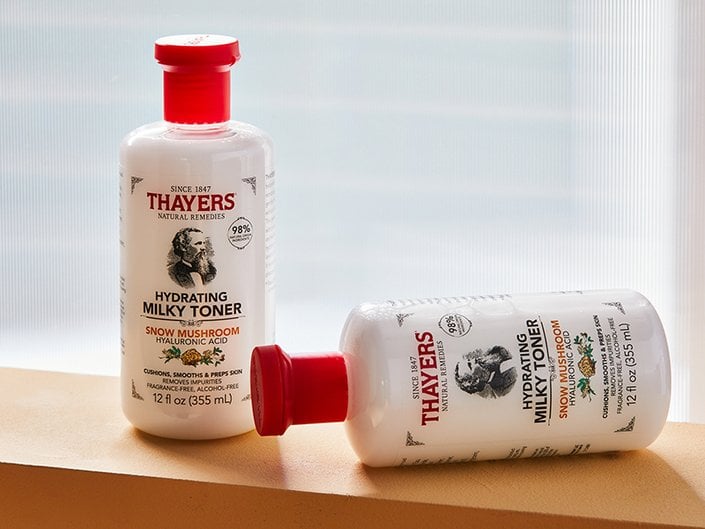 My dry, sensitive skin can use all the help it can get in the moisturizing department. That's why I opt for "hydrating" options of pretty much anything I put on my face — cleanser, sunscreen, foundation, concealer, and yes, even products like blush. When I found out that Thayers was coming out with a Milky Toner designed to help boost hydration on top of toning and sweeping away remaining dirt and grime, I knew I needed to give it a shot.
After the brand generously gifted me a bottle of the Thayers Hydrating Milky Toner to test, I slotted it into my skincare routine and crossed my fingers that it would be helpful in improving dryness — and hopefully wouldn't result in irritation either.
Thayers Hydrating Milky Toner Review
Because my main concern is maintaining proper skin hydration, I usually keep my routine pretty minimal — i.e., I cleanse, I apply vitamin C serum, I moisturize and I slather on SPF. That's pretty much it, so toners have never regularly made the cut. (Past experiences with drying, super astringent toners may have contributed toward my near total avoidance of the category as well.)
But the Thayers Hydrating Milky Toner is the ideal toner type for those with dry or sensitive skin — thanks to the addition of hydrating ingredients like hyaluronic acid, as well as snow mushroom and elderflower water.
True to its name, the toner has a "milky" look and feel to it, too; it's a little creamier than your average liquid toner. When applied to a cotton pad, I found that it was super easy to distribute across my skin and absorbed quickly. Thayers suggests using it after cleansing but before moisturizing, morning and night, so that's exactly how I incorporated it into my routine.
After my first few uses, I noticed that my skin felt cleaner but less taut prior to moisturizing. As a general rule, toner is supposed to help sweep away the remaining dirt, grime or cleanser residue from your skin, and I personally feel like the Milky Toner excels at this task while supplying the extra boost of moisture my skin needs.
Since adding it into my routine, I swear my skin feels and looks more hydrated. I almost feel like it's helped my moisturizer work better. Apart from the results, I love that a little goes a very long way. You really only need about two or three droplets (max!) of the toner to evenly distribute the formula across your entire face. Thayers, it's a win for me.
Read more

Back to top