4 Tricks to Wake Up Tired-Looking Skin
June 30, 2016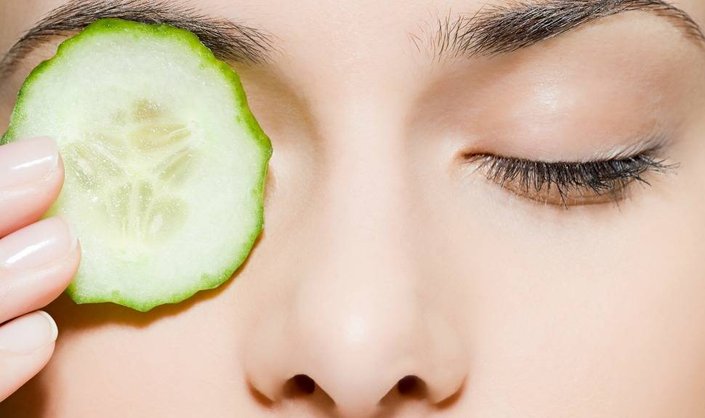 APPLY A FACE MASK
Assuming you were up late last night, there's a good chance you hit snooze one too many times and are now running behind schedule. Even still—after cleansing and toning your skin in the A.M.—try and squeeze in a quick face mask application to refresh and revitalize tired skin. On days where we need to "fake" awake, we reach for Kiehl's Turmeric & Cranberry Seed Energizing Radiance Masque. Formulated with cranberry extract and turmeric extract, the mask instantly brightens the appearance of dull, fatigued skin and restores a youthful glow. Allow it to dry for 5-10 minutes—multitask by brushing your teeth and making your coffee during this time—and then gently rinse off.
TREAT YOUR EYES 
Have puffy eyes? De-puff in a pinch by applying a chilled slice of cucumber to your eyes for a few minutes. It can help reduce the appearance of puffiness, and give your eyes a more refreshed appearance. (Pro tip: Sleep on two pillows to elevate your head and help prevent fluid from gathering in your lower eyelids.) To make the skin around the eye contour area look firmer and more rested, we love Lancôme Advanced Génefique Eye Light Pearl Eye Illuminator Youth Activating Concentrate. The formula—engineered with a flexible massage applicator—can help reduce the appearance of fine lines and under-eye bags to make the area appear less puffy and more luminous.
CONCEAL YOUR DARK CIRCLES 
Concealer is a great way to hide dark circles that are ruining your look. Opt for a full coverage concealer that blends well, like L'Oréal True Match. Available in nine shades, the product can help provide an even under-eye skin tone.
ILLUMINATE YOUR SKIN
Add a little extra pep in your skin prep with a brightening illuminator that can help you fake a full night's worth of beauty sleep. Yves Saint Laurent Beauté Touche Éclat is an industry cult-favorite for adding radiance to a dull complexion. Use it to camouflage fatigue, highlight features, and brighten the appearance of dark spots and dark circles.
Read more

Back to top