How Much Money Do Beauty Editors Actually Spend on Their Skin Care Routines?
October 24, 2017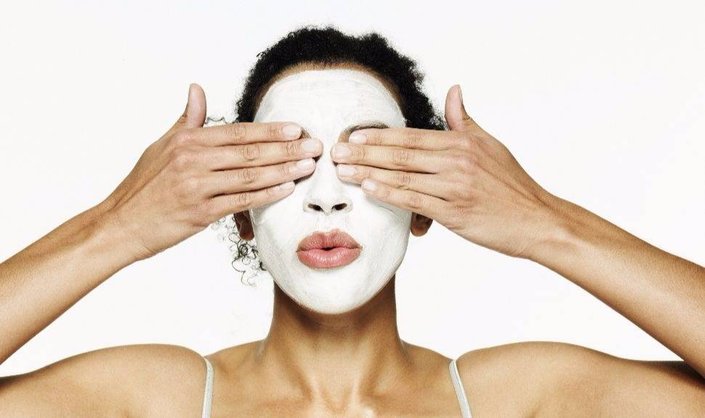 When you read up on all the latest and greatest skin care products, you might find yourself taking a step back wondering what's really necessary as part of your daily routine — not to mention what's worth the price tag. You're not alone. From cleansers and toners to moisturizers, eye creams and serums, the purchase options can seem pretty endless. And, while they very much are, it doesn't mean you need to stock up on every last thing being promoted. To help you better navigate the world of skin care — in other words, to know what's worth splurging on— we took a poll around the office to find out just how much money beauty editors actually spend on their skin care routines, as well as the products that always meet the mark.
Ready to learn what to buy, and maybe, possibly, pick your jaw up off the floor after finding out just how much an effective skin care routine can cost true skin care aficionados? If the answer is yes, read on!
Margaret Fisher
Routine Cost:
$115
Skin Care Staples:
Makeup wipes, micellar water, face cream, eye cream and face masks.
At the end of every day I remove my makeup using a makeup wipe and follow it up with micellar water. From there I layer on face cream and eye cream. Depending on how my skin is acting on any given day, I'll incorporate a face mask for a little extra TLC.
Savannah Maroney
Routine Cost:
$269
Skin Care Staples:
Sonic cleansing brush, cleanser, face wipes, micellar water, toner, day cream, spot treatment and eye cream.
I'd be lost without my Clarisonic. I use it every day to cleanse my face of all the day's dirt and debris. Before using it, I wipe my makeup off using a face wipe or micellar water. And then after cleansing with my brush, I follow up with toner, day cream and eye cream. If I'm dealing with a breakout, I'll also incorporate a spot treatment to help speed up the healing process.
Christina Heiser
Routine Cost:
$150
Skin Care Staples:
Cleanser, moisturizer formulated with SPF, retinol night cream, vitamin C serum, and face masks.
While my regular skin care routine costs right around $150, I regularly buy new cleansers, moisturizers formulated with SPF, retinol creams for night, vitamin C serums, and face masks, that add up to about $50 a month.
Emily Arata
Routine Cost:
$147
Skin Care Staples:
Cleanser, facial exfoliator, SPF, day cream, serum, eye cream, and night cream.
My mantra is: You've gotta spend on the creams and save on the cosmetics. For that reason, I keep it simple with cleanser, cream, serum and an exfoliator. Oh, and you can't forget SPF — it's one of the most important preventative skin care step you can take.
Jelani Addams Rosa
Routine Cost:
$383
Skin Care Staples:
Sonic cleansing brush, glycolic foaming cleanser, toner, spot treatment, drying lotion, eye serum, moisturizer formulated with SPF, night cream, clay masks, and peel pads.
My morning and evening skin care routine always starts with massaging a glycolic foaming cleanser into my skin using a sonic cleansing device. After I dry my face, I immediately swipe toner across my face depending on the time of day. From there, I apply moisturizer formulated with SPF or night cream, as well as eye serum. If I'm experiencing a breakout, at night I'll apply an acne treatment gel or drying lotion to help minimize the appearance of any blemishes. Last but not least, I use clay masks once or twice a week for a little extra pampering.
Jackie Burns Brisman
Routine Cost:
$447
Skin Care Staples:
Makeup remover wipes, lactic-acid cleanser, moisturizer, sulfur-formulated spot treatment, serum, and face masks. 
Once a month I restock my go-to makeup remover wipes from Garnier. I used to use the Clean+ Refreshing Remover Cleansing Towelettes but have since become obsessed with the Micellar Makeup Removing ones. They are so soft and truly remove all of my makeup before I go into the rest of my skin care routine... and that's saying something because I wear a lot of mascara.
From there I use a lactic acid-formulated cleanser and a sulfur-formulated spot treatment which I can get in a bundle.
After that, I have a moisturizer that I am obsessed with from an indie skin care range and it's pricey but after using it for the last few years I've come to believe it's worth it. It's probably the biggest splurge in my skin care routine. It has a really natural scent which I love since I used to work in the spa industry and it instantly takes me back each night when I massage it onto my skin. 
Then most of my favorite masks and serums I end up getting complimentary from the brands I get to work with at L'Oréal—so I definitely save a lot being a beauty editor. If I had to guess that would cost me an additional $200-300 every few months when I would run out. 
So, while out of pocket costs are around $137, in total my go-to skin care routine is more like $447.
Rebecca Norris
Routine Cost:
$612
Skin Care Staples:
Sonic cleansing brush, clay cleanser, micellar water, face peels, hydrating night serum, hyaluronic acid night cream, vitamin c day serum, mattifying day cream formulated with SPF, tripeptide eye cream, and face masks.
Okay, c'mon, pick your jaw up. I know it sounds crazy, but you have to remember that as beauty editors, we're always trying new products and oftentimes they're sent our way for free to review. Anyways, when it comes to caring for my skin, I start my day off with a quick wipe down of the Garnier SkinActive Micellar Cleansing Water All-in-1 Mattifying. After cleansing my skin of any impurities that may have built up overnight, I follow it up with vitamin c day serum, a mattifying day cream formulated with SPF and tripeptide eye cream. At night, I wipe my makeup off using the same micellar water and follow it up with a deeper clean using the L'Oréal Paris Pure Clay Purify & Mattify Cleanser—which I received complimentary of the brand—and Clarisonic Mia Fit. While my skin is still damp, I apply a hydrating night serum, followed by a hyaluronic acid night cream and the same tripepetide eye cream. Every other day (or every three days depending on my skin), I slough away dead skin cells using face peels or masks. Sure, it's a splurge, but it's well worth it. After all, preventative skin care is everything.
Editor's Note: Remember: Skin care is not one size fits all, which means while these staples may work for our editors, your skin's unique needs may require something different. It's all trial and error, ladies!
Read more

Back to top