Career Diaries: With Covey, Model Emily DiDonato Wants to Help You Create a Simple, Effective Skincare Routine
October 27, 2021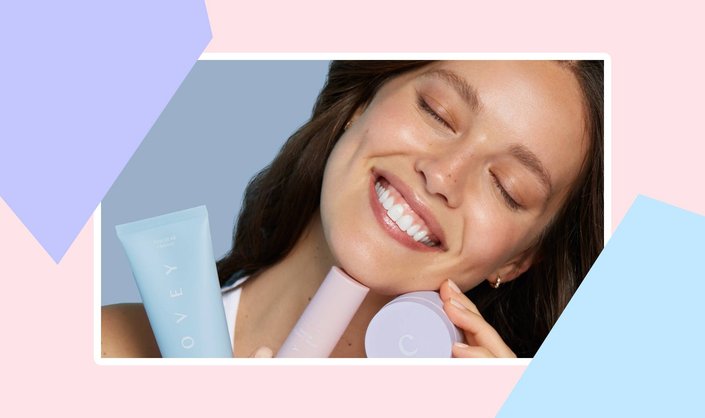 With one look at Emily DiDonato, you might recognize her from her many magazine covers, fashion and beauty campaigns or trips down the runway. But after speaking with her about her latest venture, Covey, a new skincare line, it's clear that she'll be remembered for more than just her ultra-successful career as a model. For more about how she utilized her experience in front of the camera to create a skincare brand that resonates with people, what's surprised her along the way and how impending motherhood has changed (or not changed) her skincare routine, read on. 
You've worked in front of the camera with brands as a model for years. What inspired you to start your own skincare brand? 
Through work, I had access to many experts. But I came from the school of thought that more was more when it came to skincare. I was doing ten plus steps, buying and using everything that was recommended to me on set. My skin would suffer as a result. 
Then after doing three years of research with my business partner [Christina Garcia], we realized that we didn't really know how to create a skincare routine and we found that we were not alone. We found that there were three key questions that people had about skincare routines that resonated with us: What products do they need in their routine? Do their products work together? What's the correct order of application? 
So that's why we wanted to create Covey, we kind of wanted to take the guesswork out of creating a skincare routine and just create a simple, effective routine that was formulated to be used together.
Where did the name Covey come from? 
Covey is a real word 一 it means a small flock of birds. And we were looking for words around a group, togetherness or community because myself and my business partner 一 she's also my best friend 一 we thought of ourselves as a little group, and we think of the three products as a little group. 
I liked it also because Covey was built off of community because we did so much listening on social media before launching, and we tested the products on so many people.
What has been the most challenging part of building this business? What's been the most surprising? 
I had modeled for so many other brands and had been a chameleon for so long. As a model, you're told how to look, what to do, what to wear. Then as a co-founder, when the decisions were falling in my lap and I really had to get in there, I suffered — and still do — from such bad imposter syndrome. It would be like, 'I don't know, I'm just a model.' But actually as a model, you're really kind of a nucleus on a shoot. You get exposed to so many different industries and jobs and professions while you're on set, so I did absorb a lot more than I gave myself credit for. So just being braver in a way was the biggest challenge.
And when we launched, I was so pleasantly surprised by how supportive people were outside of just my followers, but also fellow creators, models and celebrities. People were just ready to be there and be supportive. That was like the cherry on top of everything. We worked on this for three years, and then I was like, 'now it's coming out into the universe, what if no one cares?'
What did you feel was missing in the skincare market that you wanted Covey to fill the gap for? 
In our research, we found that people were searching for simplicity, guidance and effectiveness in their routines. We also went through over 500,000 reviews of top-selling products and kind of narrowed down what products and ingredients were irritating people's skin. I really think that the thing that sets Covey apart is that we launched with a routine 一 this core foundational routine that can be used across all skin types. We formulated these products to be used together.
Oftentimes, you have to figure out where a product fits in your routine, and we really wanted to guide [people]. We plan on doing that in the future with new product launches in terms of education, and also helping people understand where it fits into their routine. 
Outside of my modeling career and content creation, this is what I do full time now. I follow up with customers and ideas. I'm doing polls and surveys on my Instagram. We're using this data-driven approach, using my social media platforms and my access to customers to figure out what people are actually craving.
 
You're a soon-to-be new mom to a baby girl. Has being pregnant changed your skincare routine? 
Not a ton. I've gone through many moments in my pregnancy where I'm so exhausted. And if I had still had a very complicated routine, I would have definitely been paring it back. I think if anything, being pregnant has forced me to allow myself to dive into self-care a little bit more. Now I think generally I'm taking a slower approach to things and really letting things sink in. But aside from that, it didn't change a ton because I was already someone who gravitated towards clean, non-toxic products without parabens, sulfates, dyes and fragrances. So I would say it's pretty much the same, but maybe I'm just enjoying it a bit more. 
What do you want your daughter to know about beauty? What are the skincare and makeup tips you'll pass on to her? 
It's kind of a combination of things. I've been exposed to some of the most beautiful people in the world through my career, and they are not always the most beautiful people in the world if you catch my drift. So I think I would want my future daughter to know that the biggest compliments I ever get are when someone's like, 'Oh my god, you're so wonderful to be around or you have such great spirit or you're so kind or caring.' Those are really beautiful things. 
I also do think in terms of [physical] beauty and taking care of yourself, try to take that as an inward experience for you. I think when you're trying to be beautiful, or do your beauty routines purely to look good for others, it makes them slightly less satisfying. When you feel really good is when you feel beautiful.
What's next for you and for Covey? 
We plan to expand, but want to do so methodically. Because first of all, there's already a demand for new products which is great. It means that we've tapped into our customers and my audiences to figure out what people are craving and what they want. But what we are committed to is only launching skincare essentials 一 things that your derm would say you can use every day. 
Read more

Back to top